The Merritt Parkway is designated as an official America's Byway. For northbound I-95 travelers, the Merritt Parkway begins approximately 6 miles from I-95, exit 21 (I-287). Take I-287 north to the Hutchinson River Parkway east to the Merritt Parkway east. From there, the Merritt Parkway is approximately 37 miles long. For southbound I-95 travelers, the Merritt Parkway begins approximately 2.5 miles from I-95, exit 38 (Milford Parkway). Take the Milford Parkway north to the Merritt Parkway west. From there, the Merritt Parkway is approximately 37 miles long. You should allow about one hour (without stopping) to drive this route.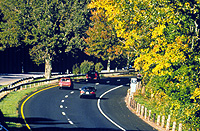 As one of the only roads listed on the National Register of Historic Places, the Merritt Parkway boasts a distinction usually reserved for buildings or battlefields. Many locals consider the byway the heart of their communities. Drive the winding Merritt Parkway and see for yourself why it inspires both reverence and devotion among its fans and supporters, many of whom use it daily or live nearby. Built in the 1930s to cope with America's new fascination with the automobile, this byway is enshrined in the hearts of many as an icon of the automobile age and a model of highway planning.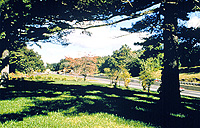 A number of places along the byway dedicate great time and effort into preserving nature. The Audubon Center in Greenwich satisfies nature lovers of all kinds. With 15 miles of hiking trails and over 500 acres of woodlands and meadows, your chances to explore nature exist in abundance. Birders appreciate its wildlife viewing windows, nature store, and famous hawk-watch site. The Bartlett Arboretum sits on 63 acres in North Stamford. There, over 2,000 living plants grow and thrive under an array of conditions; perennial gardens are managed intensely, and woodlands develop naturally. During a visit at the Bartlett Arboretum, your senses fill with the vivid colors and fresh fragrances of woodland scenery. Formerly known as The Nature Center for Environmental Activities, Earthplace encourages environmental protection and awareness through a museum, a wildlife rehabilitation center, a research lab, and a 62-acre wildlife sanctuary that serves as an outdoor exhibit. Follow the trail system through the sanctuary and see a variety of wildlife in their natural surroundings.
At every bend and turn, brilliant foliage and scenery fill the senses with color. Traveling the Merritt Parkway is much the same today as when it was built, as much a drive through a park as a trip on a modern highway. Wind your way past green, well-maintained park areas and under bridges created with both function and aesthetics in mind, proving how beautiful a road can be. The road may have changed since the Thirties, but the feelings and symbolism behind this beautiful byway remain. more…
Photo Credits:
Top Left: © January 1996. Merritt Parkway.
Bottom Right: © January 1996. The Merritt Parkway.
The National Scenic Byways Program recognizes highways that are outstanding examples of our nation's beauty, history, culture, and recreational experience by designating them as All-American Roads and National Scenic Byways. The roads being featured were designated by the Secretary of Transportation from nominations submitted by the states and federal land management agencies. These designations provide a compass for people from all over the world to explore America's treasured open roads.
Content reproduced with permission from the National Scenic Byways Online: www.byways.org