About Mystic Aquarium
Mystic Aquarium is a marine aquarium in Mystic, Connecticut. It is one of only two U.S. facilities holding Steller sea lions, and it has the only beluga whales in New England. Special exhibits include a ray and shark touch pool, an African penguin exhibit, a jelly gallery, and the "Jurassic Giants" dinosaur exhibit. The aquarium is a member of the Alliance of Marine Mammal Parks and Aquariums (AMMPA) and is an accredited member of the Association of Zoos and Aquariums (AZA). It is a subsidiary of the Sea Research Foundation, Inc.
Aquarium History
Mystic Aquarium was first opened in 1973 as a privately owned corporation. Industrialist and philanthropist Kelvin Smith was the primary shareholder; he chose Mystic, Connecticut as the site because of the area's scenic shoreline and rich maritime history. In 1999, the aquarium and Ballard's Institute for Exploration combined to form a $52 million expansion. The expansion features the Arctic Coast, a 1-acre outdoor beluga whale display containing 760,000-US-gallon of water.
Exhibits
Travel Mystic Aquarium's indoor and outdoor exhibits to visit with thousands of creatures including beluga whales, African penguins, rescued seals, colorful fish and more. Roll up your sleeves and touch a shark, stingray or even an exotic reptile. Complimentary sea lion shows provide a truly unique opportunity to see these fascinating animals up-close and in action. Go back in time to when dinosaurs roamed the planet in Jurassic Giants: A Dinosaur Adventure! Encounter dinosaurs that 'fly' above, lurk around every corner and get you thinking about how to protect our planet. Plus, a robust schedule of shows in our two theaters, seasonal events, activities and more make the Aquarium a year-round destination worth revisiting often! Discover your world and sea more at Mystic Aquarium.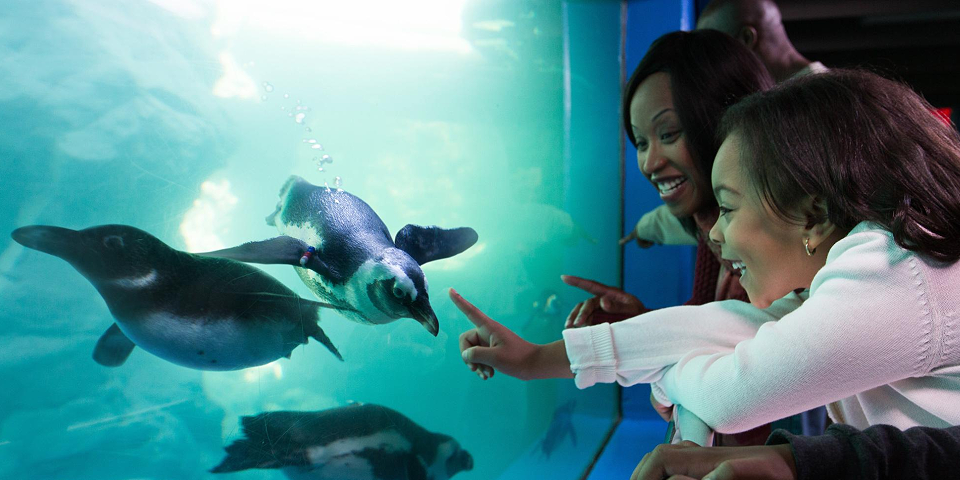 Thousands of Years in the Making.
Encounter breathing, clawing, roaring dinosaurs that practically come to life in Jurassic Giants: A Dinosaur Adventure! Trek through an indoor trail featuring animatronic dinos and discover prehistoric favorites like stegosaurus, triceratops and of course the infamous tyrannosaurus rex.
Discover Extraordinary Animals.
Be thrilled – or chilled – by the funky features of over 30 different amphibian species throughout frogs! And in Weird & Wonderful, you'll see some of nature's most outrageously bizarre and unfathomably freaky animals with fascinating adaptations.
Get your Hands Wet.
Experience the sensation of a stingray glide below your fingers at the Ray Touch Pool or even as it suckles food from right out of your hand! Then head to Shark Encounters inside to touch a bamboo shark as it swims past. Splash around a huge water table and get hands on with local species at Discover Long Island Sound. Additional fee applies to feed rays.
Go on a Cinematic Adventure.
Immerse your senses when 3-D imagery brings short films to life in our two theaters! Special effects including bubbles, mists, smells, buzzing seats and more make the 4-D Theater experience unique while our Blue Theater provides just as much of a visual adventure without all the extras.
Dive into Excitement.
From exclusive seal, sea lion or penguin interactions to wading waist-deep with a whale, you'll get up-close and hands-on with some of our most popular animals. Learn what it takes to care for our marine mammals and birds and enhance your understanding of the animals in our care. Additional fee applies – seasonal.
Other amenities: Free parking, on-site Cafe, concessions, printed guides, nearby restaurants, special packages
Address:
Mystic Aquarium
55 Coogan Boulevard
Mystic, CT 06355
website: https://www.mysticaquarium.org/
Interest:
Children, Young Adults, Adults
Directions:
From I-95, exit 90: South on CT Route 27, then east on Coogan Boulevard to Mystic Aquarium Road entrance on your left.
Hours:
Monday – Friday: 10:00 am – 5:00 pm
Saturday: 10:00 am – 5:00 pm
Sunday: 10:00 am – 5:00 pm
Time to Spend:
4 hours
Cost:
Adults: $35.99 – $37.99
Child: $26.74 – $28.24
Senior: $31.49 – $33.24
---
The I-95 Exit Guide is the Internet's largest and most complete website dedicated to Interstate 95 travelers. Find detailed exit service listings… lodging, camping, food, gas and more for every exit from Maine to Florida!
On the road? Why not take us with you. The I-95 Exit Guide is mobile-friendly and totally FREE. No App Required.
Traveling another route? Visit our growing family of exit guides: I-4 Exit Guide, I-5 Exit Guide, I-10 Exit Guide, I-75 Exit Guide, I-80 Exit Guide and I-95 Exit Guide. Detailed exit service listings… discount lodging, camping, food, gas and more for every exit along the way!