The Acadia Byway is designated as an official "America's Byway". The byway begins approximately 36 miles from I-95, exit 182 (I-395) in Bangor, Maine. Take I-395 east to US Route 1A east to ME Route 3 east. From there, the Acadia Byway is approximately 40 miles long. You should allow about three hours (without stopping) to drive and see this route.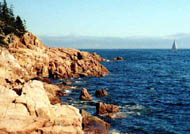 Prepare yourself for a wonderful time and bring plenty of film as you drive the Acadia Byway and tour the "Down East." One trip to Maine's Acadia region and you'll fall in love with its people and its landscape. From the romantic ocean mists blanketing charming coastal towns, to colorful lobster buoys bobbing in the Atlantic, the Acadia region feels like home the minute you arrive. Acadia's landscape, culture, and lifestyle combine on this unforgettable drive along some of the most beautiful coastline in the country.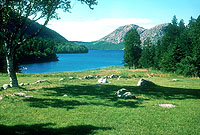 Famous for its parks, trails, and mountains, the byway is a playground for lovers of the outdoors, and with no clear line dividing nature from civilization, travelers will find the unique opportunity to see diverse wildlife such as puffins, moose, and fascinating marine life, watch lobster boats in the ocean, or enjoy outdoor adventure like sea-kayaking, horseback riding, or sailing.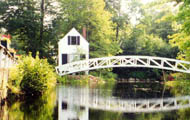 Be sure to visit some of the quaint coastal towns to truly experience the Acadia region. The culture of the area is greatly influenced by the commercial fishing industry and small-town hospitality, but that may be the only characteristic the various villages have in common. Each town offers something different. Stop in Bar Harbor for some seafood chowder and to chat with the locals, or head to the posh town of Seal Harbor to check out some hip galleries and exclusive shops. A trip to the "Down East" will leave you with a memorable experience you won't soon forget.
Photo Credits:
Top Left: © 1998. Larry S. Bermel, Chappaqua, NY.
Right: © July 1988. Maine Department of Transportation.
Bottom Left: © 1998. Larry S. Bermel, Chappaqua, NY.
The National Scenic Byways Program recognizes highways that are outstanding examples of our nation's beauty, history, culture, and recreational experience by designating them as All-American Roads and National Scenic Byways. The roads being featured were designated by the Secretary of Transportation from nominations submitted by the states and federal land management agencies. These designations provide a compass for people from all over the world to explore America's treasured open roads.
Content reproduced with permission from the National Scenic Byways Online: www.byways.org