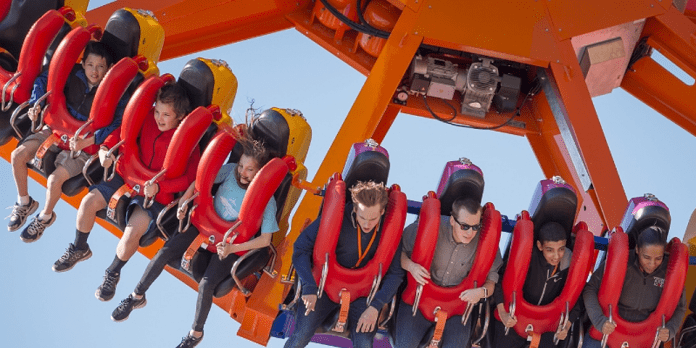 Kings Dominion is a 400 acre theme park located in Doswell, Virginia, 25 miles north of Richmond and 85 miles south of Washington, DC. The park delivers the best of Hollywood entertainment and one of the largest coaster collections on the East Coast; two children's areas; and "WaterWorks", a 19-acre water park.
In addition to the water park, Kings Dominion is comprised of 6 distinct areas… "International Street", the park's main street is lined with shops and food concessions stands. The centerpiece of Kings Dominion is its 1/3 scale replica of the Eiffel Tower, located just across the International Street fountain from the main entrance gate. An elevator takes visitors to the top of the tower, which provides a chance to see the entire park. The "Old Virginia" area features the "Shenandoah Lumber Company Flume", "White Water Canyon" river rapids ride, "Xtreme SkyFlyer", a 160-foot-tall skycoaster, and "Grizzly", a wooden roller coaster.
---
Book Now! Find your perfect hotel room near Kings Dominion!
---
"The Grove" is the parks main midway, and is known for the "Rebel Yell" roller coaster, "Drop Zone: Stunt Tower", the world's tallest drop tower, and its carousel, which was first built in 1917. "Nickelodeon Central" is section themed after the popular television network, "Kidzville" is another themed section with a variety of rides for younger kids.
"Congo" is Kings Dominion's African-themed section. Congo's most recognizable attractions are the "Anaconda" roller coaster, "Lost World Mountain", and "Avalanche", bobsled coaster… the only one left in the United States.
16000 Theme Park Way
Doswell, Virginia 23047
804-876-5000 Local
http://www.kingsdominion.com
Directions
From I-95 points north – Take I-95 south to Virginia exit 98 and follow the signs to Kings Dominion.
From I-95 points south – Take I-95 north to Virginia exit 98 and follow the signs to Kings Dominion.