Whether it's built around a red calendar day or a surprise, romantic getaways have evolved. Some like it hot, and head to the secret, uncrowded Florida beaches for seafood and long walks in the sand. Others couldn't be happier together than hiking in fresh snowfall and stopping for craft brews on the way to a tiny cabin in the mountains. Whatever your interests and vibe, nothing's more romantic than saying "I Love You" with the getaway gift of a perfect three days together, in the setting that warms your heart and revs your engines. In the Southeast, from Florida to Southwest Virginia to the Carolinas and Tennessee, from Georgia to Alabama all the way to Mississippi and Louisiana, there's a perfect destination for lovers of nightlife and dressy dining as well as aficionados of woodstoves and waterfalls.
Alabama
North Alabama
North Alabama is full of opportunities for romance and adventure. Some are traditional, some unexpected and all set amid a diverse landscape that is often the star attraction. The region is home to majestic natural wonders including intriguing caves, a National Forest and other protected areas, picturesque waterfalls and sparkling waterways to explore. Seven state parks with a full slate of amenities make staying overnight and exploring the outdoors easy. The area encompasses 16 counties. In the north the major cities include Huntsville, a tech and science hub and home of the U.S. Space & Rocket Center and Florence, birthplace of the Muscle Shoals sound, where artists like Cher, the Rolling Stones and Aretha Franklin recorded with hitmakers. At the southern end between Gadsden and Cullman, the historic covered bridges of Blount County preserve the engineering of the past, while Nature designed the towering 148-foot sandstone marvel in Winston County, the longest natural bridge east of the Rockies.
A host of trails make themed itineraries (and photo opps) easy. Whether your interest is waterfalls or wine, beer or barbecue, murals or motorcycles, there is a trail showcasing the best of the region. Discover North Alabama's heritage, beauty, and love of the arts through more than 125 murals across 16 counties. Read about the artists and stories behind them. Each mural boasts a completely unique design and creative vision. The Waterfall Trail features stunning falls, some of which are easily accessible for those with mobility issues. This waterfalls blog will answer many questions about where to picnic, find restroom facilities, discover the most challenging hikes and more details. The Wine Country Trail includes six wineries producing muscadine, fruit wines and grape wines. Covered bridges have been spots for romance since horse and buggy days. While Blount County holds the title of "Covered Bridge Capital," they're found scattered all around North Alabama.
North Alabama has a variety of accommodations to fit every taste and budget, whether your idea of romance includes sipping champagne from a balcony or curling up fireside under a cozy blanket. Camp out under the stars in a state park. Cozy up at a lakeside or mountaintop cabin with a view. Fall in love with a B&B, or live in luxury at a resort. Find your inspiration from this rustic romantic getaways blog. More travel information is available from NorthAlabama.org.
Florida
Daytona Beach
Romantics have long been drawn to the quaint, authentic and surprisingly quiet side of Daytona Beach—and to the heart-pounding rush of Daytona International Speedway. First, the thrills: Get in the driver's seat or ride along with a professional racing instructor and zip around the iconic Daytona International Speedway in the NASCAR Racing Experience. Soar above the area while tandem parasailing for views of Ponce Inlet Lighthouse, Daytona Beach, New Smyrna Beach, the Intracoastal Waterway and an array of wildlife.
Life in the slow lane is the other personality of Daytona Beach. Kayaking and paddleboarding one of the many waterways, inlets, creeks and rivers gives visitors an inside experience of the area's diverse ecosystems and wildlife. Soak up gorgeous scenery and get some exercise riding bicycles. Pedal along the riverfront on the Sweetheart Trail, under the Spanish moss canopy of the Spring-to-Spring Trail or out into the open along the 23 miles of hard-packed beaches. Don't miss the opportunity for inlet or inland river boat tours for spotting dolphin and manatee or take a cruise on the 50-foot catamaran Arabella with Fun Cat Sailing (sailingdaytona.com)
Drive down famous A1A with the ocean breeze blowing through your hair, or explore the roads tucked back among the live oaks within the Ormond Scenic Loop and Tomoka State Park area. This route is an iconic ride for motorcyclists, too, with several opportunities to stop and gaze or walk the trails. Share a romantic wish or selfie at Ponce Inlet Lighthouse, a National Historic Landmark and Florida's tallest lighthouse. Share a romantic wish or selfie and climb to the top for a spectacular view.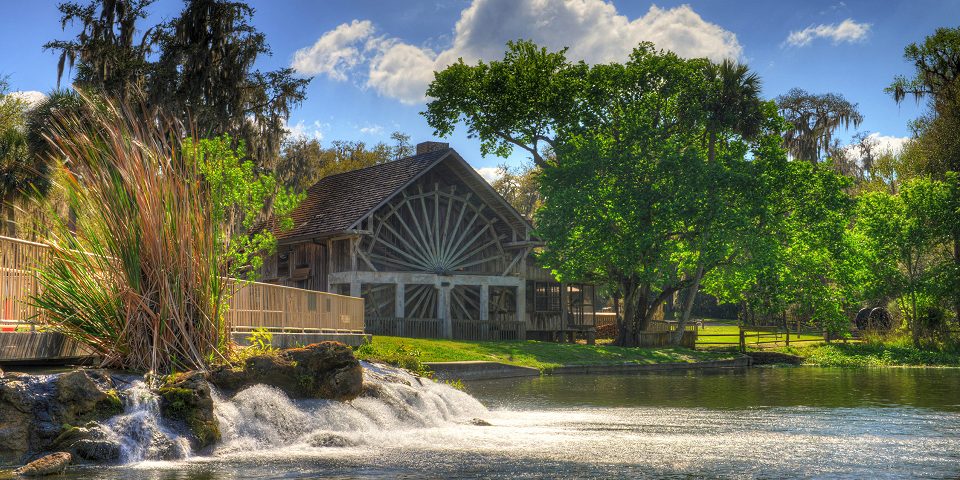 The romantic restaurants of Daytona Beach have dinner covered. A critically acclaimed Ormond Beach restaurant that frequently tops "Best of" lists in Central Florida is 31 Supper Club. With a speakeasy, art deco vibe, live music and delectable artisan foods, this restaurant specializes in fine Italian dining in a historic setting. Enjoy the night air and canopy of stars alfresco on the Havana Bar Patio. The Historic Register home of President Warren G. Harding is The Cellar, a "Top 100 Most Romantic Restaurant in the United States" whose chef consistently wins accolades for fine Italian dining. Reservations are recommended. For waterfront marina views, dinner and dancing, Mama Foo Foo provides a romantic nightlife ambiance with an eclectic menu of large and small plates. At Rose Villa Southern Table & Bar Step into this Victorian jewel and immerse yourself in the 1920's details as you enjoy our mouthwatering selection of artful and delicious Southern cuisine in a casual but fine dining atmosphere with classic craft cocktails and an ample selection of wines.
For a photo opp and a drink in Key West, flip-flops ambience, Hidden Treasure Rum Bar & Grill is the perfect casual setting on the Halifax River side of Ponce Inlet, right next to the famous lighthouse. Snap a love pic under the ancient, gnarly oak that anchors the deck. More spectacular sunsets and waterfront restaurants can be found here.
For racing enthusiasts, there's nothing more romantic than a Victory Lane wedding at Daytona International Speedway. For others, it doesn't get any better than the Ponce Inlet Jetty or a quiet spot on the beach at dusk. The Casements and Ormond Memorial Art Museum and Gardens are also favorites among brides-to-be. Read more unique ideas for a beach destination wedding.
West Volusia (West of Daytona Beach)
West Volusia encompasses 14 communities with an eclectic collection of attractions between Orlando and Daytona. From top-rated stylish and funky downtown DeLand to the scenic St. Johns River, this is real and authentic Florida. The region is known for everything from skydiving to manatee-sightings in Blue Springs State Park. DeLand's "real Florida" downtown takes top rating as best outside of Orlando. Combining a sense of history and a contemporary vibe, it's home to shops and boutiques, galleries and (nine!) museums, as well as great dining.
The African American Museum of the Arts, devoted primarily to African American and Caribbean American cultural art, is home to a permanent collection of more than 200 artifacts, sculptures and ceremonial masks from countries of Africa. The works of both established and emerging artists are displayed in a second gallery with rotating exhibits. Take in the DeLand Historic Mural Walk. More than a dozen murals depict the area's history amid the downtown shops and restaurants. For a photo opp, set out on the creative and quirky Wings of the West trail featuring whimsical, angelic murals by artist Erica Group at some of West Volusia's top attractions, from the new vibe of the streets of Downtown DeLand to the living history of the Barberville Pioneer Settlement.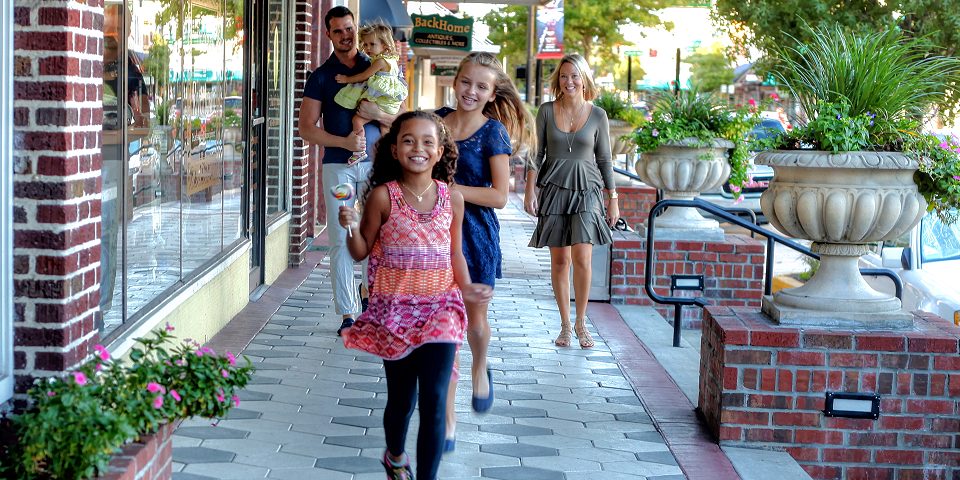 Many come to admire the resident gentle-giant manatees or enjoy the 72-degree waters found at two of the most popular natural springs in Florida. DeLeon Springs is a favorite for swimming and snorkeling–as well as pancake-making at the Old Sugar Mill Pancake House on-site. The beautiful Blue Spring State Park is a designated manatee refuge, the winter home of the West Indian manatee.
For romantic accommodations in lovely DeLand, travel back in time at The Historic ARTISAN Downtown, a boutique hotel with 14 exquisite guest rooms blending century-old Spanish colonial features with inviting comforts and modern technology. The on-site restaurant, Chicas Cuban Cafe, serves a mix of Cuban cuisine, a variety of Latin-inspired menu selections, signature flan, Cuban pastries and a very nice selection of wine, sangria and beer served in an engaging atmosphere. Take in a little more entertainment over in the hotel lounge; including live entertainment, a fully stocked martini bar and a fine bourbon collection paired with delicious sharable tapas from the restaurant. At the DeLand Hotel, experience the ambiance of the 1920's with a stay just four blocks from Stetson University and beautiful downtown. Original architectural integrity, claw foot bathtubs with shower, vintage furniture, vaulted ceilings are all part of the experience. A beauty salon and massage therapy are on site, as well as Hemingway's cigar bar and lounge and casual dining DeLand Eatery.
Hit the "CoolCraft Beverage Trail" for the best "crafts" around, and not just beer. With meads, smoothies, teas, coffees and, of course, some of the best brews, you can tour and taste all the "trail" destinations have to offer. What may seem like an odd addition is a favorite stop. Specializing in everything key lime, Kermit's Key West Key Lime Shoppe's crown jewel is its Key Lime Juice. Pair it with their key lime pie on a stick, dipped in Belgian chocolate, or any of their other key lime goodies, guaranteed to leave your mouth puckered.
At Deep Creek Stables 18,000 acres of the Lake George State Forest is the setting for trail rides among the native plants and animals. Private or group rides offer up to three hours of adventure. Skeet shooting, carriage rides and riding lessons are also available. Skydive DeLand is one of the busiest drop zones in the world. Eco-tours and fishing the St. Johns River are magnets for visitors.
Martin County, Florida
Tucked away on the Treasure Coast of South Florida just north of Palm Beach, Martin County offers visitors a laid-back destination that's perfect for a romantic escape. Lovebirds flock to this hidden gem year-round for its diverse mix of romantic properties, restaurants and activities. Building restrictions limit structures to four stories, preserving breathtaking views throughout the county, yielding Old Florida charm accented with Key West style.
Mild Florida winters are ideal for unplugging and exploring the area's state parks, nature preserves and National Wildlife Refuge that surround visitors with natural beauty and recreational opportunities. For ideas to get started, Martin County offers suggested parks or eco-adventure itineraries.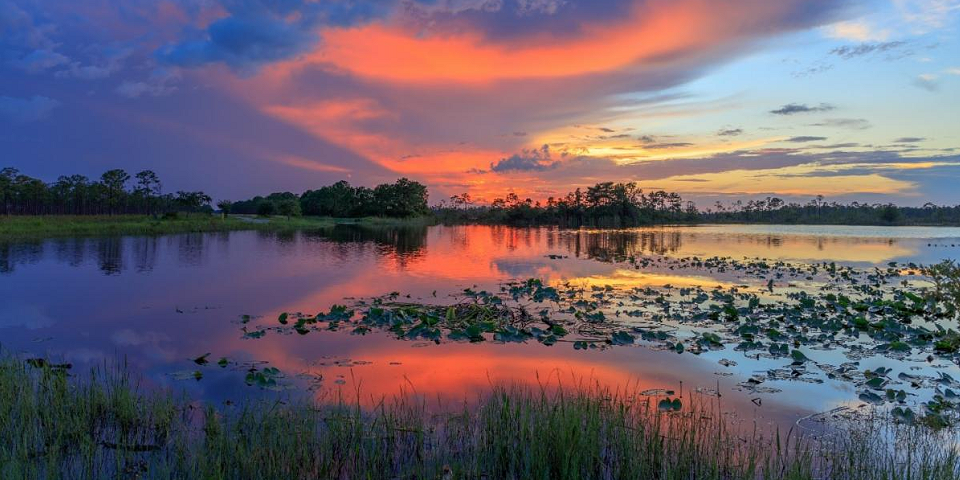 From luxurious to quaint, places to stay here exude charm and offer an ideal setting for making memories. The Hutchinson Shores Resort & Spa in Jensen Beach was just ranked #7 in the "Top 20 Resorts in Florida" in the 2021 Conde Nast Traveler Readers' Choice Awards. Couples searching for breathtaking oceanfront views, spa and massage services and outdoor heated pools find bliss here, along with romantic, oceanfront dining at Drift Kitchen + Bar. Others fall in love with the irresistible charm of the Old Colorado Inn in Stuart, with its collection of 1890-1914 buildings just a short walk from waterfront fine dining, shopping, and entertainment at the grand Lyric Theatre. Tucked away in Indiantown, the heart of Florida's citrus and cattle industry, The Seminole Inn captures the rustic grandeur of "Old Florida." The inn's famous Windsor Dining Room serves breakfast, lunch, and Sunday Brunch via reservations. Click for more ideas on where to stay.
In a county known for its food, there's one way to solve the delicious dining dilemma. The Flavor Excursion is a one-of-a-kind tour that rivets the senses with interesting history and delicious food at some of Downtown Stuart's best restaurants. Learn all about a ruthless pirate, Stuart's own Bonnie and Clyde, a speakeasy and more while grazing around the endlessly charming, award-winning historic Downtown Stuart waterfront district. Click for more dining ideas.
Scenic drives and romantic spots: The scenic drives of Bridge Road, The Grade, and St. Lucie Blvd appear to be plucked from the pages of a fairytale. Wind through towering tree tunnels and discover some incredible photo ops – especially when the light hits just right at dawn and during sunsets. Blowing Rocks Preserve in Hobe Sound is easily one of the coolest of Martin County's uncrowded beaches. During extreme high tides and after winter storms, seas break against and inside the otherworldly limestone rock formations and force plumes of saltwater 50 feet skyward. It's unlike any place on the Eastern coast and often ranks among the best beaches and most unique spots in Florida. DiscoverMartin.com
Northwest Florida
Scenic beauty, history, culture and adventure are all yours to explore throughout the Florida panhandle region. Explore Northwest Florida is a set of Florida counties bordering the Apalachicola and Choctawhatchee Rivers that have joined together to create a regional tourism destination marketing organization to encourage sustainable economic development through the preservation and promotion of the natural, cultural, recreational, scenic, and historical resources within the Apalachicola and Choctawhatchee Rivers basins. Here, an impressive river system connects a network of pristine waterways. Those waterways provide access to recreational venues and the wealth of preserved traditions and historic sites which combine to offer a seemingly infinite variety of reasons to spend time exploring here.
Scenic beauty abounds at a combination of natural and manmade attractions throughout the region. Whether following a nationally designated scenic byway route, navigating the region's picturesque waterways or exploring the preserved lands of a state park, visitors find beauty and also countless recreational opportunities. Referred to as a watery Eden, this region is best known for the majestic Apalachicola and Choctawhatchee Rivers and is also home to the Ochlockonee and Chipola Rivers and Econfina and Holmes Creeks. It is home to sandy-bottom springs and underwater caves popular with divers from around the world.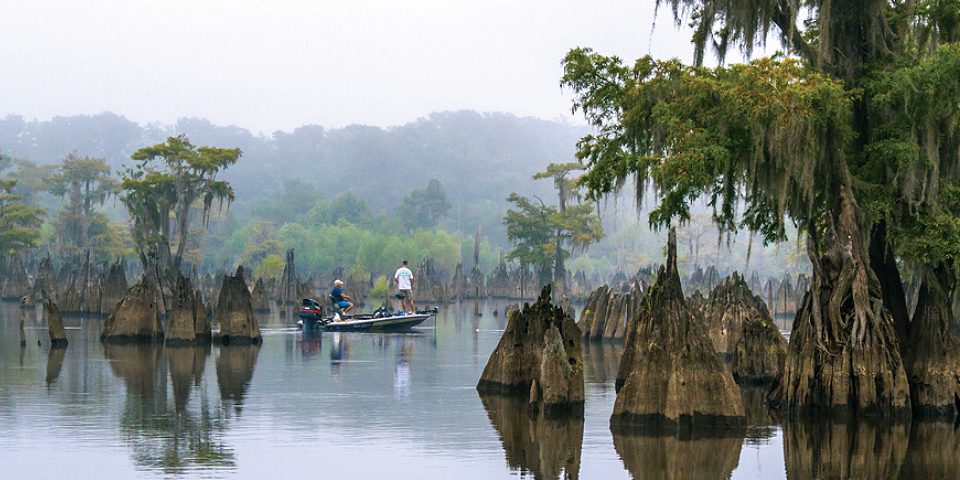 The region is celebrated for popular activities like freshwater fishing and paddling but hiking, biking, beach activities, birding and wildlife viewing are also favorites . . . and that's only the beginning. Identified as a "biological jewel" and one of six biodiversity hotspots in the nation, this panhandle region is recognized for its "combination of species rarity and richness."
History buffs relish locations on National Register of Historic Places, well-preserved state parks and Native American settlements. Vast cultural resources dot the landscape as well, bringing agricultural, architectural and lifestyle traditions of both natives and settlers to life through unique attractions and events. There's so much to explore. Visit www.ExploreNWFlorida.com.
Gulf County, Florida
On the central gulf coast, (where the Central and Eastern Time Zones meet at St. Joe Beach), two hours southwest of Tallahassee and just an hour east of Panama City Beach, Gulf County, Florida, is known for its laid back, low-rise lifestyle. There are no tall buildings along the shoreline here. Giant neon lights are nowhere to be found. There are only three stoplights in the whole county. And that's what's perfect about it.
From any point in the county, a body of water is less than five minutes away. And with 244 miles of shoreline in the county, there are plenty of access points for visitors. Whether paddling or fishing, shelling or scalloping, snorkeling or diving, there is a place to enjoy it here.
With its convenient bay accesses, the central hub of Port St. Joe is popular both for both shore and water activities. There are parks and walking trails nearby and the newly renovated Frank Pate Park makes launching a boat or joining a fishing charter easy. Exploring the clear, shallow waters on a snorkeling or shelling adventure or enjoying an amazing sunset are popular activities all year long. St. Joe Beach is a little strip of heaven. This laid-back beach community includes Windmark Beach and has abundant on-the-beach lodging rentals and convenient beach accesses, where visitors enjoy pet-friendly white sand beaches.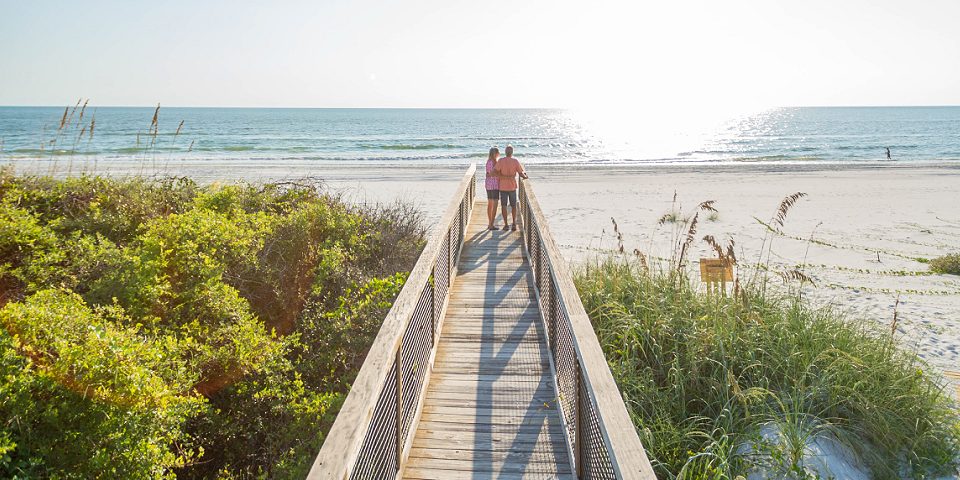 On the St. Joseph peninsula Cape San Blas is filled with low-rise, single-family vacation rental homes, white sandy beaches and beautiful, clear waters. It is also home to T.H. Stone Memorial St. Joseph Peninsula State Park. Indian Pass beaches are a prime location for camping, horseback riding and shore fishing. Take a day trip across the bay to St. Vincent Island Wildlife Refuge (accessible only by private boat or ferry service) or bask in the glow of a beach bonfire after sunset. Inland is Wewahitchka, with its Dead Lakes, freshwater rivers and variety of options for camping. This is also the epicenter for the harvest of the famous Tupelo Honey, a sweet treat loved by locals and guests alike.
Stay in the beachfront B&B Inn or fully equipped cottages at the coveted and quaint Turtle Beach Inn, located in Indian Pass. Check-in at one of the cozy Port Cottages in Port St Joe, directly across from St. Joseph Bay and the perfect location to stroll around downtown Port St. Joe. Or enjoy accommodations overlooking picturesque St. Joseph Bay and across the street from the turquoise waters of the Gulf of Mexico at the Cape San Blas Inn on Cape San Blas. For the ultimate "private island getaway," Black's Island is a seven-acre semi-tropical island set in the sparkling waters of St Joseph Bay, just a 10 minute ride from the mainland by boat, seaplane or helicopter. This lush retreat of 26 private luxury cottages includes observation decks, an oceanfront pool, central ecolodge, secluded beaches and the use of on-site watercraft.
Sunset dining? In the heart of Port St. Joe, enjoy a colorful sunset dinner at Quatro Locos Tacos and Cantina overlooking the St. Joseph Bay Lighthouse. Step into the cozy, intimate atmosphere of Provisions Restaurant or T.I.G.F (This is Garden Food) in downtown PSJ. Watch the sunset over St. Joseph Bay on the patio at The View on Old 98 in Windmark Beach. The White Marlin Restaurant & Oysterette is the area's newest elevated coastal dining experience with stunning sunset views, tranquil boat-watching, and photo-worthy landscapes. Afterward, Light Up Your Night Beach Bonfires provides a romantic sunset fire on several beaches and offers a variety of splurge-worthy bonfire packages.
For the ultimate intimate dinner, book a 5-star dining experience in your own beach home with a personal Chef from Your Table! Your Chef!. Lavish, memorable beach picnics are a specialty of Boho by the Bay and Picnics in Paradise. These beautiful beach set-ups can be customized for the perfect proposal or dinner. To add to the surprise, schedule a romantic, customized sunset horseback ride on the beach through Broke-a-toe Horseback Riding. Take your relationship to new heights and perhaps pop the question at the top of the Cape San Blas Lighthouse overlooking St. Joseph Bay. www.VisitGulf.com
Panama City, Florida
In Panama City, Florida, there's a year-round, salt-in-the-air, sand-between-your-toes atmosphere that goes far beyond the water's edge. Distinct from the bustle of nearby beaches, there's a comfortable feeling, radiating an atmosphere all its own. Many are surprised by the mix of small-town charm and funky village vibe. The variety makes this a destination many choose to explore over and over again.
Panama City is the largest city between Pensacola, less than three hours to the west and Tallahassee, two hours east. Sitting just about in the center of Florida's northern Gulf Coast, tucked away on the northern shores of St. Andrews Bay, this destination welcomes visitors to the place where city meets sand. The thriving historic districts of downtown Panama City and St. Andrews, anchored by two full service public marinas, perfectly pair diverse dining establishments, eclectic shops, galleries, live music, historic walking tours, farmers markets, dolphin tours, fishing charters and sailing excursions.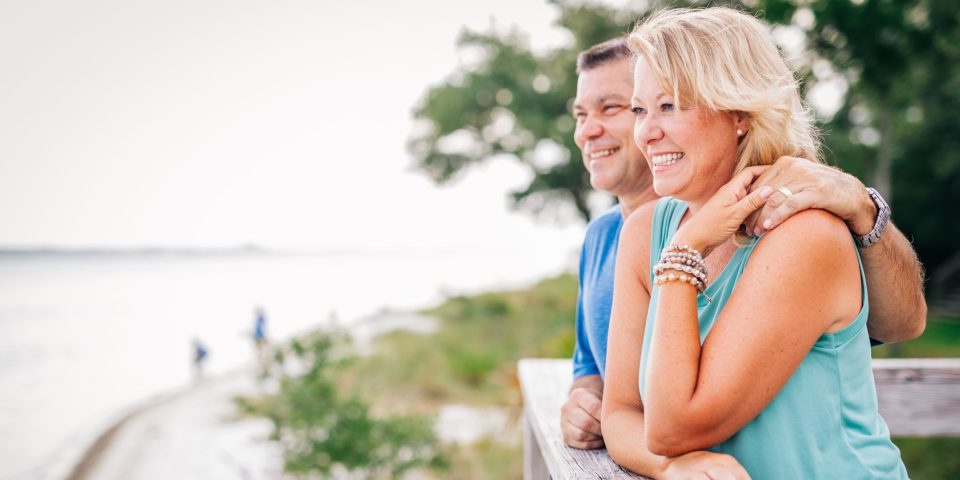 Romantic views With largely untouched natural landscapes, Panama City is recognized on the Great Florida Birding Trail, the America's Great Loop sailing route and the Florida Circumnavigational Saltwater Paddle Trail. A short boat or shuttle ride away is Shell Island, an uninhabited barrier island with calm waves. Oaks by the Bay Park in historic St. Andrews hosts live music and events. Many couples get engaged and/or married at the Old Sentry Tree there. Legend has it that the tree protects the area like an old sentry guard, so it also protects whatever love grows there. Sunset at St. Andrews Marina is also a spectacular setting. For those who don't want to settle for a selfie, the Destination Panama City visitors bureau can recommend a professional photographer for photos for an especially memorable occasion.
Of course, the outstanding regional seafood of the region is a huge draw. Shrimp, fish and crab are local favorites, but tasting that oyster just opened by a champion shucker is an experience second to none. Raw, baked, grilled, fried or sauteed, Panama City has its own Oyster Trail of purveyors and restaurants, including Gene's Oyster Bar, with its own historical marker. And there's an Ale Trail, too, where the craft beer and the atmosphere flow at nine local pubs.
Dining in Panama City can be casual or dressy, and includes Asian, Indian, Mediterranean and more. Bayou Joe's Marina & Grill overlooks Massalina Bayou with 180-degree views of the water and stunning views of the sunrise and sunset, Bayou Joe's serves "Old Florida" style breakfast, lunch, and dinner year-round. At night, underwater Glow Lights attracts all sorts of fish under the docks for your viewing pleasure. Uncle Ernie's Bayfront Bar & Grill is located right on the bay in a historic late 1800s home. The Copper Tap Grille creates healthy and made-to-order seafood and multicultural meals. For fine Italian dining Ferrucci Ristorante will not disappoint. Peruse all the delectable dining in Panama City here. Looking for a unique and intimate experience? The Enchanting Picnic Co will suggest location ideas and help you fill in your vision with décor and details to make it personal and special.
Romantic spots Sunset at St. Andrews Marina is spectacular. For those who don't want to settle for a selfie, the Destination Panama City Visitors Bureau can recommend a professional photographer for an especially memorable occasion. Oaks by the Bay Park in historic St. Andrews is known for live music and events, and many couples get engaged and/or married at the Old Sentry Tree. Legend has it that the tree protects the area like an old sentry guard, so it also protects the love that grows there.
When it comes to lodging options, choose from a variety of branded hotels, extended stays and Airbnb apartments and homes. The combination of subtropical weather, an impressive slate of special events and great dining make Panama City a year-round destination. The surprising mix of new, old, funky and serene make it a favorite for many who come back again and again. www.DestinationPanamaCity.com
Washington County
Those looking for authentic, old Florida will find it in Washington County, in the state's predominantly rural northwestern region, north of the Panama City beaches along Interstate 10 and midway between Pensacola and Tallahassee. Washington County was created in 1825 and has been shaped by Native American, Spanish and English cultural influences.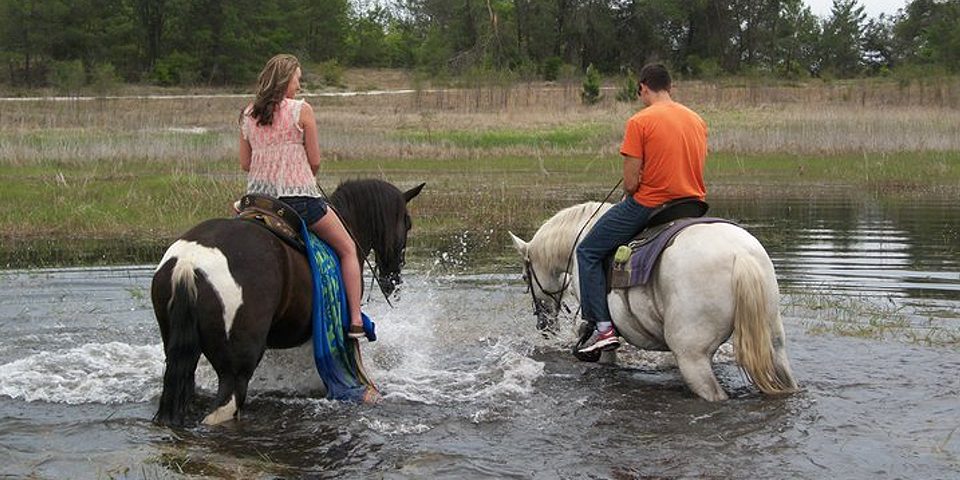 Filled with small town charm and an appreciation for its history, Chipley is the real Florida. Its South Third Street, a designated U.S. Historic District, encompasses 13 historic homes, including some of the best examples of Queen Anne Victorian style architecture in the state of Florida. For history buffs, take a driving tour to see how history is preserved in one of the oldest church buildings in the state at Moss Hill Church. Enjoy a unique performance and feel like a part of the community at the Spanish Trail Playhouse, originally founded in 1962 and still going strong.
Outdoor lovers will find plenty of adventure. Falling Waters State Park is home to Florida's highest waterfall at 75 feet. Surrounded by fern-covered sink holes, it's a breathtaking backdrop for popping the question and engagement photos. The pine and hardwood forest offer a beautiful setting for hiking and camping. Fish and enjoy the scenery at its two-acre lake with a white sand beach. With more than 16,000 acres of freshwater, Washington County offers myriad paddling opportunities. The Holmes Creek, Choctawhatchee River and Econfina Creek are popular canoeing, kayaking and paddle boarding sites. Liveries and equipment rental options to fit most every need.
Orange Hill Gator Farm gives its visitors an up close and educational encounter with one of Florida's most famous creatures, the alligator. Learn about their growth, habits and habitats and also about conservation efforts. The farm has nearly 200 gators in residence and is also home to coyotes, tortoises and other amazing native species. Seacrest Wolf Preserve offers an experience like no other, one of the rarest opportunities in the world for humans to interact with wolves. This is the largest preserve of its kind in the country, providing a safe and humane sanctuary for this misunderstood species. The preserve offers intimate VIP tours, the perfect opportunity for a surprise engagement, complete with celebratory howling and photography. To extend the experience, stay in an onsite cabin.
One of the panhandle's best values in golf, Sunny Hills Golf Club is an old-style, 18-hole, par 72 course designed by Gene Sarazen and Ken Venturi. It offers a challenge to golfers of all skill levels and is open to the public every day. Reconnect with nature and enjoy the quiet and natural beauty of North Florida at Sunshine Riding Trails in Chipley. Take a trail ride through Florida sandhills and preserved forest atop majestic Tennessee Walking Horses. Riders of all skills will find the right option among the slate of basic riding lessons, guided trail rides and overnight camping packages. The 7,000-acre Pine Log State Forest includes miles of hiking and equestrian trails amid lush native flora. Florida's first state forest, Pine Log's habitats include sandhills, flatwoods, cypress ponds and titi swamps, streams, lakes and ponds. Hunting and fishing are popular in their seasons and full hook-up and primitive campsites are available. www.VisitWCFla.com
Georgia – from the coast to the mountains
Georgia Coast
On the southeast coast of Georgia, just 25 miles north of Jacksonville, Florida, Kingsland and St. Marys are two charming adjacent towns, uncrowded destinations filled with natural beauty, Southern hospitality, fascinating history, delicious seafood and loads of outdoor adventure. A year-round true nature lovers' delight, Kingsland and St. Marys are the gateway for unique outdoor exploration: Cumberland Island National Seashore; Okefenokee National Wildlife Refuge; dark sky photography; stellar kayaking; incredible inshore and offshore fishing and more. As part of the Colonial Coast Birding Trail, the area is also home to many species of birds. More than 300 have been spotted among the 18 sites along the birding trail.
Kingsland and Camden County
With proximity to the Georgia/Florida border, just 25 miles north of Jacksonville, Florida, and easy access to Interstate 95, Kingsland is the ideal coastal destination to stay, play, shop and explore. Surrounded by palmettos and Spanish moss-draped oaks, find unique treasures along the red brick sidewalks of Kingsland's Historic Royal District.
With three freshwater rivers and easy access to the Intracoastal Waterway, there are endless boating opportunities. Take a guided tour with Adventures Up the Creek and explore via kayak, war canoe or paddleboard. Fishing is a great way to relax and enjoy the water. Whether inshore or offshore fishing, experienced local charter fishing captains know all the spots. On land, golf lovers will enjoy 700+ holes of golf within one hour and the area's mild temperatures make golf a year-round activity.
For colorful romance, don't miss the two-day Mardi Gras celebration held every February in the heart of downtown Kingsland. Featuring national country music recording artists, local food, street vendors and a lively Mardi Gras parade, it's all the fun without the crush of a big-city event.
Hop on one of America's oldest privately owned shortline railroads and experience everything from scenic rides to themed excursions. The Georgia Coastal Railway entertains with various seasonally themed rides through neighborhoods, Southern marshlands, commercial districts and a working rail yard. Choose from the Murder Mystery Express, The Great Gatsby Express, The Wine Tasting Special and more. All excursions depart from the Kingsland Station on South Lee Street, just two miles west of I-95. (Advance reservations strongly encouraged.)

Restaurants: Wandaful Things is a creative bistro and bakery that serves inventive entrees, small plates like empanadas, charcuterie, crab cakes and creative sandwiches. Pre-order a celebratory cake for dessert and take the rest to your accommodations for late-night snacking. Angelos is a longtime favorite traditional Italian restaurant that serves authentic dishes as well as pizza, with murals depicting old-world landscapes.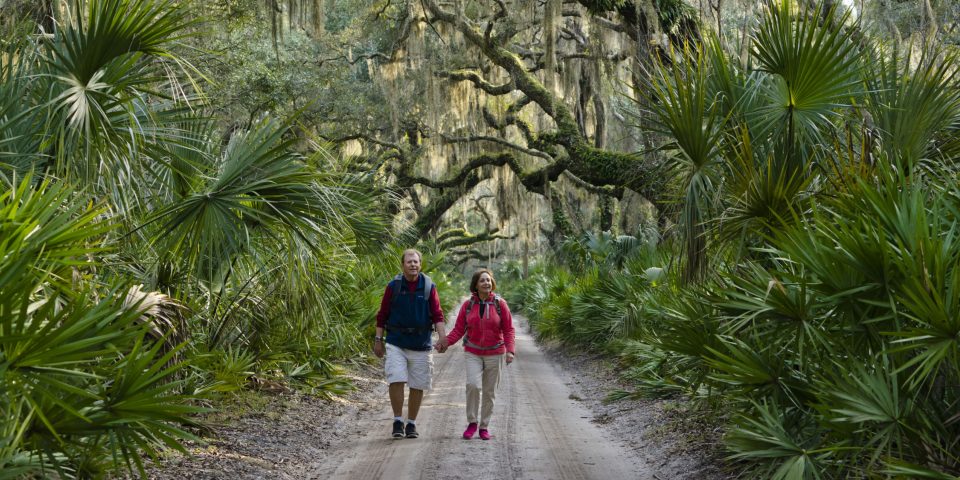 Romantic views: In addition to Cumberland Island and Crooked River State Park, the Woodbine Nature Trail and River Walk is a Coastal Georgia Greenway's Rails to Trails program, a paved path running along the old railway in Woodbine north to the Satilla River. To create your very own artful memento, enjoy a paint- or design-and sip class or private party at The Makery on Lee.
With easy access on and off I-95, Kingsland offers many lodging options from big brand hotels to romantic inns and RV parks. For a complete list of Kingsland lodging options, more to do and see, go to www.VisitKingsland.com
St. Marys and Cumberland Island
Next door and sharing many outdoor attractions, St. Marys and Cumberland Island, Georgia, is an uncrowded destination less than an hour's drive north of Jacksonville, Florida, just off I-95 on Georgia's southernmost tip. The culture, heritage and outdoor activities here make it popular with history buffs and outdoor enthusiasts. It's filled with small-town charm; a downtown waterfront community where the views are part of the romance.
The streets are lined with locally owned shops, while historic homes offer glimpses into life in an earlier era. Some are inviting and unique lodging options. Romantic options abound. Take a stroll on the beautifully landscaped downtown St. Marys Waterfront Park, with swings and benches facing the water. It's within walking distance to Locals Dockside where you can enjoy the perfect seafood dining experience with views of the St. Marys River, golden marsh and boats out on the water. More dining ideas include Riverside Café & Restaurant, a Greek-American family restaurant on the banks of the Saint Marys River in Historic Downtown Saint Marys. Try the Greek Platters, including Moussaka and Pasticcio as well as seafood and specialty sandwiches. Cedar Oak Café offers breakfast, international dinner specials, pizzas and a bakery full of desserts.
St. Marys is on the Georgia WWII Heritage Trail. The St. Marys Submarine Museum is the largest museum of its kind in the South featuring nearly 5,000 square feet of exhibits and displays on two floors, from WWII to today. Experience history come alive with a wide variety of images, paintings, artifacts, models and rare historical documents, like WWII patrol reports.
What's more romantic than snuggling up for the ferry ride to Cumberland Island to watch wild horses and walk the beach? Pack the perfect picnic and have lunch on the uncrowded sands of the largest barrier island in Georgia. Take the ferry from the Mainland Visitor Center in St. Marys to one of coastal Georgia's treasures, Cumberland Island National Seashore. Very few places like this exist anymore, and this one is celebrating 50 years. Mostly made up of pristine maritime forests, majestic live oaks and palmetto trees, undeveloped beaches and wide marshes, you'll spot wild horses, turkeys, alligators, deer and an impressive variety of coastal birds.
Only accessible by boat, Cumberland Island is a well-preserved jewel that allows the opportunity to go "off the grid" and engage with nature without distraction. Discover the history of Plum Orchard Mansion, the ruins of the once elaborate Carnegie Estate "Dungeness," Cumberland Wharf and the Settlement of the First African Baptist Church. Camping is also available as well as bike rentals and tours. Some adventurous travelers choose to camp overnight on the island (by reservation only). Click here for more information on ferry reservations, bike rentals, tours and camping. When you head back to the mainland let the celebration continue at Seagle's Restaurant on the ground floor of the historic Riverview Hotel—which is also a great place to stay.
Crooked River State Park is also a great couples date. Only 10 minutes from downtown St. Marys, the 500-acre park offers a nature center and hiking, biking and kayak trails, along with cabins and campsites. The 11-mile St. Marys Tabby Trail connects the park with downtown St. Marys via multi-use bike trail. The entire area is known as a paddling and birding mecca and has spots noted on both the Southeast Coast Saltwater Paddling Trail and the Colonial Coast Birding Trail. You can even arrange a guided tour, with state park staff, of St. Marys rookery to see native wading birds, including Wood Storks and Roseate Spoonbills. For a casual celebration that falls in line with the feel of the day head over to Brackish Beer Company for a flight of local brews, live music and some souvenirs.
Designated as one of Georgia's seven natural wonders, Okefenokee National Wildlife Refuge is made up of over 400,000 acres of canals, moss draped cypress trees and lily pads all of which provide a natural sanctuary for hundreds of species of birds and wildlife. Explore on foot, on bike or on the water, through a guided tour or solo (boat and bike rentals). Most guides have family roots in Okefenokee, were born and raised there and many have led swamp tours for 30 years or more! If you go, don't miss the interactive welcome center, observation tour and restored swamp homestead. Overnight excursions are an opportunity to experience and photograph the stars in a recognized Dark Sky area. For more information on tours, rentals and excursions, click here.
With easy access on and off I-95, Kingsland offers many lodging options from big brand hotels to vacation rentals, romantic B&Bs and RV parks. www.VisitStMarys.com
Southwest Georgia
Albany
Off the beaten path, Albany, Georgia is an ideal destination for reconnecting. Located near I-10 in Southwest Georgia, and only 30 minutes from I-75, this small-town charmer will appeal to outdoorsy types as well as luxury-lovers.
Perhaps the two attractions that set the stage for romance are dining and lodging. Albany has more than two dozen safe and affordable accommodations to suit every taste, many with complimentary breakfast. Some require no driving to dinner and drinks. One option is Merry Acres Inn, with historic Southern charm and complimentary transportation to and from three restaurants. After dinner and dessert, continue sweetie sessions over nightcaps at Merry Acres' on-site Manor House Pub. Special room and amenities packages are available, including a splurge-worthy chauffeured 1939 Studebaker or 1973 Cadillac Eldorado convertible.
For a romantic dinner with service and ambience, choose from several options. The Catch Seafood and Oyster Bar focuses on the fresh, not frozen, bounty of the Georgia and Florida coast, yet satisfies meat-eaters and vegetarians. Osteria is Albany's newest restaurant, a stylish Italian concept that also pays homage to the former, much-loved Henry Campbell's Steakhouse. Next door to Pretoria Fields, Albany's first craft brewery, The Flint serves succulent Southern fare like fresh seafood, oxtails, steaks and more in a softly lit atmosphere.
Active outdoor adventurists have plenty of ways to love Albany. Paddle the Flint River by kayak or canoe via the several picturesque launch areas. Kayak Attack Adventures provides equipment, advice and guided tours. Engage in the South's quintessential quail hunting experience at internationally recognized Wynfield Plantation amid the area's natural beauty. Or try their sporting clays and skeet ranges. Afterward, relax in the rustic hunting lodge over a glass of wine or aged whiskey. The downtown Albany Welcome Center in the Historic Bridge House offers well-maintained bicycles for rent at reasonable rates—take them out on the six-acre Riverfront Park trails. At the Welcome Center, or online at VisitAlbanyGA.com/explore, discover dozens of additional pursuits, including mountain biking, golf and fly-fishing.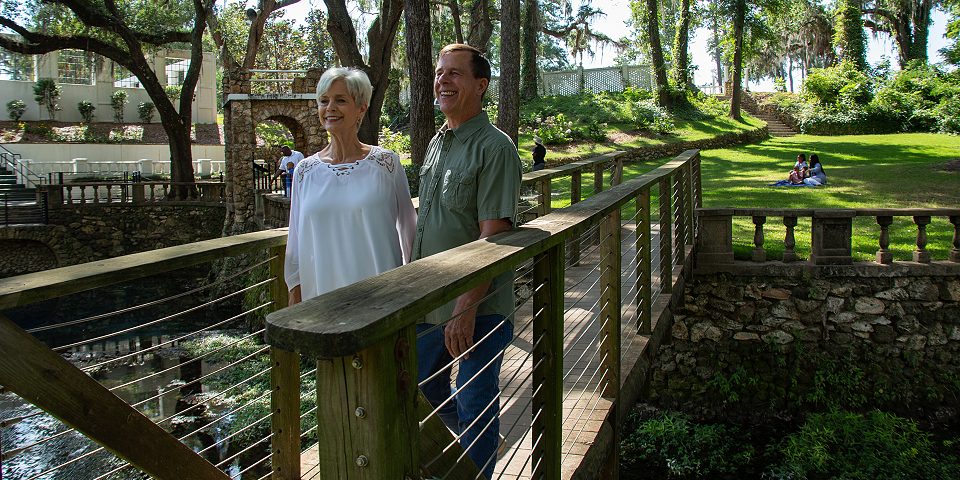 Honor the heroes and ordinary people who were part of the Civil Rights movement at the Albany Civil Rights Institute. In addition to a digital oral database and an interactive exhibit the museum includes the restored Old Mount Zion Baptist Church where Dr. Martin Luther King Jr. inspired thousands in 1961. Afterward, reflect with a free "concert" at Ray Charles Plaza. The Albany native and beloved musician is honored with a life-size bronze sculpture seated at a Baby Grand piano on a rotating pedestal fountain. His sweet, familiar melodies play as water spills into a reflecting pool.
Treat your sweetie to an Albany shopping trip. In addition to malls and national retailers, more than 20 boutiques and specialty stores provide on-trend fashions and home décor, antiques, gifts, recreational and fitness gear. First, fortify at one of many specialty coffee shop and bakery options, including Cornerstone Coffee, which serves locally-roasted beans, along with pastries from Sugar Mama's Bakery. Afterward, relax tired muscles at Oasis Day Spa and Salon with a couples' massage. www.VisitAlbanyGA.com
Americus/Sumter County, Georgia
In west-central Georgia, convenient to I-75, three hours south of Atlanta and only two hours north of I-10, Americus is not only an ideal stopping point enroute to Florida, it's a top destination for its major attractions, including two national historic sites. The Jimmy Carter National Historic Site in Plains honors our country's 39th president, while the Andersonville National Historic Site is home to the Andersonville National Cemetery and the nation's only POW Museum. Head to the Glass Blowing Studios for a factory tour and peek into the art and community behind it—Americus is the #1 place in the world for this art.
Here, have a romantic getaway in a storybook castle. The crown jewel of downtown Americus is the acclaimed Windsor Hotel, part of the Ascend Hotel Collection. Originally built in 1892 for northern guests escaping winter's cold, parties, balls and celebratory events of yesteryear are all part of its colorful history. The stunning five-story Victorian masterpiece covers almost an entire city block and wows with a three-story open atrium lobby and amazing architecture. No two rooms are alike, from the circular Bridal Suite with private staircase and demi-canopied King bed to the well-appointed Chamber Rooms.
Stay overnight and toast on the Windsor's veranda, complete with rocking chairs and live music every Friday night. Have dinner at Rosemary & Thyme or a drink and appetizer at Floyd's, the long-ago doorman's namesake pub. Head to Café Campesino for healthy breakfasts and organic coffee, and take a romantic ride in 1949 vintage train cars on the The SAM Shortline Excursion Train. Check the schedules for special events like the Valentine's Dinner, Murder Mystery and Wine and Cheese tasting trains. Regular weekend rides explore rural landscapes and the historic towns of Americus, Plains, Leslie and Archery. In Plains, browse President Carter's campaign museum and an antique mall, buy a bag of peanuts from local merchants and stop in Plain Peanuts to try their peanut butter ice cream. In the community of Archery, explore President Jimmy Carter's boyhood farm. The train will stop just steps from his old front porch, and you'll have plenty of time to explore this National Historic Site before the SAM Shortline returns to the depot. For more ideas, go to www.VisitAmericusGA.com.
Columbus – middle Georgia
Centrally-located in the Southeast, 90 minutes from Atlanta's Hartsfield-Jackson International Airport and home to Fort Benning, Columbus, Georgia, is an easy drive from anywhere in the Southeast. This manageable-sized city blends a vibrant artsy energy with unique local history and a thriving food scene. It's also the perfect place to enjoy the outdoors, listen to local bands and taste finely brewed beer. Whether your ideal romantic getaway involves dining at a white-tablecloth restaurant and walking through world class art galleries or barbecue and adrenaline-pumping adventure, Columbus, Georgia has it.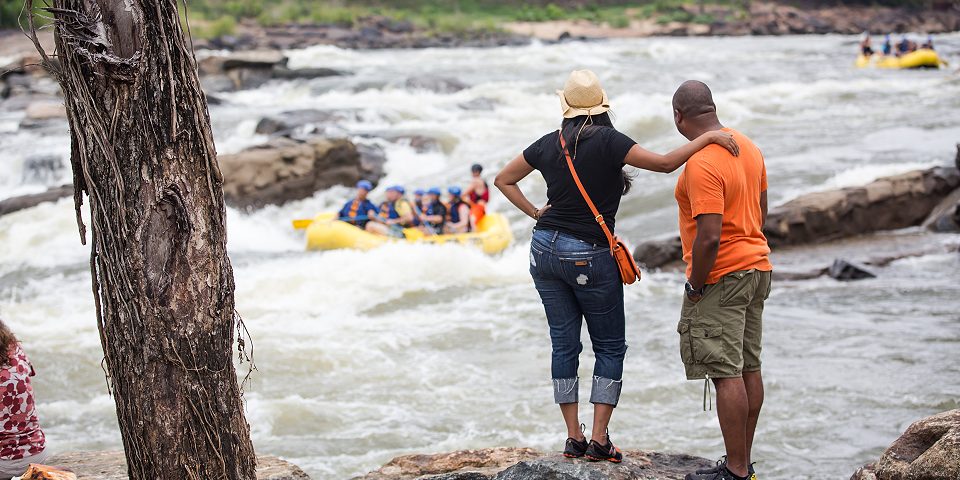 First, for outdoor-lovers, the city's marquee attraction is the Chattahoochee River and Whitewater. The 2.5-mile stretch of the Chattahoochee located in the heart of Uptown Columbus is the world's longest urban whitewater course and was named one of the Top 12 Man-Made Adventures in the World by USA Today. State-of-the-art wave making technology controls this mild to wild adventure from Class I rapids and a Lazy River to a famous Class V rapid.
Along the famous waterway is the RiverWalk, a 22-mile linear park for getting outside, relaxing and enjoying nature. Rent a bike, get in a run, skateboard or take a romantic walk and have a picnic at the RiverWalk Waveshaper Island. Watch the river action where paddlers and rafters take on Heaven's Gate, one of the largest rapids on the river. A sunset photo on RiverWalk is an almost mandatory memento.
Activate some endorphins with your sweetie on the Blue Heron Adventure, the only dual-zip lines that connect two states. Thrill-seekers cross the Chattahoochee reaching speeds of up to 40 m.p.h., then take on the Blue Heron Aerial Course, a treetop obstacle course experience, followed by a zip back to Georgia where the adventure began.
Next the city culture, check out the art galleries, theatres, breweries, and restaurants that make Columbus the South's Coolest Uptown. The city's thriving creative community boasts seven theatres and five art galleries all within a few city blocks of the recently developed Uptown area. Dress up for an engaging production at the Broadway-quality RiverCenter for the Performing Arts or the intimate stages of the Springer Opera House, the State Theatre of Georgia. Here's an in-depth Uptown Guide.
I love you to the moon and back: Columbus is home to the Coca-Cola Space Science Center, a division of Columbus State University. Enjoy interactive exhibits, NASA artifacts, opportunities to control a mock space mission, a planetarium show at the Omnisphere Theatre and more. Pick up a treasure at the Stargazer gift shop. Angel photos are a thing, so get your wings on at 11th Street and Broadway near Smoke Bourbon and BBQ. Noted mural artist Kelsey Montague created a set of wings just waiting for your fave person to step into and smile while you capture the moment.
Dining The number of choices is dazzling, so ponder the options over a sunset drink and appetizer at Eighteen85 Rooftop Bar & Kitchen at the Hotel Indigo. Locally inspired crafted cocktails and small plates are served along with a sweeping riverfront view. For traditionalists, only elegant dining will do. Go completely Epicurean with dinner at award-winning Epic Restaurant. Chef Jamie Keating has wowed Columbus with his elevated American cuisine in a white-tablecloth setting. Having earned an AAA Four Diamond Award and an Award of Excellence from Wine Spectator Magazine, Epic is a popular special-occasion restaurant. Cozy up for breakfast, lunch, or brunch for two at the European-styled café, bakery and wine bar, My Boulánge. Indulge in some decadent French pastries along with specialty lattes in a brick-walled setting decorated with local art.
Sweet dreams Columbus offers affordable lodging options with the amenities and service expected from a great southern host city. From ultra-modern hotels and historic boutiques to comfy budget inns, there are plenty of choices from trusted brands. Many are offering special sweetheart packages. www.VisitColumbusGA.com
Near Atlanta but away from the crowds
Brookhaven, Georgia
With a walkable setting more reminiscent of a quaint smaller town, the many lively neighborhoods of Brookhaven offer a laid-back respite from the nearby hustle of the big city. Brookhaven's community-focused vibe welcomes visitors to explore locally owned restaurants, shops, greenspace and more—creating a memorable and personable getaway for couples. With 18 parks spanning Brookhaven's 12-square-miles, a lush tree canopy and multi-use trails, it's easy to escape city life while remaining near to modern conveniences. Stroll the waterfront Peachtree Creek Greenway and explore the city's other parks including Brookhaven Park.
For a romantic stay, head for the Hyatt Regency Atlanta Perimeter at Villa Christina, a lavish urban hotel with the comfort and sophistication of a resort. Settle into spacious, suite-inspired guestrooms with pet-friendly options. Even though it's just inside the north Atlanta Perimeter (I-285), you wouldn't know it as you walk the beautiful gardens nestled in the trees, sit and enjoy the calming waterfall, and maybe even catch a glimpse of the family of deer that frolic about.
Dinner ideas? The Ashford is a chef-driven restaurant set in the heart of Brookhaven on Dresden Drive. Serving a selection of both shareable dishes and traditional entrees, the seasonal menu focuses on locally sourced ingredients and innovative takes on classic favorites, expertly paired with a craft cocktail or glass of wine, followed by a delectable dessert. Haven Restaurant and Bar is an upscale eatery that is consistently voted a top ten. The cuisine is modern American influenced by French, continental and hints of new Southern. On Clairmont Avenue, entering from a tree-lined patio, a warm glow permeates Petite Violette, with its large windows for ample natural light as well as creative light fixtures and live music is a full bar with fine wines complements sophisticated French Provençal cuisine and specially crafted menus including Cajun Creole, Wild Game and Mediterranean. Arnette's Chop Shop is a modern take on the traditional American steakhouse and features a contemporary, chef-driven menu, extensive wine list and a well-curated craft cocktail program. Secreto Southern Kitchen translates to secret—the secret art of incredible food. Dishes are based on recipes that have been handed down, recreated, and refined to amaze the palette and create a sensory experience. A combination of a warm, comfortable atmosphere and farm-to-table ingredients makes for an unforgettable meal.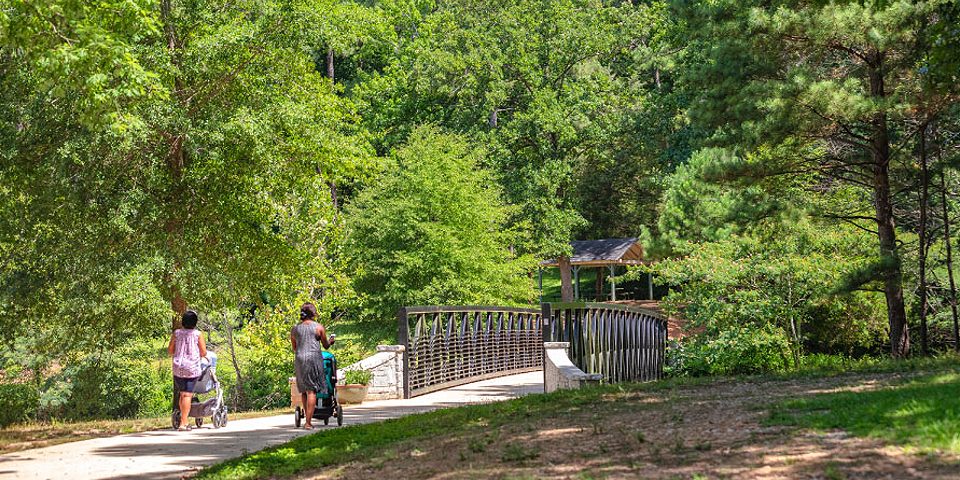 Things to Do: Brookhaven Wines is a specialty wine store located on Dresden Drive with more than 450 different wines from around the world, 100-plus wines under $20, as well as collectible and hard-to-find wines and high-quality cigars. On Friday evenings and Saturday afternoons, the store decorks a couple bottles to share, so drop in and grab a glass. The Beer Growler Brookhaven is home to 45 craft selections of beer, cider & cold brew. Sample some high-quality craft beers at the bar in this relaxed environment and stay for a game of darts. Before or after, treat yourselves to total relaxation with a Togetherness Massage at Natural Body Brookhaven. For our outdoorsy couples: consider a sunset proposal at Murphey Candler Park. www.ExploreBrookhaven.com
Cartersville: Booth Western Art Museum
In the foothills of the North Georgia mountains, Cartersville is a getaway for museum mavens, art and antiques aficionados, foodies and lovers of the outdoors. Just north of Atlanta, downtown Cartersville combines big-city music, dining and cultural amenities with the parking, walkability and charm of a beautifully restored historic downtown. The historic square is intersected by the railroad and restored train station, now a visitors center where you can pick up self-guided tour maps and other ideas. Stroll the antique shops, galleries and boutiques, and choose from many casual and fine-dining establishments. Lake Allatoona, Red Top Mountain State Park, the Etowah Indian Mounds and hiking and biking trails are not far from Main Street.
The city is nationally known for three world-class museums. A Smithsonian affiliate, The Booth Western Art Museum is a 120,000-square-foot museum where guests are invited to "See America's Story" through significant historic and contemporary Western artwork, from bronze to canvas, and in every style from painterly to pop art. For those who grew up watching Western movies and television shows, each sculpture, painting and object sparks the imagination; challenging myths and bringing cultures, indigenous peoples, flora and fauna alive. It's a favorite of kids and adults and has won numerous awards.
The Booth is an architectural wonder, a modern pueblo constructed from Bulgarian limestone. Seventeen galleries give a sweeping view of the West's history, land and cultures. Among the themed spaces is the soaring Eaton Sculpture Atrium; the Harding Cowboy Gallery featuring artwork honoring all types of cowboys, including Black, Caucasian, Hispanic and Asian; as well as galleries focused on landscapes and wildlife; and "Native Hands," an installation of 150 artifacts and artisan pieces. Rounding out the permanent exhibitions are "War is Hell" featuring contemporary Civil War art, an interactive Sagebrush Ranch for kids and a Presidential Gallery of portraits and letters. Supplementing the permanent collection are temporary galleries hosting 10 to 12 exhibitions per year, meaning that every visit is a new experience. The Candace Alexander McNair Store offers authentic collectibles to commemorate your getaway.
Visitors can also experience lectures, workshops, online programing and several annual events. The Love of Art Gala Weekend, February 17-18, 2023, features live and silent art auctions generating funds needed to help support the Museum's mission. October brings "West Fest" with Native American dancing, gun fight reenactments, art history lectures, a Western marketplace and more. https://boothmuseum.org
Serious museum lovers will want to make time for two additional visits: Just off I-75 at exit 293 in Cartersville, Tellus Science Museum is also a Smithsonian-affiliated, 120,000 square-foot space that is perfect for couples who share a passion for science. It features the Weinman Mineral Gallery, The Fossil Gallery, Science in Motion and The Collins Family My Big Backyard, as well as a 120-seat digital planetarium and an observatory with a state-of-the-art 20-inch telescope. Don't miss, eye-popping exhibits include an 80-foot-long Brontosaurus, a replica Wright flyer and dazzling gems and minerals that sparkle and glow alongside interactive exhibits demonstrating how the Earth moves and changes.
Savoy Automobile Museum is the newest addition to Cartersville's outstanding museum collection, connecting people to the cultural diversity of the automobile. Changing exhibits, stunning art, educational programs and engaging experiences give visitors a new appreciation of their beauty and history. This world-class museum and auto showgrounds is just off I-75, between Chattanooga and Atlanta.
Oconee County – Northeast of Atlanta, in Athens' backyard
There's something special about discovering a smaller-sized town and countryside not far from home yet far enough to stay overnight. Take the scenic route an hour east of Atlanta and eight miles south of Athens to Oconee County, Georgia, for exploration, entertainment and outdoor fun.
Downtown, boutiques make it easy to find the perfect gift for your sweetie and a brand-new brewery offers a way to celebrate the day with a sudsy toast. step back in time and take a stroll through the picturesque Main Street. Self-guided tour maps with history and architecture details are available at the Welcome Center. For a more immersive experience, book a walking tour with a guide in period costume who will bring to life local stories and legends.
For horse lovers, Classic City Clydesdales offers farm tours in which visitors can interact with the larger-than-life breed, and experience shaggy-haired Highland cows and petting-zoo farm animals. Check the website or call for details on tours and trail rides; advance reservations are recommended. Get out on the water with Oconee Joe Paddle Co. Take an unforgettable history and ecology river tour by canoe or kayak that tells the story of more than 10,000 years of habitation and river traffic, from Native Americans and early pioneers to today's conservation efforts.
Sweet treats with a twist Can we all agree that chocolate and candy are traditional must-haves for Valentine's? But who says you have to give it the same way every year? Kick it up a notch with breakable chocolate hearts from Bee's Knees Bakery. These hearts can be filled with special items that fit your Valentine's personality. They also can provide pre-filled hearts with chocolate-covered strawberries and chocolates and other sweet specials.
Romantic date Even small towns have fabulous date night options for a romantic, candlelit dinner. Enjoy a night at Girasoles at an intimate table savoring every moment with one of Chef Jose's delectable Mexican-Mediterranean fusion creations and perfectly paired wines. Chops and Hops, with high quality American cuisine and a wide selection of the best craft beers, is accepting dinner reservations for you and your cupid. A menu for reserved Valentine tables includes selections such as a heart-shaped poke' bowl and you can add on wine, beer, or one of their signature cocktails.
Cozy up If your cupid style is more laid back enjoying a night in with your valentine, make it special by picking up some adorable and yummy heart-shaped pizza from Fox's Pizza Den available on Valentine's Day. Lodging options range from lofts to campsites to chain hotels, making it easy to rest before continuing the adventure tomorrow. https://VisitOconee.com
South of Atlanta
Henry County
Spend a weekend in Henry County, Georgia, only 30 minutes south of Atlanta. Henry County includes the cities of Stockbridge, McDonough, Hampton and Locust Grove, as well as delightful family farms for tours, produce, honey, handcrafted soaps and more. Race around the track and take flight with a veteran pilot. Whatever adventure you choose, love is on the horizon.
Fly high Take a date to new heights with a trip to the Army Aviation Heritage Foundation which honors the military's "Sky Soldiers" by restoring and maintaining vintage aircrafts from the Vietnam War. The experience takes flight when climbing aboard a UH-1H Huey, where a veteran pilot brings guests high into the clouds aboard this impressive chopper. Thrill-seekers will enjoy a more intense ride by taking a seat inside the AH-1F Cobra attack helicopter. The hangars that serve as the home for the flying museum of Vietnam-era Huey and Cobra helicopters are located in Hampton at the Atlanta Speedway Airport (formerly Henry County Airport). https://armyav.org/about/
Cupid's bow and arrow Outdoor enthusiasts can hike, bike or play Cupid at Panola Mountain State Park. Take an Indoor Archery class to learn a new skill together or hone existing talent. Exercise buffs will enjoy tree climbing, a strenuous activity using a rope and a harness to ascend into a large tree where they can climb, swing and test athletic prowess. Climbers can choose how high they would like to go and even swing to and walk on branches 30-plus feet off the ground.
Grab a set of wheels from Atlanta Trek, which offers rentals for bikes, mountain bikes and electric bikes. Hit the trails throughout Henry County. Paved PATH Foundation trails connect to the Monastery of the Holy Spirit and go all the way to the Mall at Stonecrest.
Re-opening in February, Noah's Ark Animal Sanctuary in Locust Grove is home to over a thousand neglected, surrendered and abused animals. A non-profit educational sanctuary, the 250-acre facility offers a park-style atmosphere for self-guided tours or behind-the-scenes guided tours for a fee. Continue exploring the area and take a self-guided tour along Henry County's Artisan Trail, a collection of places featuring artisan goods and art throughout the area. Experience agritourism at Southern Belle Farm and other area farms. Delight in custom barnwood furniture and more at area retailers. Satisfy a craving at local restaurants like Drip-Thru Coffee and Made Fresh Juice Co. Take home a Georgia-made souvenir as a reminder of your getaway.
Set among landscaped gardens, Stockbridge Lakes Bed & Breakfast features three beautiful rooms on the main level and a one-bedroom apartment-style retreat on the lower level, all with a private bath, a modern feel and Southern charm. Mornings include a fresh home-cooked, locally sourced Southern-style breakfast with a flair or beautiful breakfast basket perfect for in-room or outdoor dining. Stroll the paths around the lake, admire each other and the view, and enjoy the paddle boat, feeding the fish and yard games. Afternoons, sample fine cheeses and refreshing beverages. Turndown service includes chocolate truffles and cold bottled waters. To celebrate with a memorable evening, the chef traditionally prepares a special three-course candlelight dinner, open to all by reservation. The separate package includes a photo shoot, a dozen roses and more. Additional lodging options range from familiar brand hotels to sleeping under the stars at beautiful campsites. www.VisitHenryCountyGeorgia.com
The North Georgia Mountains
Alpine Helen
Step into Helen, a storybook Alpine Bavarian Village just an hour and a half north of Atlanta in the Blue Ridge Mountains. Stroll amid cobblestone pathways and gingerbread-laced buildings through a lively downtown with one-of-a-kind shopping, dining and adventurous attractions like the Georgia Mountain Coaster.
Cozy restaurants Bodensee Restaurant offers fine German dining in a setting reminiscent of the Alps. Bodensee is open for breakfast, lunch and dinner and features Chef Aurel Prodan's culinary specialties like Weiner Schnitzel or the Haus Platter featuring knockwurst, homemade garlic wurst and smoked pork chop with sauerkraut and German potato salad. Sit inside or out on the deck with your mate while noshing on Southern specialties at Cowboys & Angels Restaurant and Bar. Choose from soups and salads, steaks or a crazy good bison burger. Gluten-free options are also on the menu. Choose a craft brew, your favorite wine or have the bartender mix up a premium cocktail.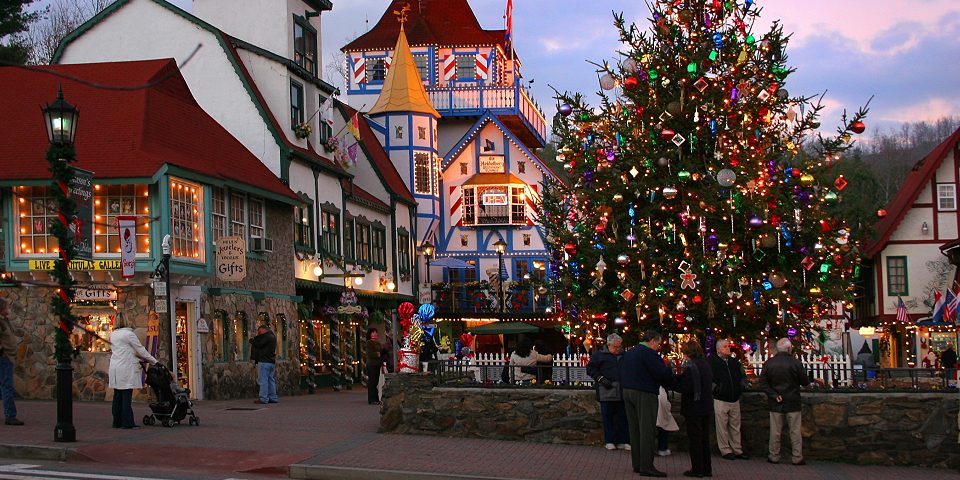 Retreat to the quiet side in historic Sautee-Nacoochee, with a romantic stay in a premium bed and breakfast like Lucille's Mountain Top Inn & Spa, sitting on a small mountaintop just outside the village of Sautee-Nacoochee and only four miles from Helen, with panoramic views of the Blue Ridge Mountains and the Sautee Valley. From there, explore the scenic community, with its exquisitely preserved/restored artists cabins, home furnishings and mercantile stores. In the old rural schoolhouse, the Sautee Nacoochee Center hosts juried events for regional artists, and next door the Folk Pottery Museum of Northeast Georgia is exhibiting "Clint Alderman: A Modern Folk Potter," a young artist who has worked closely with noted folk pottery artists Edwin Meaders, C.J. Meaders, and Michael Crocker. The Winterfest Arts Tour is held February 18-19, 2023, in Sautee-Nacoochee and Helen.
For a resort experience reminiscent of an ancient Scottish castle, Valhalla Resort Hotel offers mountain views from king and VIP suites and the area's true fine-dining restaurant, all within the Innsbruck Golf Community. Upscale amenities include concierge, valet, spa services, a relaxing pool and options for golf, hiking, fly fishing, winery tours and more are offered.
Next to Unicoi State Park, a short 30-minute trek to twin waterfalls known as Anna Ruby Falls in the Chattahoochee National Forest is about as romantic as it gets, but there are plenty more to be found at the Alpine Helen-White County website's waterfall guide. After peak leaf season through early spring, the waterfalls and trails are even less traveled and the views are even better. www.HelenGA.org
Blue Ridge/Fannin County
Just 90 minutes north of Atlanta off Interstate-575, Blue Ridge, Georgia, is at once outdoorsy, earthy, upscale, contemporary and historic. Centered around the Blue Ridge Depot, downtown's restored buildings blend perfectly with modern industrial and mountain architecture, showcasing the arts, galleries, antiques, unique shopping and dining. It's no wonder that Blue Ridge has been named one of the Top Ten Towns for Craft Lovers in the country. Yet 40 percent of the county is located within the Chattahoochee National Forest, sweeping visitors a million miles away. Photo-ops are all around. Trek across the 270 foot-long Toccoa River Swinging Bridge, the longest east of the Mississippi. Hikes to five refreshing waterfalls range from just .1 mile to 9.5 miles. Two bucket-list hiking adventures, the Appalachian Trail and the Benton MacKaye Trail begin in southern Fannin County at Springer Mountain in the Chattahoochee National Forest.
Intown, secluded overnight options are possible, ranging from chic lofts overlooking the town to an 1890's B&B or in the new, upscale Hampton Inn Blue Ridge featuring balcony rooms and the city's only rooftop bar/restaurant, Hook & Eye. In surrounding Fannin County choices include lodging with stunning mountain views, creekside retreats, riverfront lodges, cabins on the lake and much more. Indulge in a one-of-a-kind escape in a romantic treehouse at Bear Claw Vineyard built by "The Treehouse Guys" on DIY network, complete with a galley kitchen and bath. Serenity in the Mountains offers spa and suite packages that include a 90-minute couples massage and much more. To search for the perfect in-town hideaway or mountain retreat, go to https://www.blueridgemountains.com/where-to-stay.
For dinner, romantic options abound. Black Sheep, featuring a 200-year-old oak tree and covered patio fronting the historic residence once visited by Southern writer Margaret Mitchell. The locally sourced, chef-inspired New Americana menu and Wine Spectator-recognized wine list is complemented with cocktails featuring house-produced moonshine. Ambiance meets unforgettable eats at The General Ledger, located in a beautiful 1920s bank building where you can even be seated in the vault. Menu items include local favorite Blackened Pork Chops, Fried Chicken Paillard, Pecan Crusted Trout and a not-to-miss 16-ounce hand cut Ribeye, along with inventive main-course salads and sandwiches. Look for new specialty drinks featured daily at the bar. At Ferraro's Kitchen Blue Ridge, Sommelier/Chef/Owner Igor Ferraro has brought his highly regarded Miami concept to the Georgia mountains, with a Wine Spectator award-winning wine list. A native of Venice, he was introduced to the world of food and wines by his father, a wine producer in the area of Bassano del Grappa. Chef Ferraro serves his customers a passionate experience as if they were transported to Italy.
Blue Ridge is also known for its appealing wineries, breweries brewpubs and taverns. Create your own wine trail or pub crawl using the route on the Fannin County Chamber's digital Blue Ridge Brews and Wineries map. For more ideas, visit www.BlueRidgeMountains.com
Louisiana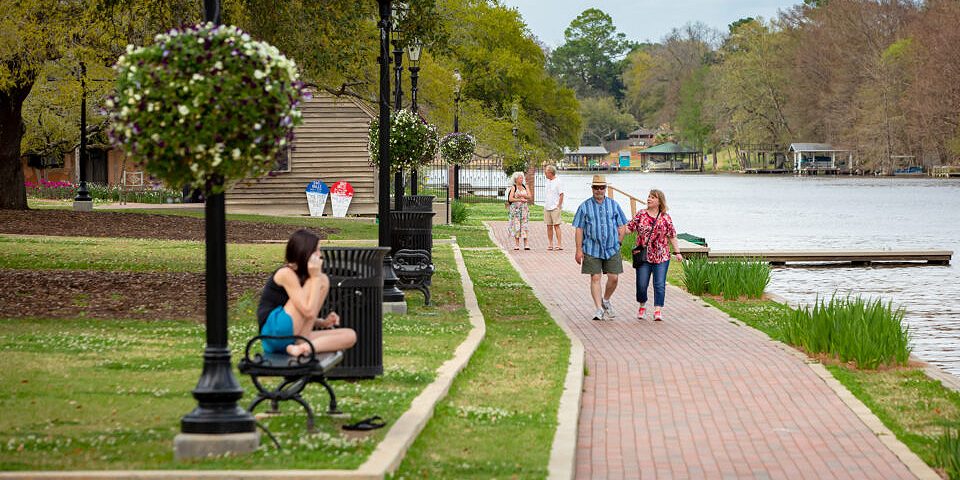 Natchitoches
Older than New Orleans, Natchitoches (pronounced Nack-a-tish) in north central Louisiana was founded as a French outpost in 1714. A passion for architectural conservancy has earned the city a designation as a "Most Romantic Main Street" community by the National Trust for Historic Preservation. Two National Historic Districts–downtown Natchitoches and the campus of Northwestern State University–have preserved the early charm of the city. Downtown shops and restaurants with wrought iron balconies face the beautiful Cane River Lake. The brick-paved streets along the banks of the Cane are familiar on-screen scenes from "Steel Magnolias" and others featured on the Natchitoches Film Trail. Natchitoches is easy to access via I-49 which connects to I-20 to the north in Shreveport and to I-10 in Lafayette, to the south. Commercial air service is an hour away at the Alexandria International Airport and the Shreveport Regional Airport.
Proposal spots and romantic vistas are everywhere. Enjoy a free, guided Historic District Walking Tour or a carriage ride with the Cane River Carriage Company. Nestled at the north end of the downtown riverbank area, Beau Jardin features a waterfall flowing into Cane River Lake surrounded by greenery and flowers. Drive a leisurely four miles north of Natchitoches to the US Army Corps of Engineers' Grand Ecore Visitor Center on an 80-foot bluff high above the Red River and gaze at panoramic views of the river and miles of landscape. A little less than an hour south, Longleaf Vista in Kisatchie National Forest is the second highest elevation in Louisiana. Take in views of the Kisatchie Hills Wilderness Area from a stone gazebo, or hike on the 1.5-mile interpretive loop trail.
Part of the appeal of a Natchitoches visit is its unique lodging options. Stay in one of more than 30 bed and breakfasts ranging from Creole style cottages to a lakeside oasis. Some are tucked away, others are part of the charm of downtown. Some have private entrances and balconies overlooking the lazy flow of Cane River or the Lake. A full slate of hotels, motels and inns, from nationally known brands to local gems make this a city of hospitality.
End the day with dinner and one of the most breathtaking sunsets in Louisiana at Mariner's Restaurant overlooking Sibley Lake. The menu features seafood specialties along with casual favorites in an outstanding setting. www.Natchitoches.com
Mississippi
Vicksburg
Southern history and culture are joined by a vibrant downtown dining and art scene, making Vicksburg, Mississippi, a river city like no other. Just 45 miles west of Jackson and 75 miles north of Natchez, Vicksburg sits at the intersection of Interstate 20 and the famed U.S. Highway 61, known as the Blues Highway. With more public art than any other city in Mississippi Vicksburg is best known for its collection of 32 vivid riverfront murals painted on the flood walls of Levee Street. Discover locally owned shops, boutiques, art and antique galleries along brick-paved Washington Street and beyond.
Dining and Nightlife
The entertainment district is a vibrant downtown scene with a variety of restaurants featuring local specialties, regional favorites and popular global choices. Local open container regulation allows visitors to explore even more with beverage in hand. Café Anchuca offers an elegant dining experience in a classic historic home. For a relaxing evening with a view, 10 South Rooftop Bar & Grill is a local favorite for sunset happy hours overlooking the river. Relish Bistro offers an Italian influenced menu, while Walnut Hills is a beloved, award-winning classic traditional Southern dining mecca.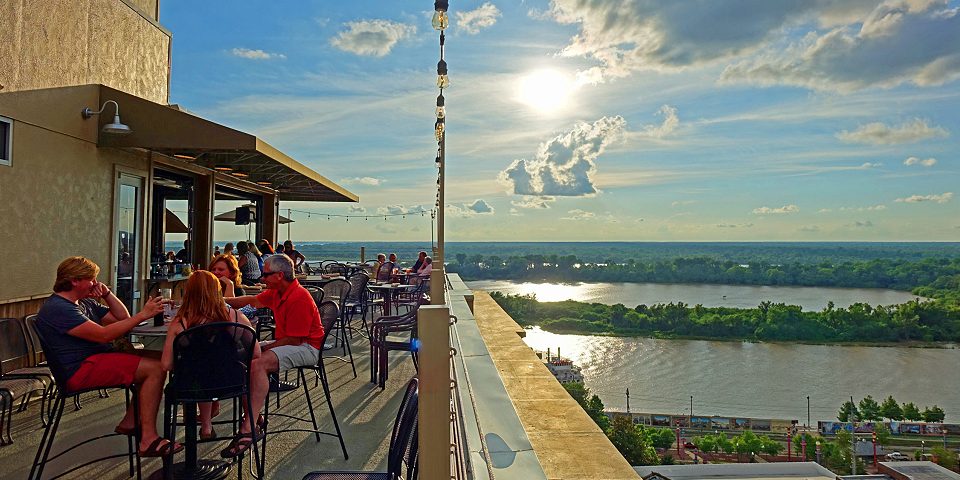 Romantic Lodging
A one-of-a-kind stay awaits in Vicksburg, from casino hotels to unique bed and breakfasts, cabins, campgrounds and national hotel properties. A few ideas: Watch the sun set from the riverboat Ameristar Casino Hotel Vicksburg, where dining, gaming and more are on-site. Anchuca Historic Mansion and Inn This historic mansion was originally constructed in the late 1820s, but was later upgraded with Greek revival styling in the late 1840s. Baer House Inn This spacious Victorian mansion, built in 1870, features seven guest rooms decorated with period antiques and roomy beds–most rooms include a private bathroom. Centrally located in historic Vicksburg, it's close to museums, restaurants and landmarks. Bazsinsky House Established in 1861, this bed and breakfast features rooms outfitted with spacious, king-size beds. Guests can opt for a breakfast-free stay or choose between a continental or full Southern breakfast. Corners Mansion Inn This picturesque mansion was built in 1873. The Corners' several rooms are spread across three buildings where guests can relax on private porches and watch the sun set over incredible views of the Mississippi River. The Duff Green Mansion has served as a Civil War hospital, boys' orphanage and more. Its rooms are located within the main house, and every stay is complemented by a three-course seated breakfast. Oak Hall BnB was built in 1910 in the California Mission Revival style with 32 custom stained-glass windows and original beaux art lighting fixtures.
Sweet and Romantic Moments
Order something sweet for your sweetie at Dee's Baby Cakes. Take a culinary class, get a picnic lunch or a dozen chocolate covered strawberries at Magnolia Milk Maids. The sunsets over the Mississippi River are spectacular! Two scenic overlooks at Louisiana Circle and Navy Circle are prime locations. The Vicksburg Heritage Walking Trails offer a variety of ways to enjoy the history and architecture. Many of Vicksburg's historic homes offer home tours as well. Afterward, soothe the soul with a luxurious visit to a Vicksburg day spa for a massage, rejuvenation facial and more. www.VisitVicksburg.com
North Carolina
Goldsboro, North Carolina
Goldsboro-Wayne County, North Carolina, is a diverse destination that appeals to lovers young and old, all year long. With a rich military and agricultural heritage, it is home to legendary barbecue, the Mt. Olive Pickle Company, with its tremendously popular line of products, and the Seymour Johnson Air Force Base, one of the oldest fighter communities in the world. Free events like the North Carolina Pickle Festival and Wings Over Wayne Air Show are highlights on the calendar annually, but live music and fun can be found any day of the year. From downtown craft brewery tastings to farm-to-table dinners, from horse-drawn wagon tours to fighter jet displays and from modern art to historic homes, there are plenty of reasons to visit.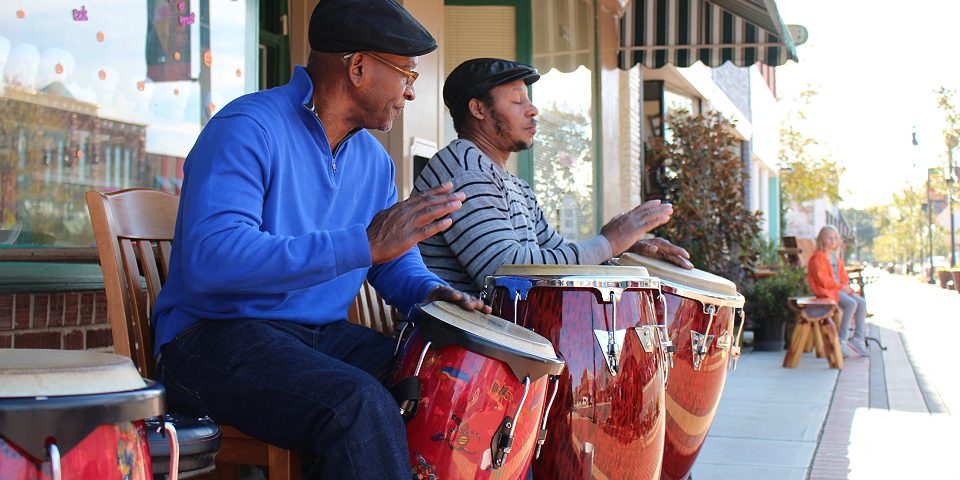 Wayne County sits in the heart of eastern North Carolina between Raleigh and the Atlantic coast. Located just east of I-95, getting there is easy via U.S. Highway 70 or I-795. On the banks of the Neuse River, the city of Goldsboro is the centerpiece of the destination. Downtown streets are lined with the restored brick storefronts of independent restaurants, shops and boutiques, and public art displays provide an ever-changing vibrance to the landscape.
Food is love, and foodies love the amazing collection of restaurants offering cuisine from around the world. Peruvian, Korean, Japanese, Ecuadorian, Italian and Mexican are just some of dining options. 'Cue lovers. rejoice: the county is dotted with places to find eastern North Carolina barbecue. Wayne County is a stop on the North Carolina Historic Barbecue Trail. Wilber's is just one favorite, where whole hogs are smoked overnight on open pits filled with oak. For a full-blown barbecue tour with refreshing brews, the local Brews & 'Cue Trail maps out a course for delicious decadence. There's a self-guided option and pre-scheduled guided tours are available as well. The tour offers insight into the history of the most famous barbecue spots, tastes of the freshest craft brews and tales from the pit-masters.
For memorable fine dining, Barrique in historic downtown Goldsboro features fine wines and specialties with ingredients sourced locally from sustainable farms and straight from the ocean off the North Carolina coast. Specializing in fresh ingredients and authentic Peruvian fusion cuisine, Los Fogones offers a meal to remember. The flavors of Peruvian classics are favorites along with rotisserie chicken, ribs, sausage and rib eyes. Bold flavor and a trip to the Caribbean is the experience at Brisas Latin Cuisine. From Caribbean inspired cocktails to main dishes, you'll want to try it all while picturing yourself on an island beach.
Getting thirsty? At Goldsboro Brew Works the taps are flowing with local craft beer and the atmosphere is fun and casual. Church Spirits & Cocktails serves the best in seasonal craft cocktails and prohibition-era favorites.
For a romantic setting, head to the picturesque Cliffs of the Neuse State Park, named for the cliffs formed when a fault line shifted millions of years ago, resulting in amazing formations. The 1,000+-acre park includes an 11-acre swimming lake and miles of hiking trails. Nearby, the Stoney Creek North Greenway and Mountain Bike Trail have miles to explore and the Wayne County Paddle Trails comprises more than 70 miles of waterways. The county is also on the famed Mountain-to-Sea-Trail, a hiking path from the Great Smoky Mountains to the Atlantic.
Goldsboro and Wayne County have a full slate of accommodations, including nationally flagged hotels with a host of amenities and a hospitable Southern welcome. For those who love to camp, Cliffs of the Neuse State Park RV and tent sites amid 1,000 acres of protected lands and recreational amenities. VisitGoldsboroNC.com
Onslow County, North Carolina
Onslow County on the southern North Carolina coast encompasses the areas of Richlands, Jacksonville, Camp Lejeune, North Topsail Beach, Sneads Ferry and Swansboro. Located off of I-95, north of Wilmington and east of Raleigh and I-40, it's a destination full of history, coastal recreation and charming towns.
Swansboro is a quintessential seaside town. Life here revolves around the water and the pedestrian friendly streets offer blocks and blocks of waterfront views. Business here is personal and local entrepreneurs and craftspeople are the heart of the specialty shops and restaurants. Connected by walkways and harbor docks, there is an at-home atmosphere that envelops these streets and all who take in its views and enter its businesses. Check into Hook Wine & Sinker, a waterfront VRBO in the heart of downtown Swansboro with views on the intercoastal Waterway. A cute two bedroom, 1.5 bath apartment is on the top floor of the house, with hardwood floors, beadboard walls and ceilings and a custom kitchen. The enclosed sunroom offers breathtaking views over the Intercoastal Waterway. Below is Bake, Bottle & Brew, a wine and beer enthusiast's dream store with a great selection of vino, gifts, and wine/beer making supplies. They offer tastings and a small bar downstairs where locals and tourists gather for live music.
Have breakfast, lunch or dinner at Saltwater Grill in downtown Swansboro overlooking the Intracoastal waterway and Bogue Sound. There's a view from every table either inside in a spacious dining area or on the second story deck overlooking the waterfront and docks. Dini's Martinis and Desserts is a craft cocktail and dessert bar that specializes in crafted cocktails, delicious sweets and savory small bites.
North Topsail Beach is a favorite for beach vacations on the North Carolina coast. Beautiful resorts are flanked by beach houses dotting the coast, offering a variety of ways to enjoy the sun, sand and ocean waters. Located on the eighth floor of the St. Regis Resort, Ocean's Edge Restaurant specializes in breathtaking ocean views, local seafood and time-tested recipes including Shrimp and Grits, Bill's She Crab Soup and steamed seafood dishes. Stay the weekend at the privately-owned luxury condominiums of Villa Capriani Resort in North Topsail Beach, stroll in the sand, then enjoy a dinner of crab cakes or the fresh catch of the day at their onsite restaurant, Splash by the Sea. At the Hilton Garden Inn in Jacksonville, upgrade your stay with a Romance Package that includes rose petals, champagne and chocolates in your room. www.OnlyInOnslow.com
South Carolina
Thoroughbred Country, South Carolina
Race off to Thoroughbred Country, South Carolina for an "I Love You" getaway that will satisfy the fast-paced and those looking for leisure and luxury. Situated along I-20, between Atlanta and Charleston and just east of Augusta, Georgia, Thoroughbred Country's epicenter is Aiken, developed in the early 1900s as a "Winter Colony" for the rich and famous, who introduced the traditions of polo and thoroughbred racing. Thoroughbred Country's contiguous counties of Aiken, Allendale, Bamberg and Barnwell are full of scenic rolling countryside, equestrian events and charming downtowns with unique shops, restaurants, museums and lodging.
Enjoy downtown Aiken. Surrounded by a one-of-a kind parkway system and bordered by beautiful beds of flowers, historic downtown Aiken offers unique dining and shopping choices including art galleries, antiques, gift shops, a brew pub and a wide variety of restaurants. Make a reservation for the Historic Aiken Trolley Tour for historic homes and churches, equestrian sites, the Civil War's Battle of Aiken, the live oak canopy on South Boundary and the Winter Colony residences.
Love Retreats
Intown, stay at The Willcox. Listed on the National Register of Historic Places, The Willcox has welcomed guests for well over a hundred years. It was voted Southern Living's 2021 World's Best and Readers' Choice, Conde Nast Traveler Reader's Choice Awards 2021 and Travel & Leisure World's Best Awards 2022. Famous for its atmosphere, impeccable service and excellent cuisine this old-fashioned Southern hotel offers suites elegantly appointed with period antiques and deep soaking tubs. Enjoy a full Southern breakfast each morning. Enhance your stay with spa treatments and a horseback ride through Hitchcock Woods or a picnic for two.
The Birdnest Inn is a tranquil Bed & Breakfast located in an urban farm environment close to downtown Aiken, golf courses and equestrian competitions. This beautiful home is full of character and charm with original art, upscale adornments and an impressive collection of hand-made pottery. Equestrian couples can bring their steeds to Magnolia Shadows in Ridge Spring, where horse boarding meets bed & breakfast. Rooms in this 1985 plantation home are surrounded by manicured pastures, magnolia trees and gardens.
Dining
Have breakfast, lunch, dinner or Sunday brunch at Manuel's Bread Café in North Augusta, SC, for a taste of Lyon, the Mecca of French cuisine. Chef Manuel Verney-Carron is a culinary wizard whose exceptional artistry will delight any palate. The seasonal menu features twists on exquisite time-honored French dishes laden with organic produce grown from local farms. Enter the gates of a brick-walled Victorian mansion and discover old world Northern Italian. Casa Bella is a multi-year Trip Advisor Certificate of Excellence winner; diners praise the food, service and ambiance as delicious, attentive and memorable. An Aiken staple for the past 30 years, Malia's is the perfect mix of big-city dining and small-town charm with creative cuisine and excellent service. Whiskey Alley serves delicious cocktails, wine, and beer along with small plates and daily specials. Multi-cultural cuisine options range from tapas to large entrees, with notations for vegetarian, vegan and gluten free.
Outdoor Pursuits
Paddle the blackwater Edisto River Canoe Trail at Aiken State Park in Windsor. Near Blackville, drink from an artesian well at God's Acre Healing Springs and discover its ties to Native Americans and the Revolutionary War. Explore the 3,400-acre Silver Bluff Audubon Center & Sanctuary overlooking the Savannah River. Play a round of golf or take a romantic walk along the Arboretum Trail and into Hopelands Gardens, a 14-acre former estate park featuring wetlands, an arboretum trail and a labyrinth. Next door, don't miss the free-admission Aiken Thoroughbred Racing Hall of Fame. For more ideas on things to do in Thoroughbred Country, visit www.TBredCountry.org
Tennessee – the Smoky Mountains
Loudon County, East Tennessee
Loudon County, Tennessee, is known for its spectacular mountain views, pristine lakes and the charming downtown streets, shops and attractions of Lenoir City and Loudon, making it a dream location for those who love the outdoors. With the Smoky Mountains, Tellico Lake and the Tennessee River creating a backdrop, visitors can enjoy scenic drives, stunning sunsets and trademark misty mornings. Located between Knoxville and Chattanooga, Loudon County's Highway 321 is the most scenic and least congested route to the Smokies from I-75 and I-40 East. Many prefer this area as a basecamp not only for enjoying the National Park, but beyond its boundaries, including farm tours, shopping, the LoCo Drive In and The Lost Sea cavern tours.
Lenoir City and Loudon each have unique shopping and dining spots and locals who love to show off their Southern hospitality. Lenoir City delights history lovers with its well-preserved architecture and classic streetscapes. The traditional storefronts are home to locally owned shops and boutiques with unique finds. This is also home to a portion of the U.S. 11 Antique Alley, which begins in Lenoir City and continues south through Loudon County. The neighboring town of Loudon sits beneath its trademark historic water tower and is also home to beautiful historic buildings and a town square complete with picturesque fountain. This 1800s riverfront town is an idyllic setting for browsing specialty shops and enjoying the small-town vibe.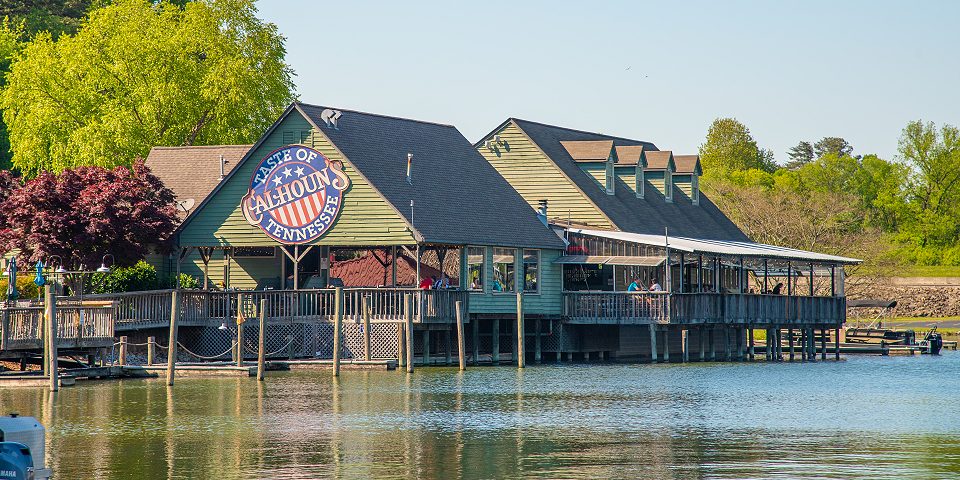 Near Loudon, the oldest family winery in the state, Tennessee Valley Winery, has earned more than 900 national, regional and local awards. Visitors can enjoy daily free tastings and attend special events throughout the year. The setting includes beautiful views perfect for spring and summer Music on the Mountain concerts. Choose from more than 20 wines including Cabernet Sauvignon, Chardonnay, and other traditional varieties, several from French hybrids as well as Native American grapes such as Concord and Muscadine.
Spend a day shopping, snacking and touring at Sweetwater Valley Farm in Philadelphia. Approximately 300,000 pounds of cheese are produced annually on this working dairy farm; the cheese-making process is visible through a viewing window. Taste and purchase some of its 30 varieties at the farm's store and have a savory grilled cheese sandwich and a fresh milkshake at the Seed to Sandwich Café.
Windy Hill Farm and Preserve is a splurge-worthy resort and hunting lodge with thoughtfully appointed cabins and sweeping views. Rates include daily meals, non-alcoholic beverages and unguided activities. Their restaurant, Wilder, is open to the public and regarded as the best of the best for a romantic dining experience. Windy Hill cultivates many of its own heirloom garden-to-table ingredients. The menu features a collection of small plates, seasonal offerings and nightly specials, all imaginatively prepared. Enjoy a wine pairing or a regional craft beer.
Loudon County is also the perfect destination for the no-frills, down-to-earth couple who loves to hike and camp. Yarberry Peninsula Campground is on the shores of Fort Loudoun Lake off Highway 321 South in Lenoir City. Among its many amenities are stunning views from just about every site. Level sites accommodate the largest RVs and are also perfect for tents, and each has 50/30-amp service and water, a picnic table and fire ring. Two spotless bathhouses are climate-controlled for year-round comfort. For more ideas on what to do, where to eat and stay go to www.VisitLoudonCounty.com.
Southwest Virginia
Plan a getaway on roads less traveled in Virginia—Southwest Virginia—for scenic beauty, history, culture and adventure. From its ruggedly beautiful Appalachian Mountains, cuisine and folkways to quirky and sophisticated historic towns and attractions, this area can satisfy those who want to be active as well as those who take a leisurely approach. Here are three destinations that provide plenty of relaxation, interesting outdoor adventures, with fewer crowds and room to wander. Approximately 75 percent of the U.S. population can travel here within a day.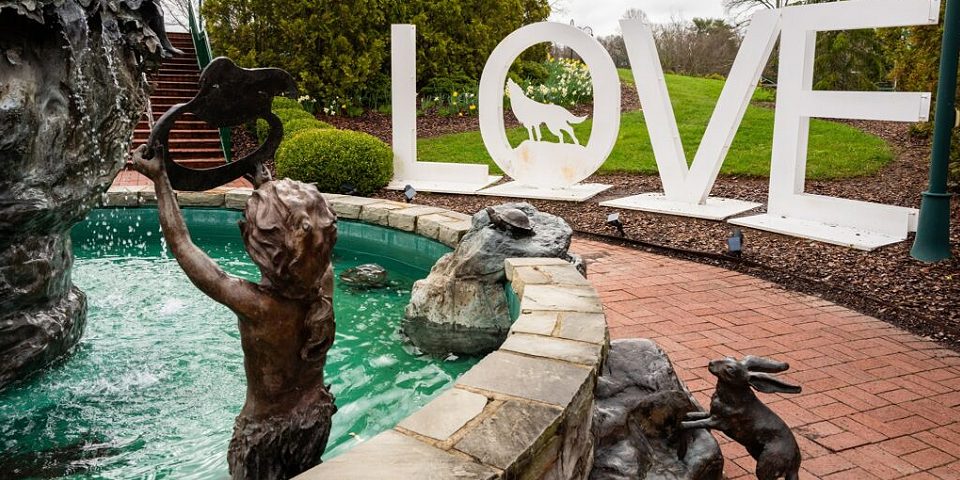 Abingdon
Founded in 1778 as a civilized outpost on The Great Road to the West, Abingdon, Virginia, lies between the soaring peaks of the Blue Ridge Mountains in the Great Appalachian Valley just northwest of the Tennessee-Virginia border. With its enthusiasm for historic preservation and passion for the contemporary, Abingdon is an arts, culture and dining destination; a walkable, bike-friendly and drive-able town that's easy to love. Tree-lined brick sidewalks in the National Register Historic District led to preserved/re-purposed Victorian and Federal architecture full of art galleries, working artist cooperatives, distinctive shops and restaurants.
Choose from cabins and cottages on the Virginia Creeper Trail, historic B&Bs or the Historic Hotels of America, AAA Four-Diamond Martha Washington Inn and Spa, with its romantic cozy indoor and outdoor nooks, intimate bar area and fine dining. The Martha was built in 1832 and still showcases the library, photos and furnishings from incarnations as a family home and women's school. Guests are immersed in elegance and pampering: a glass of wine on the expansive porch, by a cozy fire or in the atrium-enclosed heated saltwater pool. Full-service specialty spa treatments include couples' massages. Pop the question or gaze into each other's eyes in the decorated gazebo on the lawn. The LOVE letters nearby make for a great romantic photo opportunity.
Abingdon has been named "Best Small Town Food Scene in the Country." Any town boasting of more than 30 independently owned restaurants is notable, but consider that Abingdon, with a population of 8,000, has more restaurants per capita than San Francisco, New York or New Orleans. Intimate historic ambiance, soft lighting and an exquisite little bar are found at Abingdon's oldest building, The Tavern, serving patrons since 1779 as the last colonial outpost on the Great Road to the frontier. Early Scots-Irish and German immigrants established their own cuisines around local availability; on the menu are schnitzels, spaetzle and homemade pickled red cabbage alongside mountain trout, steaks and local produce. Many original furnishings remain, along with the ghosts of dignitaries and ordinaries. Sisters American Grill at The Martha Washington Inn and Spa offers a luxurious, cozy and comforting experience for drinks or dining, with its rich colors, dark woods, tall booths, padded seating and fireplace. Among the offerings are a signature Southern Hummus (black-eyed pea based), deviled eggs and elegant main courses.
After dinner, take in a romantic comedy or drama at the 1930s-era Barter Theatre. Born from the determined, "show must go on" ingenuity of the Great Depression, the "State Theatre of Virginia" literally traded produce and ham for Hamlet and Broadway hits; survived, thrived, and hosts world-class plays. This opulent, red-velvet and gold jewel-box gives an excuse to dress up a little but is not required.
Smyth County, Virginia
Smyth County, Virginia, is known for its outdoor adventure, amazing mountain views and classic downtowns. This Southwest Virginia destination just off Interstate 81 is filled with a combination of indoor and outdoor activities that can't be found anywhere else. It's just over two hours north of Asheville, less than a day's drive from most of the east coast and less than an hour's drive from Tri-Cities Airport, in Blountville, Tennessee. Dubbed "America's Coolest Hometown," Marion is the county seat and the gateway to Hungry Mother State Park.
Explore Marion's delightful downtown, bustling with arts and culture around every corner. In town, book a stay at the General Francis Marion Hotel, National Geographic's Top 150 Hotels in North America. Couples will appreciate the historic ambiance of this fully restored 1920s hotel. Enjoy a nightcap in the cozy second floor lounge and look for the black roosters sipping champagne in the mosaic flooring—a Prohibition-era symbol that drinks were served here. Take in a show at the elegant Lincoln Theatre, formerly a 1927 Mayan-styled "movie palace," now fully restored and converted into a performing arts venue. From world-famous "Song of the Mountains" bluegrass shows, to comedy, film festivals and live music, this gorgeous theatre makes date night something special. For a blast from the past, go parking at the drive-in, whatever that means to you. Park Place Drive-In in Marion is a genuine drive-in movie theatre, with first run films and an ice cream bar.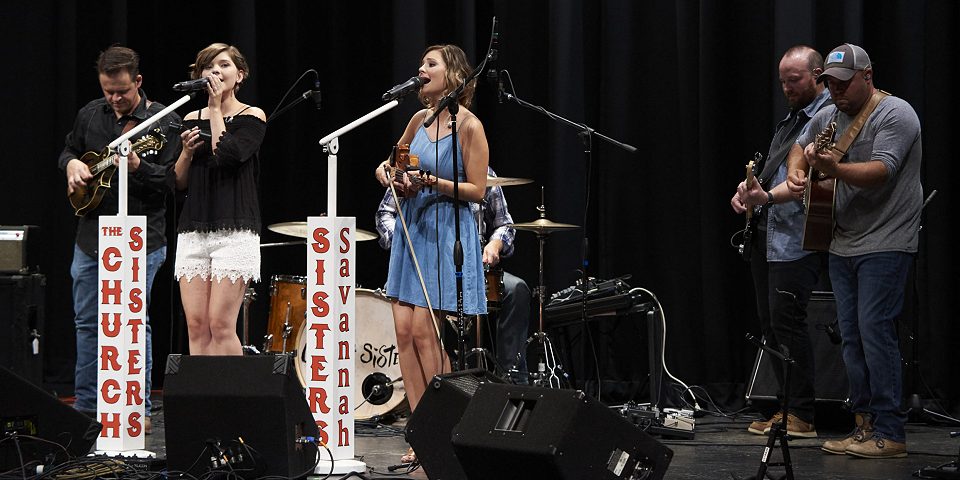 For a great outdoors, hope-it-snows-us-in experience, head to Hungry Mother, one of the original six Virginia State Parks. It's known for beautiful woodlands and a placid 108-acre lake in the heart of the mountains. Hungry Mother Island Cabin is a private rental located on its own tiny island, surrounded by Hungry Mother Creek, complete with firepit and fairy lights. For a romantic view, a spot to get engaged (or married!), head to the wooden bridge at Hungry Mother State Park. A graceful, gently arched wooden bridge leads across the waters of Hungry Mother Lake, ending at an intimate wedding venue located on a small island. Drive to the second highest peak in Virginia and enjoy a sunset. While many summits require an arduous hike, Whitetop Mountain is accessible by car. Bring a picnic, a bottle of bubbly, and enjoy. www.VisitSmythCountyVA.com
Wytheville, Virginia
Farthest north, head high into the Blue Ridge section of the Appalachians to Wytheville, Virginia, in Southwest Virginia for small town charm, wide-open outdoor pursuits and plenty of wilderness. At the crossroads of I-77 and I-81, 2.5 hours from Charlotte, North Carolina. Wytheville (ca. 1790; pronounced WITH-vil) is an off-the-beaten track getaway with unique in-town attractions, breathtaking mountain scenery and activities from fly-fishing and watersports to horseback riding and wilderness adventure.
Wytheville's classic downtown includes the old, the contemporary and the quirky, like the selfie-worthy "biggest pencil in Virginia" outside the old Wytheville Office Supply, and the "Wiffle Pop," a famously delicious frozen treat at Crepe House & Creamery. Five historic museums bring the area's history to life, including the Edith Bolling Wilson Birthplace Museum. Find out why this First Lady, the second wife of Virginia-born President Woodrow Wilson, has been called the "secret president" and the "first woman president" by historians.
Wohlfahrt Haus Dinner Theatre is a locally owned 200-seat, German-themed venue presenting Broadway style professional musical productions year-round. Visitors enjoy both classic and contemporary shows along with a four-course, themed, plated meal. The theatre is also home to the Matterhorn Lounge and Bier Garten, a full-service restaurant specializing in German favorites as well as American fare.
The Log House Restaurant is also located in the heart of downtown Wytheville and is a fine dining experience in an eighteenth-century atmosphere. A two-story cabin built in 1776, today it is home to unique dining areas with early American décor and an extensive menu paying homage to traditional favorites. Its Christopher's Lounge is a favorite night spot, and no visit is complete with a stroll through the massive country garden. Farther afield, two craft breweries and West Wind Farm Vineyard and Winery add to the romance.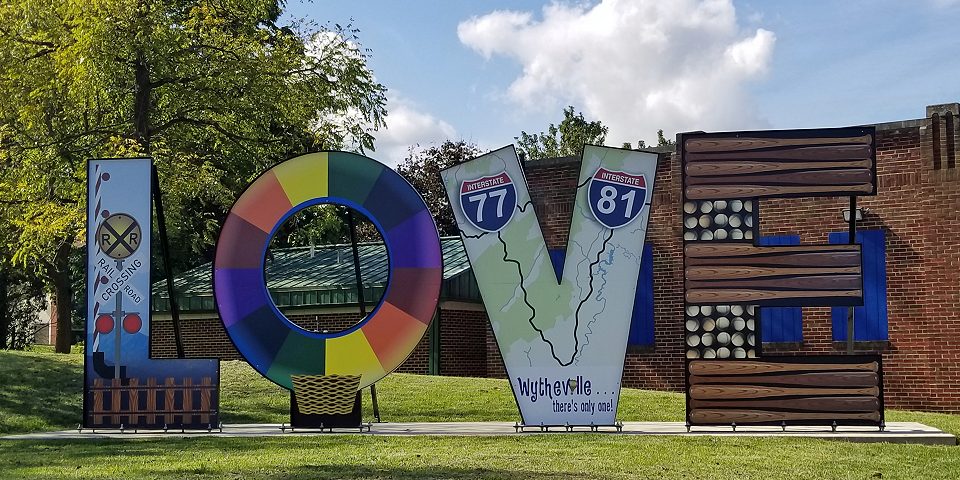 Unique lodging options The Bolling Wilson Hotel on Main Street is part of the Ascend Hotel Collection and offers 30 luxurious guest rooms, the restaurant Graze On Main and a rooftop lounge. Nearby, the Trinkle Mansion Bed and Breakfast was named in the top 10 in the country in 2019 Trip Advisor reviews. This beautiful historic home features four guest rooms and a garden cottage. For a more rustic stay, consider one of the many nearby cabin and cottage rentals.
Proclaim your love from the mountaintops at Big Walker Lookout, the oldest and highest private attraction in Virginia. Owned and operated by the Kime family since 1947, second and third generation family members are welcoming guests today. At an elevation of 3,405 feet, Big Walker Lookout offers a spectacular panoramic vista of the Appalachian Mountains and Virginia farmlands. From the 100-foot observation tower it's said that on a clear day you can see five states. At ground level the Big Walker Country Store is a Round the Mountain craft venue, featuring the work of more than 25 regional artisans, plus locally made jams, jellies, fudge, ice cream and more. This location also serves as a Crooked Road Heritage Music Trail venue. A series of Mountain Top Music performances celebrates the roots music born in this region. For more gift ideas, pick up locally produced honey, personal care products and fragrant potions at Beagle Ridge Herb Farm.
Just three miles from downtown, Crystal Springs Recreation Area and Big Survey Wildlife Management Area offer more than 9,000 acres of preserved lands, 13 miles of hiking and mountain biking trails. A 57-mile trail, canoeing, tubing, kayaking and fishing are all favorites at the New River Trail State Park. www.VisitWytheville.com
---
The I-95 Exit Guide is the Internet's largest and most complete website dedicated to Interstate 95 travelers. Find detailed exit service listings… lodging, camping, food, gas and more for every exit from Maine to Florida!
On the road? Why not take us with you. The I-95 Exit Guide is mobile-friendly and totally FREE. No App Required.
Traveling another route? Visit our growing family of exit guides: I-4 Exit Guide, I-5 Exit Guide, I-10 Exit Guide, I-75 Exit Guide, I-80 Exit Guide and I-95 Exit Guide. Detailed exit service listings… discount lodging, camping, food, gas and more for every exit along the way!