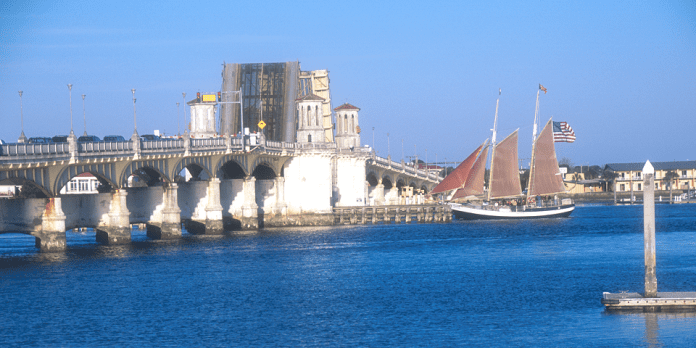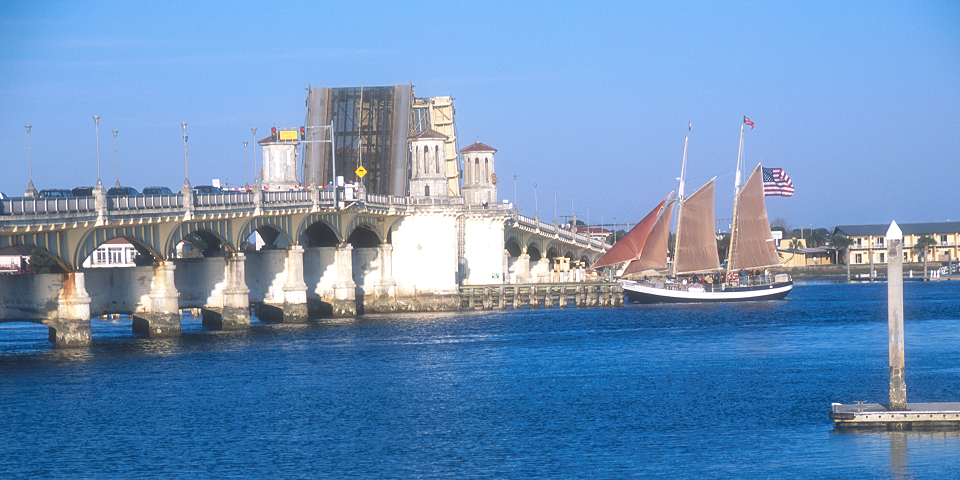 With its old-world charm, unique attractions and delightful dining and shopping options, it's easy to see why "The Nation's Oldest City" is one of Florida's top vacation destinations. Founded in 1565, St. Augustine is America's oldest permanently settled European city. Whether visitors want to explore old lifestyles and long-ago wars, marvel at unique oddities, or see reenactments of days gone by, this historical city will provide an entire vacation's worth of activities. Many tours of the city are available by horse-drawn carriage, train or trolley. Area events are known for their pageantry and individual charm.
Visitors to this historic American city feel like they have stepped back in time as they stroll down St. George Street in St. Augustine's historical district. Hundreds of shops, landmarks and specialty gifts such as handmade candles, woven goods and wooden crafts, or resort and beach wear, and await the vacationer. With more than 35 antique shops and 20 art galleries, a bounty of treasures – from original creations by local artisans to valuable heirlooms – await discovery throughout 144 blocks of historic homes and sites.
Search and Save on Hotels
Popular golf and tennis facilities are nearby, as well as boating and fishing. World Golf Village features two world-class resorts, two championship golf courses, unique shopping and dining and is the home of the World Golf Hall of Fame. A few minutes away across the Bridge of Lions, St. Augustine Beach, with its smooth, sandy shores, is a popular seaside destination. Nearby Ponte Vedra Beach is home to some of the most outstanding resorts in the country, with first-class golf and tennis facilities.
Families will find much to see and do in the nation's oldest city. From popular attractions, such as 3D World and Ripley's Believe It or Not! Museum, to water-based activities, including jet skiing, sailing and fishing, kids of all ages will delight in St. Augustine.
This coastal city also affords its visitors virtually perfect weather, year round. Winter tends to be the busiest time of year; however, due to it's proximity to the Atlantic Ocean and historic significance, virtually anytime of year can be wonderful for visitors. In the winter, with the daytime temperatures reaching the high 60's F to the low 70's F, it's a perfect time to explore the many historic sites throughout the city. Spring brings warmer temperatures and additional sunshine making it a good time for a nice meal followed by a walk through any of the areas dotted with historical buildings. Summer can be warm with the temperature often exceeding 90 F, but with a warm breeze coming off the Atlantic, it is quite comfortable. Fall is ideal for taking advantage of the numerous events taking place, or just relaxing with a good book. Whatever the season and whatever the reason for a visit, historic St. Augustine is waiting with a warm breeze.
Things to Do
Oatland Island Education Center
711 Sandtown Road
Savannah GA 31410
912-987-3773
Oatland Island Education Center is an environmental project operated by the public school system. Nature trails are offered over this 175 acre area. Visitors can observe the ten habitats housing animals indigenous to coastal Georgia. A marsh walkway, marine monitoring station, compass trails and observatories offer a diverse look at nature. Great for a day of exploration!
Tybee Mountain Water Park/Mini Golf
1508 Butler Avenue
Tybee Island GA 31328
912-786-5552
Tybee Mountain Water Park/Mini Golf features a 50 foot tower. Families can enjoy the many features of the park including the olympic size swimming pool, bath house, video arcade, beach shop, concessions and 19 holes of miniature golf.
Hauntings Tour
Chippewa Sq
Savannah, GA
912-234-3571
A unique candelight stroll through the dark mysterious streets of Savannah.
Skidaway Marine Science Complex
Mcwhorter Drive
Skidaway Island GA 31411
912-356-2496
Skidaway Marine Science Complex is an oceanographic center located in historic Modena Plantation on Skidaway River. Exhibits include 12-panel, 12,000 gallon aquarium containing flora and fauna of the Atlantic Continental Shelf. The Complex consists of Marine Extension Service and Skidaway Institute of Oceanography.
Savannah Science Museum
4405 Paulsen Street
Savannah GA 31405
912-355-6705
Bring the family for a day of exploration and discovery at the Savannah Science Museum. The museum features special exhibits geared towards children.
Old Fort Jackson-Coastal
1 Fort Jackson Rd
Savannah, GA
912-232-3945
Owens-Thomas House Museum
124 Abercorn St
Savannah, GA
912-233-9743
Designed by the renowned English architect William Jay. The Owens-Thomas House Mueum is the first Regency mansion in Savannah. Originally built in 1816-1819, the house was built from to stand as an English home. The interior of the house is adorned with Greek-inspired ornamental molding, half-moon arches, stained-glass panels, and Duncan Phyfe furniture.
Savannah History Museum
303 Martin Luther King Jr Blvd
Savannah, GA
912-238-1779
The museum is currently housed in a restored railway station.Exhibits range from old locomotives to a tribute to Savannah-born songwriter Johnny Mercer. The museum is situated on top of the site of the Siege of Savannah.
Ships Of The Sea
41 Martin Luther King Jr Blvd
Savannah, GA
912-232-1511
Savannah's only maritime museum. ship models are on display, including steamships, a nuclear-powered ship (the Savannah), China clippers with their sails unfurled, and Columbus's ships. Open to the public 10 am to 5 pm
Colonial Park Cementary
Oglethorpe and Abercorn Sts.
The park is the final resting place for Savannahians from 1750 to 1853. Shaded pathways lace through the cemetery, and you may want to stroll through and read some of the old inscriptions. There are several historical plaques to look at, one of which marks the grave of Button Gwinnett, a signer of the Declaration of Independence.
Green-Meldrim House
14 W. Macon St.
912-233-3845
Designed by New York architect John Norris and built in 1850 for cotton merchant Charles Green, this splendid Gothic Revival mansion cost $90,000 to build–a princely sum back then. The house was bought in 1892 by Judge Peter Meldrim, whose heirs sold it to St. John's Episcopal Church, for itsparish house. General Sherman lived here after taking the city in 1864. Sitting on the mansion's Gothic features include a crenellated roof, oriels, and an external gallery with filigreed ironwork. Inside are mantels of Carrara marble, carved black-walnut woodwork, and doorknobs and hinges of either silver plate or porcelain. The house is furnished with donated 16th-, 17th-, and 18th-century antiques, although some original pieces have recently been reacquired.
Isaiah Davenport House
324 E. State St.
912-236-8097
This residence was the historic Savannah structure that prompted citizens to focus on restoring the historic area within Savannah's downtown. Master builder Isaiah Davenport built began building his home in 1815 and completing it five years later in1820. The interior of the house contains an impressive array of semicircular stairs with wrought-iron trim, polished hardwood floors, fine woodwork and plasterwork, and a soaring elliptical staircase.
Telfair Mansion and Art Museum
121 Barnard St.
912-232-1177
Featured as the oldest public art museum in the Southeast, this structure was designed by William Jay in 1819. The mansion was built for Alexander Telfair and sits across the street from Telfair Square. Contains a vast and impressive collection of artwork and furndshings.More Info
City Market
Jefferson at W St Julian St
912-232-4903
City Market is a four-block courtyard featuring 9 restaurants, 15 shops, 8 art galleries, 23 artists studios, historic tours and 250 years of history.
Cathedral of St. John the Baptist
222 E. Harris St.
912-233-4709
Soaring like a hymn over the city, stand the Cathedral of St. John the Baptist. The design mimics the French Gothic-style cathedrals, with the characteristic pointed arches and free-flowing traceries. The cathedral retain's a very international influence, for it was constructed in 1799 by the French, and most of the cathedral's stained-glass windows were in Austria, and the high altar is made of Italian marble, and the stations of the cross were imported from Munich.