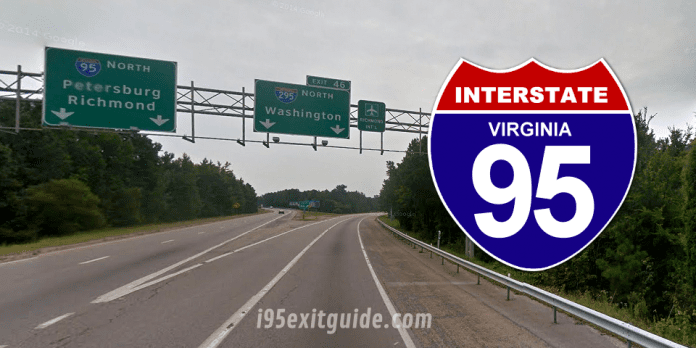 The Virginia Department of Transportation (VDOT) and Transurban North America will partially open a 10-mile extension of the 95 Express Lanes in August to reduce congestion on the Interstate 95 corridor through Stafford County and Fredericksburg, connecting the region to Northern Virginia and Washington, D.C.
The extension will continue the 95 Express Lanes from the current terminus just south of Route 610 (Garrisonville Road) to near Route 17 (Warrenton Road) in Stafford County.
"This extension provides 10 miles of new interstate capacity to consistently move people and goods between the Richmond and Northern Virginia regions and delivers new ridesharing opportunities for people living and working in the Fredericksburg region," said VDOT Commissioner Stephen Brich. "While more construction is ahead to fully realize the entire scope of the project's benefits, opening the facility to through travelers this summer will provide immediate congestion relief and time savings."
In August, northbound I-95 through travelers approaching from the Rappahannock River area will be able to enter Express Lanes using a left ramp entrance near the Route 17 interchange.
Southbound Express Lanes travelers will be able to drive an additional 10 miles south in the new facility to the Route 17 area. Exiting travelers can enter local I-95 southbound travel lanes near the Rappahannock River to access the Route 17 or Route 3 interchanges or continue in the I-95 southbound through travel lanes.
Two reversible Express Lanes will carry traffic northbound or southbound in the I-95 median according to the 95 Express Lanes operational schedule. Motorcycles and buses travel toll-free, and vehicles carrying three occupants or more travel toll-free with an E-ZPass Flex set to HOV ON. Vehicles with one or two occupants pay a variable toll with an E-ZPass or E-ZPass Flex set to HOV OFF. Learn more about the rules of the road.
Additional new access points to and from the Express Lanes near Marine Corps Base Quantico and Courthouse Road will open in late 2023. Following the reopening of the I-95 general-purpose lanes from exits 130 to 133 in late 2023, local traffic seeking to enter the northbound Express Lanes will use a new flyover ramp near Route 17.
The extended Express Lanes will connect with the Rappahannock River Crossing projects, under construction by VDOT in the Fredericksburg area. The Crossing projects are anticipated to complete on time and on budget in 2024.
Construction will continue along the I-95 corridor in the Fredericksburg area until the Rappahannock River Crossing completion in 2024. Crews are working intensively in the I-95 median and at locations along the shoulder.
---
What's happening on Interstate 95 RIGHT NOW! I-95 Real-time traffic information for selected cities along I-95. Maps show updates on road construction, traffic accidents, travel delays and the latest traffic speeds. Traffic cameras show congestion at a glance. Visit I-95 Traffic.
---
The I-95 Exit Guide is the Internet's largest and most complete website dedicated to Interstate 95 travelers. Find detailed exit service listings… lodging, camping, food, gas and more for every exit from Maine to Florida!
On the road? Why not take us with you. The I-95 Exit Guide is mobile-friendly and totally FREE. No App Required.
Traveling another route? Visit our growing family of exit guides: I-4 Exit Guide, I-5 Exit Guide, I-10 Exit Guide, I-75 Exit Guide, I-80 Exit Guide and I-95 Exit Guide. Detailed exit service listings… discount lodging, camping, food, gas and more for every exit along the way!