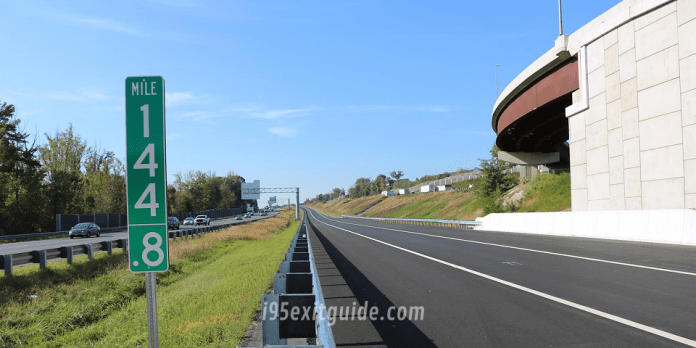 The Virginia Department of Transportation (VDOT) celebrated the new, 10-mile extension of the 95 Express Lanes to Fredericksburg opening to mainline traffic on August 17, 2023 at a ceremonial ribbon cutting.
The $670 million project, a public-private partnership between the Virginia Department of Transportation (VDOT) and Transurban, broke ground in 2019. Construction of the project was led by a joint-venture of Branch Flatiron.
From groundbreaking to completion, the extension is expected to deliver economic development benefits to the Fredericksburg and Stafford communities by creating more than 9,100 jobs, generating $1.1 billion in economic activity, and investing over $75 million in procurement from DBE and SWaM designated businesses.
With the added ten miles of high-occupancy Toll Lanes, the 95 and 395 Express Lanes are the longest reversible road in the United States—spanning from the Potomac River in Washington, D.C., to the Rappahannock River in the Fredericksburg area and easing congestion in one of the worst regions for traffic nationwide.
The new ten miles of road will see a 66% increase in capacity during rush hour—saving travelers as much as 35 minutes on a trip from Washington, D.C., to Fredericksburg.
Once the Extension is open to customers, drivers can experience ten more miles of Express Lanes with access to the length of the project, with additional access at Route 17, Courthouse Road, and Russell Road opening to traffic in late 2023.
---
What's happening on Interstate 95 RIGHT NOW! I-95 Real-time traffic information for selected cities along I-95. Maps show updates on road construction, traffic accidents, travel delays and the latest traffic speeds. Traffic cameras show congestion at a glance. Visit I-95 Traffic.
---
The I-95 Exit Guide is the Internet's largest and most complete website dedicated to Interstate 95 travelers. Find detailed exit service listings… lodging, camping, food, gas and more for every exit from Maine to Florida!
On the road? Why not take us with you. The I-95 Exit Guide is mobile-friendly and totally FREE. No App Required.
Traveling another route? Visit our growing family of exit guides: I-4 Exit Guide, I-5 Exit Guide, I-10 Exit Guide, I-75 Exit Guide, I-80 Exit Guide and I-95 Exit Guide. Detailed exit service listings… discount lodging, camping, food, gas and more for every exit along the way!