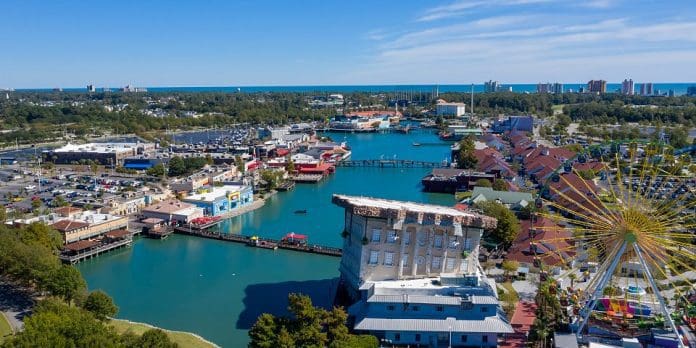 As we bid farewell to winter and welcome the longer, sun-soaked days ahead, Visit Myrtle Beach is inviting travelers of all interests, ages and abilities to take a trip to "America's Favorite Beach" this spring. With 60 miles of breathtaking Atlantic coastline and endless unforgettable experiences, including an array of brand-new offerings, there are always memories to be made at The Beach during this exciting season.
"Spring is such a beautiful season in Myrtle Beach, and we are excited to welcome all travelers to a vibrant destination that offers relaxation, adventure, and an abundance of memory-making," said Karen Riordan, President and CEO of Visit Myrtle Beach. "Whether you are traveling in a large group, as a couple, or solo, this is the perfect place to relax, unwind, and feel like you belong."
At The Beach, S.P.R.I.N.G. stands for:
S: Sunny Skies and Outdoor Activities
Myrtle Beach enjoys over 200 days of sunshine a year, and its 60 miles of stunning shoreline are the perfect place to catch some springtime rays and enjoy the peaceful rhythm of ocean waves rolling in.
Beyond the beach, step aboard a variety of water vessels (pontoons, riverboats, airboats, speedboats, and even catamarans!) for a relaxing or high-speed deep dive into the unique landscapes, waterways and fishing opportunities in the Myrtle Beach area. Discover a multitude of flora and fauna that call this area home and be on the lookout for Atlantic bottlenose dolphins along the way!
P: Perusing Local Art and Performances
Launched in September 2022, the Visit Myrtle Beach Arts & Gallery Trail is an unexpected look into the destination brimming with color and culture around every corner. The trail boasts more than 100 art-filled attractions, including oceanfront sculptures, enormous photo-worthy murals, quaint working studios and even a secret underground passage filled with art. Stretching from Little River and North Myrtle Beach to Murrells Inlet and Pawleys Island, visitors will be guided to many of the Grand Strand's lesser-known areas, such as historic downtown Conway, the quaint "Little Golden Town" of Aynor and the newly minted Arts & Innovation District.
The ongoing revitalization and development in Myrtle Beach's Arts & Innovation District is gaining steam with the relocation of the new Good Vibes Surf & Skate shop and opening of the Grand Strand Brewing Company, alongside recently established restaurants, galleries and retailers. Future developments will include new stores, restaurants and even a gym, as well as the restoration of the Broadway Theater into a 300-seat performing arts center.
R: Ridiculously Fresh Seafood
From casual eateries and fusion cuisine to fine dining without pretension, the Grand Strand boasts a plethora of mouthwatering culinary experiences. Fresh seafood abounds in the Myrtle Beach region, and there is always an opportunity to sample the catch of the day around every corner.
A sister restaurant to the beloved Bubba's Fish Shack, Bubba's Fish Camp is a new eatery that offers a beach-inspired menu with fried and grilled seafood along with meats smoked in-house, conveniently located right across from Broadway at the Beach.
Murrells Inlet is a small waterfront fishing village on the south end of the Grand Strand – "o-fish-ially" dubbed South Carolina's seafood capital – with one of the richest histories in South Carolina. Today, the Murrells Inlet Historic District is listed in the National Register of Historic Places and offers an array of restaurants with stunning waterfront views.
I: Incredible Family Adventures
Ripley's Aquarium is introducing all-new experiences in Myrtle Beach this spring. These exciting, family-friendly attractions include the notable Sloth Valley habitat – bringing guests face-to-face with the adorable, two-toed species – as well as the Ripley's Illusion Lab, Ripley's Crazy Golf, Ripley's Mirror Maze expansion and Ripley's Haunted Adventure.
Brand new to Myrtle Beach's Coastal Grand Mall, Stars and Strikes Getaway-n-Play is a 52,500 square-foot family entertainment complex that offers an immersive, augmented reality bowling experience, as well as an arcade, a multi-story laser tag arena, axe throwing and more.
N: Nighttime Entertainment
The soundtrack found along The Beach includes much more than peaceful waves, it also thrums with beats from hundreds of live music gigs on weekends. From scenic stages and world-renowned music halls, the Grand Strand comes alive with music from up-and-coming artists. If grabbing a mic is your thing, join Julio Navarro as he tours (and sings!) at the area's best bars and restaurants on the YouTube series Myrtle Beach Karaoke.
An immersive musical experience at The Beach wouldn't be complete without taking in one of the multitude of shows that shine along the Strand. What began with Calvin Gilmore and the Carolina Opry in 1986, has grown to include nearly two dozen theater productions.
The Alabama Theatre of North Myrtle Beach's new production, ICONIC, is a cutting-edge, brand-new on-stage and in-air show with visual elements and a state-of-the-art video wall unlike anything the Grand Strand has ever seen. In celebration of the theater's 30th anniversary, ICONIC features widely recognized Country music chartbusters, Classic Rock anthems, Broadway, and Pop power ballads, and is a must-see this spring.
G: Great Accommodations
Completed in late 2022, the $65 million renovation of two of Kingston Resorts' oceanfront properties (The Hilton Myrtle Beach Resort and the Embassy Suites by Hilton Myrtle Beach Oceanfront Resort) includes fully updated accommodations, two waterparks, and an island-themed outdoor pool and dining space.
Springhill Suites Myrtle Beach Oceanfront By Marriott is a new dual-branded oceanfront resort that stands 26 stories tall and boasts beautiful rooftop amenities, including outdoor seating complete with fire pits. Additional outdoor amenities include a ground-level pool and lazy river.
To start planning your spring vacation to The Beach, visit www.visitmyrtlebeach.com.
About Myrtle Beach, South Carolina
Myrtle Beach isn't just a beach. It's The Beach. Popularly known as the Grand Strand, Myrtle Beach is one destination made up of 14 unique communities that stretch 60 miles along the northeast coast of South Carolina. Families, couples and those in search of a warm welcome will find more than just a day at The Beach when they come together to connect and enjoy vibrant entertainment and family attractions, including world-class golf, shopping and fresh coastal Carolina cuisine. From the moment you arrive, you'll find you belong at The Beach – Myrtle Beach, South Carolina. For additional information on tourism offerings in the Myrtle Beach area, visit www.visitmyrtlebeach.com or call (888) Myrtle-1.
---
The I-95 Exit Guide is the Internet's largest and most complete website dedicated to Interstate 95 travelers. Find detailed exit service listings… lodging, camping, food, gas and more for every exit from Maine to Florida!
On the road? Why not take us with you. The I-95 Exit Guide is mobile-friendly and totally FREE. No App Required.
Traveling another route? Visit our growing family of exit guides: I-4 Exit Guide, I-5 Exit Guide, I-10 Exit Guide, I-75 Exit Guide, I-80 Exit Guide and I-95 Exit Guide. Detailed exit service listings… discount lodging, camping, food, gas and more for every exit along the way!