A hurricane is a tropical cyclone with a defined circulation and sustained winds of 74 miles per hour or greater. The Atlantic hurricane season is officially June 1 to November 30. The peak of the season is from mid-August to mid-October.
Wednesday, September 4, 2019 – 5:00 AM – Hurricane Dorian Update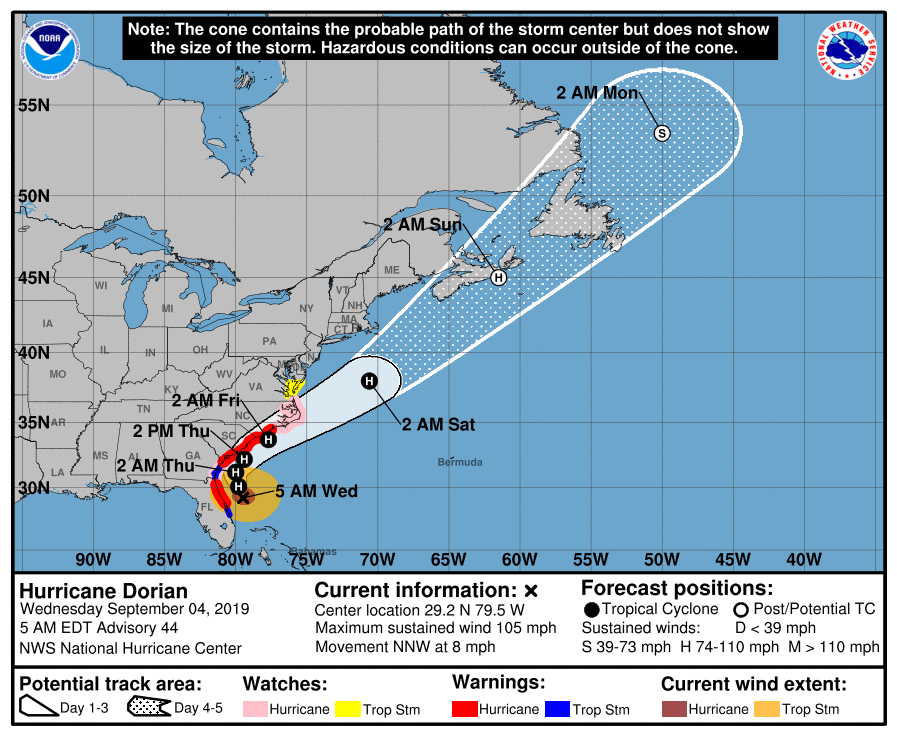 Hurricane Dorian is slowly moving northward, about 100 miles of the Florida coast. It is forecast to be off the Georgia coast by tomorrow (Thursday) and the coast of the Carolinas sometime late Thursday or early Friday.
---
Know the Terms
Hurricane Watch – hurricane conditions (sustained winds greater than 74 mph) are possible. Watches are usually issued 48 hours before the beginning of tropical-storm-force-winds.
Hurricane Warning – hurricane conditions (sustained winds greater than 74 mph) are expected. Warnings are usually issued 36 hours before the beginning of tropical-storm-force-winds.
Tropical Storm Warning – tropical storm conditions (sustained winds of 39 to 73 mph) are possible within 36 hours.
Hurricane Category – Severity of the storm.

Category 1: Winds 74-95 mph, Surge 4-5 ft. No real damage to buildings. Damage to mobile homes, trees. Some coastal flooding.
Category 2: Winds 96-110 mph, Surge 6-8 ft. Damage to roofing, doors and windows. Considerable damage to mobile homes and vegetation. Flooding.
Category 3: Winds 111-130 mph, Surge 9-12 ft. Some structural damage. Mobile homes destroyed. Coastal and inland flooding.
Category 4: Winds 131-156 mph, Surge 13-18 ft. Significant structural damage. Major beach erosion. Flooding well inland.
Category 5: Complete roof and building failure. Trees, signs destroyed. Lower floor flooding on coastline. Inland flooding. Massive coastal evacuation.
---
Planning Ahead for a Storm
If you know you will be traveling through a hurricane zone, consider learning how to prepare for an emergency in case you unexpectedly get caught in a storm's path.
Track the Storm.
Be aware of the projected path of the hurricane. Paths are estimates and can change sever times before landfall. Monitor TV, radio and the Internet for regular updates.
Fill Your Gas Tank.
Hurricanes often mean temporary gas shortages or long lines at the pump. Make sure you have a full tank of gas in your vehicle before hitting the road.
Charge Your Electronics.
It seems they always loose power when you need them most. Fully charge your cell phones and other electronic devices before your trip. Consider purchasing a portable power bank.
Bookmark Informational Websites
Use your data-enabled smartphone or tablet to bookmark websites that can help while traveling.
Let Family Members Know You'll be Traveling.
It's always a good idea to let family members or friends know that you will be on the road.
Prepare to Potentially Extended Your Trip
Natural disasters often come with road closures, flooding and other scheduling issues. Consider you may have to delay traveling.
Bring an Emergency Preparedness Kit.
An emergency preparedness kit can literally be life-saving—and good for peace of mind. Here's what we recommend you take with you:

Water: one gallon of water per person per day
Food: a supply of non-perishable items
First Aid Kit and any prescriptions
Gas can
Rope and duct tape
Battery-powered or hand crank radio and extra batteries
Flashlight and extra batteries
Whistle to signal for help
Moist towelettes and garbage bags for personal sanitation
Can opener for food (if your kit contains canned food)
Smartphone map app and paper maps
Infant formula and diapers
Pet food and extra water for your pet
Cash or traveler's checks and change
Sleeping bag or warm blanket for each person.
Change of clothing including shoes.
Fire extinguisher
Matches in a waterproof container
Personal hygiene items
Paper cups, plates, paper towels, and plastic utensils
Paper and pencil
Books, games, puzzles, or other activities for children
Prepare to potentially extend your trip
---
While On The Road
If you must be on the road, follow these travel tips.
Check Vehicle Gas Level.
Motorists should be aware of gas shortages. Never pass the opportunity to fill your tank. Don't wait until it's nearly empty… you may get into a real emergency in the middle of nowhere.
Pay Attention to Malfunctioning Traffic Signals.
Always treat malfunctioning traffic signals as a four-way stop. Use extreme caution when entering an intersection with a downed traffic signal. Also, be mindful of pedestrians trying to cross within intersections.
Slow Down.
Motorists should SLOW DOWN to at least half their normal speed and watch out for downed trees and power lines on the roads. You'll also save gas.
Check Weather Forecast.
Weather forecasts can change quickly. Stay aware by monitoring local TV and radio. Visit weather websites for current weather conditions.
Monitor Evacuation Updates
The best way to get evacuation updates is to listen to the radio, the TV or to call the state police. Dial 511 for evacuation information. Some evacuations are mandatory.
---
Hurricane Evacuation Routes
A hurricane evacuation route is a designated route used to direct traffic inland in case of a hurricane threat.
Each state has an official source for hurricane evacuation routes. Criteria used to identify these routes may vary from state to state.
---
Additional Resources
---
For more I-95 travel info, visit www.i95exitguide.com, the Internet's largest and most complete website devoted to America's Interstate Main Street. Detailed exit service listings… discount lodging, camping, food, gas and more for every exit from Maine to Florida!
Traveling another route? Visit our growing family of exit guides: I-4 Exit Guide, I-5 Exit Guide, I-10 Exit Guide and I-75 Exit Guide.