Get ready for a fall foliage road-trip! Mid October is a special treat for I-95 travelers in the Northeast. That's when fall foliage colors are at their peak all along the I-95 corridor… From Northern Virginia to Maine. This three-part series showcases fall foliage road-trips along I-95 state-by state. Let's check out New Hampshire, Maine and Vermont…
In mid-October, when you visit the most northern portions of New England, you might discover that the fall foliage has already reached its peak. But, as you venture into central and southern New Hampshire, immerse yourself in the picturesque landscapes of Vermont, or journey through most parts of Maine, except for the northernmost regions, you'll be greeted by an awe-inspiring showcase of autumn's finest colors. This creates the perfect opportunity to partake in the timeless tradition of leaf-peeping and embark on exciting outdoor adventures amidst the remarkable natural splendor that graces these regions during this season.
New Hampshire Fall Colors from I-93 and I-89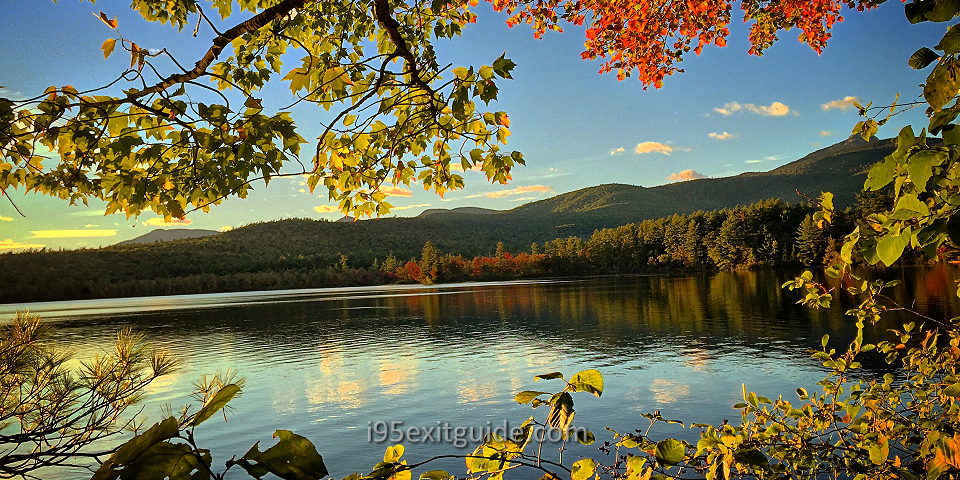 In New Hampshire, you'll find excellent color along I-93 from Salem, northward thru Londonderry, Manchester, Concord, to Laconia. There are also excellent conditions along I-89 from Concord northward thru New London to Lebanon. New Hampshire's portion of I-95 is short (only 16 miles) and runs along the extreme southern portion of the state, but if you jump off any of its exits and wander a few miles east or west you'll discover what fall in New England is all about… small towns with quintessential picturesque streets and white steepled churches every few miles.
Try this loop… From Concord, take I-89 north thru New London to Enfield. Leave I-89 at exit 17 and take US Route 4 east thru Canaan to Danbury. From Danbury take NH Route 104 east thru Bristol and onto New Hampton where you jump on I-93 south thru Tilton and on to Concord. You'll find a little bit of everything along this route, panoramas, small towns, rural highways and plenty of stops along the way.
Maine's I-95 Fall Foliage Palette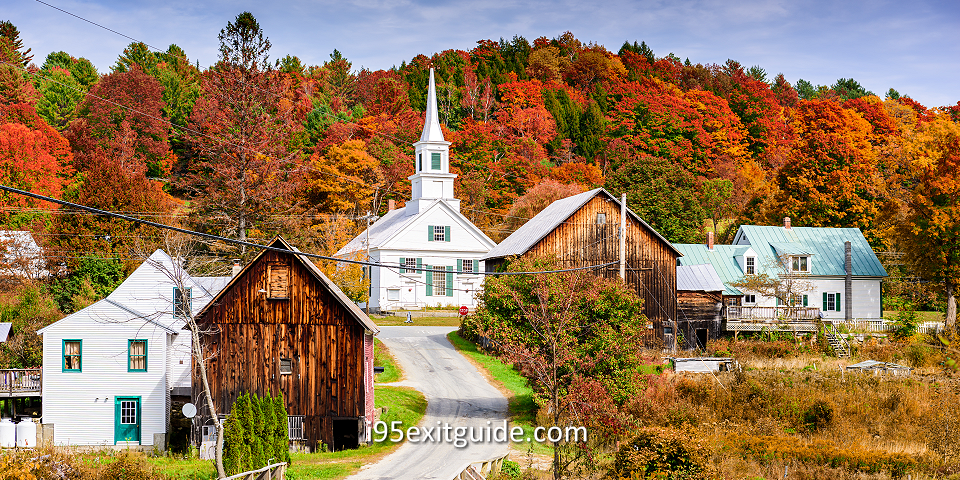 The entire length of I-95 in Maine passes thru peak fall foliage colors in Mid October. End to end… over 300 miles of color from Kittery to Houlton. Like New Hampshire, jump off just about any I-95 exit and you'll find small towns worthy of all the storage space your camera memory has available.
Begin you trip with a little outlet shopping in Kittery, home to several large outlet malls. Travel north on I-95 thru Kennebunk, Biddeford and Scarborough to Portland, or take US Route 1 which runs parallel to I-95. It's a little slower and thru small coastal towns, but there's plenty to see and do along the way.
From Portland, continue your journey north thru Lewiston, Augusta, Waterville, Bangor, Old Town and on to Houlton and the Canadian Border.
Fall Colors from an Interstate Highway Perspective
What makes viewing fall colors from the Interstate truly fascinating? The beauty lies in the fact that the experience transforms completely in each direction you choose. If you drive north on I-95, then turn around and head south, you'll be treated to an entirely fresh perspective, unfolding right before your eyes. This unique journey invites you to savor the ever-changing scenery, making it a delightful adventure that can span several days, allowing you ample time to explore charming small towns and villages conveniently located near the Interstate exits along your route.
Check out this handy fall foliage map to find peak colors in your area.
---
For more I-95 information, visit www.i95exitguide.com, the Internet's largest and most complete website devoted to America's Interstate Main Street. Detailed exit service listings… discount lodging, camping, food, gas and more for every exit from Maine to Florida!
Traveling another route? Visit our growing family of exit guides: I-4 Exit Guide, I-5 Exit Guide, I-10 Exit Guide , and I-75 Exit Guide.