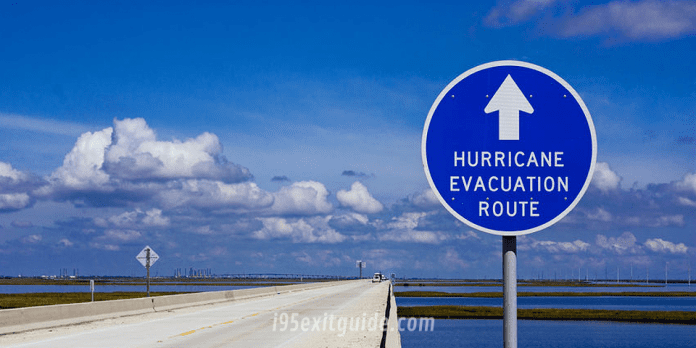 To facilitate travel from mandatory evacuation zones and areas of expected impact from Hurricane Dorian, Georgia DOT – working in coordination with the Georgia Emergency Management and Homeland Security Agency and Georgia State Patrol – has instituted contraflow on Interstate 16 from Savannah and I-95 through US 441 in Dublin to allow evacuation traffic the opportunity to use all four lanes of I-16 in the westbound direction. The contraflow is in effect until further notice.
While citizens are urged to consider all possible evacuation routes, traffic on the contraflowed I-16 is currently running at the speed limit. The public is urged to evacuate now to avoid slowdowns and lengthy travel times as the storm gets closer to the Georgia coast.
Yesterday, traffic along the I-16 corridor steadily increased throughout the day; overall, there was a 55% increase in traffic headed in the westbound direction from the baseline average. At one point, traffic counts had almost tripled for vehicles per hour in the westbound direction over the previous day. Traffic counts on I-16 so far today are similar to yesterday.
"The contraflow on I-16 assists in moving those in mandatory evacuation areas to safety. We encourage the public to heed all warnings and take advantage of the lighter than normal traffic to get out of the hurricane's path. If everyone waits until the last minute, it will slow the pace of evacuation and increase safety concerns," said Georgia DOT Commissioner Russell R. McMurry. "We ask that everyone plan ahead, leave early, pre-select your evacuation route using 511, carry needed supplies and exercise patience and discretion."
A median crossover on I-16 east of I-95 crosses traffic over onto I-16 eastbound lanes to travel westbound. All eastbound access at interchanges is blocked from Dublin to Savannah on I-16 during the contraflow process. Travelers may exit contraflow lanes at the following locations:
Exit 143 @ SR 30 / US 280 (Exit to Pembroke at Ellabell, Georgia)
Exit 116 @ SR 73 / SR 301 (Exit to Statesboro and Claxton at Metter, Georgia)
Exit 104 @ SR 23 / SR 121 (Exit to Metter and Reidsville at Metter, Georgia)
Exit 90 @ SR 4 / US 1 (Swainsboro, Georgia)
Exit 71 @ SR 15 / SR 78 (Exit to Soperton and Adrian at Soperton, Georgia)
Exit 67 @ SR 29 (Soperton, Georgia)
Exit 51 @ SR 31 / US 319 / US 441 (Dublin, Georgia)
A cross-over on I-16 at Mile 43 prior to Exit 42 (SR 338) in Laurens County will direct traffic back to regular westbound lanes prior to arrival in Macon.
Motorists are also reminded that shoulders on interstates are reserved for – and are being actively used by – emergency vehicles only. They are not to be used for passenger vehicles.
Assistance Available for Motorists
Georgia DOT Highway Emergency Response Operators (HEROs) and Georgia State Patrol have formed 13 strike teams to assist with traffic situations that may occur.
Twelve Coordinated Highway Assistance and Maintenance Program (CHAMP) operators have been deploying to I-95 and I-75 between Florida and Macon to provide motorists assistance and traffic control for the increased volume of evacuation traffic from Florida and the Georgia coast. In addition, 21 Highway Emergency Response Operators (HEROs) are assisting with contraflow and traffic management on I-16.
The Georgia Department of Transportation is committed to providing a safe, seamless and sustainable transportation system that supports Georgia's economy and is sensitive to both its citizens and its environment. Particularly in times of crisis, Georgia DOT stands at the ready to serve the public.
---
For more I-95 travel info, visit www.i95exitguide.com, the Internet's largest and most complete website devoted to America's Interstate Main Street. Detailed exit service listings… discount lodging, camping, food, gas and more for every exit from Maine to Florida!
Traveling another route? Visit our growing family of exit guides: I-4 Exit Guide, I-5 Exit Guide, I-10 Exit Guide and I-75 Exit Guide.