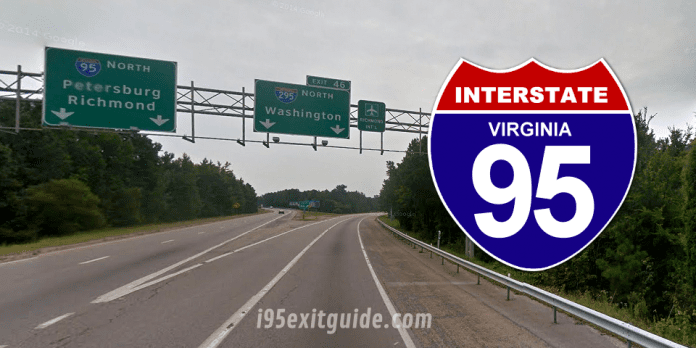 The Virginia Department of Transportation (VDOT) reports that an extended lane closure is needed to repair erosion along the slope and shoulder of I-95 northbound at the bridge over the Po River in Spotsylvania County, north of exit 118 (Thornburg).
Starting at 10:00 a.m. Monday, September 11, the left lane of I-95 northbound at mile marker 119 will be closed 24 hours a day for an estimated four weeks. Crews will work seven days a week to repair the erosion by reconstructing the shoulder and replacing asphalt.
Travelers should expect major delays on I-95 northbound in the Thornburg area during peak travel periods, especially on weekends.
To avoid congestion in this area during peak times, northbound I-95 travelers with destinations outside the Fredericksburg area are encouraged to take exit 104 (Carmel Church) and use Route 207 northbound and Route 301 northbound as an alternate route. When possible, overhead message boards will notify motorists of this work zone ahead, and encourage northbound travelers to consider using exit 104 as an alternate route.
Motorists should be advised that they may encounter additional road work on primary and secondary roads near the exit 110 (Ladysmith) and exit 118 (Thornburg) interchanges in the Fredericksburg area. Route 1 has been reduced from four lanes to two lanes in the Ladysmith area of Caroline due to a bridge maintenance project at the South River. Lanes are also reduced at the Route 606 (Mudd Tavern Road) approach to Route 1 for a widening project in the Thornburg area.
---

What's happening on Interstate 95 RIGHT NOW! I-95 Real-time traffic information for selected cities along I-95. Maps show updates on road construction, traffic accidents, travel delays and the latest traffic speeds. Traffic cameras show congestion at a glance. Visit I-95 Traffic.
---
The I-95 Exit Guide is the Internet's largest and most complete website dedicated to Interstate 95 travelers. Find detailed exit service listings… lodging, camping, food, gas and more for every exit from Maine to Florida!
On the road? Why not take us with you. The I-95 Exit Guide is mobile-friendly and totally FREE. No App Required.
Traveling another route? Visit our growing family of exit guides: I-4 Exit Guide, I-5 Exit Guide, I-10 Exit Guide, I-75 Exit Guide, I-80 Exit Guide and I-95 Exit Guide. Detailed exit service listings… discount lodging, camping, food, gas and more for every exit along the way!