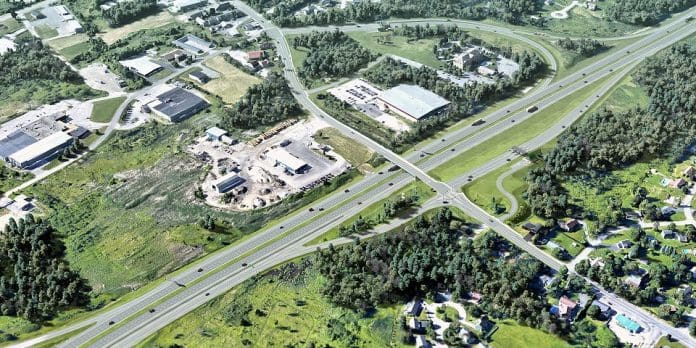 In December 2022, Maine Turnpike Authority awarded a $41.9 million contract to construct Exit 35 in Saco — the Authority's first new interchange in over twenty years.

This project emerged from a 2019 transportation study by the MTA, MaineDOT and the City of Saco that focused on how to address regional traffic issues by improving connections to and from the Turnpike.
Once complete, the new interchange at Mile 35 will include:
Four new ramps – Southbound on and off and northbound on and off.
Two new toll plazas – Southbound plaza will be located on west side of Maine Turnpike with a signalized intersection at Route 112.The northbound plaza will be on the east side of the Turnpike with a signalized intersection at Route 112.
Construction of a new collector-distributor road – On the Maine Turnpike southbound between Exit 36 and the new Exit 35, the road will be widened to construct a collector-distributor road that will separate Exit 36 on-ramp and Exit 35 off-ramp from the mainline.It is a two-lane road separate from the three-lane mainline. This reduces weaving and merging on the mainline.
Route 112 modifications – In addition to the signalized intersections at the toll plaza ramps, Route 112 will be widened to accommodate turning movements at the new signalized intersections.
The contract was awarded to Sargent Corporation from Stillwater, Maine. The contractor began work in February clearing the site and is currently prepping the site for construction of the southbound toll plaza including earthwork and wick drain installation.
On Monday, March 20, 2023, the hotel access ramp on the Turnpike mainline closed permanently to facilitate realignment of the northbound on and off ramps. Access to the Ramada Inn will be exclusively from Route 112 from here forward.
In the coming months crews will begin working on the construction of the northbound toll plaza. Sporadic work will occur on Route 112 during 2023 and 2024 but the bulk of the upgrades on Route 112 are scheduled for 2025.
Construction is scheduled to last through the Fall of 2025.
---
The I-95 Exit Guide is the Internet's largest and most complete website dedicated to Interstate 95 travelers. Find detailed exit service listings… lodging, camping, food, gas and more for every exit from Maine to Florida!
On the road? Why not take us with you. The I-95 Exit Guide is mobile-friendly and totally FREE. No App Required.
Traveling another route? Visit our growing family of exit guides: I-4 Exit Guide, I-5 Exit Guide, I-10 Exit Guide, I-75 Exit Guide, I-80 Exit Guide and I-95 Exit Guide. Detailed exit service listings… discount lodging, camping, food, gas and more for every exit along the way!