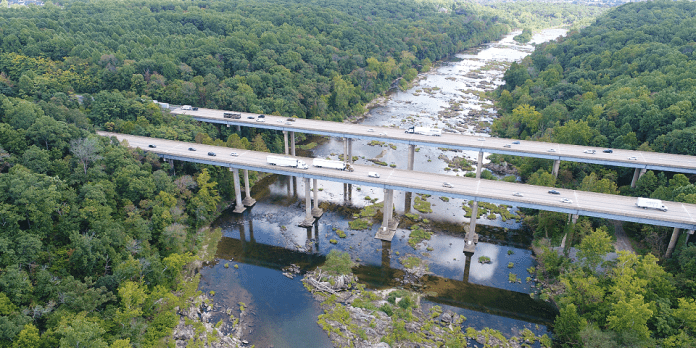 The Virginia Department of Transportation (VDOT) and its contractor will open a new I-95 northbound overpass in Stafford County early tomorrow, September 27, at the exit 133 interchange.
As part of the I-95 Northbound Rappahannock River Crossing Project, crews built a new, higher bridge over Route 17 to carry traffic entering the interstate. It will open to Route 17 southbound traffic entering I-95 northbound early Wednesday before the morning rush hour.
When the new overpass is open, Route 17 southbound traffic will no longer use dual left turn lanes to enter I-95 northbound. Instead, Route 17 southbound travelers seeking northbound I-95 will use the free-flowing loop ramp and overpass, which was the traffic pattern in place prior to recent construction.
Route 17 traffic signal timing will be adjusted to improve traffic flow and reduce congestion in this area.
Travelers exiting I-95 northbound to Route 17 northbound will gain additional green signal time for left turns, which will reduce delays along the off-ramp and at the exit 133 interchange.
While the new overpass will open to traffic tomorrow, a temporary traffic pattern will remain in effect to allow crews to continue to build additional lanes on Route 17 between Short Street and South Gateway Drive/Sanford Drive. Work is also underway to install drainage systems and sidewalk in this area.
I-95 Overnight Ramp and Lane Closures
To open the new overpass, crews need overnight lane and ramp closures at exit 133 starting late tonight, September 26. Crews will be installing overhead signs on I-95 northbound, removing existing pavement markings and applying new markings on Route 17.
Starting at 10:00 p.m., I-95 northbound will be reduced to a single lane between the Rappahannock River and exit 133 followed by full traffic stops between midnight and 3:00 a.m. Each stop may last up to 30 minutes.
The I-95 northbound on- and off-ramps at Route 17 will also close each evening between midnight and 3:00 a.m. through early Friday, September 29. Overnight travelers will be detoured to access I-95 northbound at exit 136 (Centreport Parkway) from Route 1.
Drivers with destinations outside of the Fredericksburg area are encouraged to use alternate routes to avoid major delays.
Northbound Rappahannock River Crossing Schedule
When construction on the $132 million project is complete by May 2024, the final traffic pattern in this area will include:
Third right turn lane from I-95 southbound off-ramp to Route 17 northbound
Dual left turn lanes from northbound Route 17 to Sanford Drive
Right-turn-only lane from northbound Route 17 to South Gateway Drive
Triple left turn lanes from I-95 northbound off-ramp to northbound Route 17
Fourth travel lane for I-95 northbound traffic between exit 133 and exit 136 (Centreport Parkway)
The original I-95 northbound bridge over the Rappahannock River remains closed for a major rehabilitation project. Once work is finished, the three travel lanes will carry local northbound traffic between exit 130 (Route 3) and exit 133, similar to southbound. The northbound decision point between local versus through lanes will be after the Fall Hill Avenue overpass in Fredericksburg.
Crews anticipate opening the original I-95 northbound bridge and putting all northbound traffic into its final alignment with six travel lanes spanning the Rappahannock River in late fall 2023.
---
What's happening on Interstate 95 RIGHT NOW! I-95 Real-time traffic information for selected cities along I-95. Maps show updates on road construction, traffic accidents, travel delays and the latest traffic speeds. Traffic cameras show congestion at a glance. Visit I-95 Traffic.
---
The I-95 Exit Guide is the Internet's largest and most complete website dedicated to Interstate 95 travelers. Find detailed exit service listings… lodging, camping, food, gas and more for every exit from Maine to Florida!
On the road? Why not take us with you. The I-95 Exit Guide is mobile-friendly and totally FREE. No App Required.
Traveling another route? Visit our growing family of exit guides: I-4 Exit Guide, I-5 Exit Guide, I-10 Exit Guide, I-75 Exit Guide, I-80 Exit Guide and I-95 Exit Guide. Detailed exit service listings… discount lodging, camping, food, gas and more for every exit along the way!