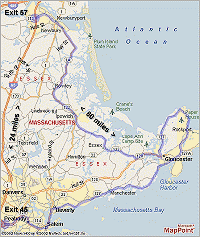 Back in the 18th and 19th centuries, the coastal towns along Massachusetts' North Shore were home to the production of magnificent wooden ships that set sail for ports in Asia and Africa, and returning great wealth to the area. Many of the majestic homes and buildings constructed during that era, still stand against the backdrop of some of the most beautiful coastline on the Atlantic.
Begin your northbound diversion by leaving I-95 at exit 45 (MA 128 North, Gloucester) and traveling a couple miles north on MA Route 128 to exit 25 (MA 114). Take MA Route 114 three miles east to historic Salem, home of the House of the Seven Gables, New England Pirate Museum, the Salem Maritime National Historic Site, and the Salem Witch Museum.
Leave Salem, head north on MA Route 1A about three miles to MA Route 127. Take MA Route 127 east less than a mile to Beverly, founded in 1626 as an extension of Salem and an important port during the Revolutionary War.
Continue east on MA Route 127 approximately twelve miles along rocky coastline to the summer resort of Gloucester, on Cape Ann. Settled in 1623, Gloucester is home to the Fishermen's Memorial, Hammond Castle Museum, the Rocky Neck Art Colony and several whale watch boat cruise companies.
Three miles more east on MA Route 127 takes you to the historic seaside village of Rockport, a thriving art colony and shoppers haven with sandy beaches, coastal and walking tours, hiking and whale watching.
About seven more miles of winding MA Route 127 will take you around the tip of Cape Ann and back to MA Route 128. Hop on MA Route 128 south about three miles to the next exit (exit 14) and then to MA Route 133 about three miles north to Essex, founded as a shipbuilding center and home to the Essex Shipbuilding Museum. Travel five more miles north on MA Route 133 and you'll rejoin MA Route 1A… then one mile north on MA Route 1A to the town of Ipswich, settled in 1640 on the site of the American Indian Village of Pentucket. In 1627 Hannah Dustin was kidnapped in an Indian raid and, it is said that she scalped 10 of her captors before escaping and reached home safely.
Continue about twelve miles north on MA Route 133 passing thru the towns of Rowley and Newbury, to Newburyport, birthplace of the U.S. Coast Guard and home of the Custom House Maritime Museum and the Parker River National Wildlife Refuge.
Three miles west on MA Route 113 takes you right back to I-95 at exit 57.
This Massachusetts North Shore diversion trip is approximately 60 miles. The I-95 distance between I-95 exit 45 and exit 57 is approximately 24 miles.
Directions
In Massachusetts, take I-95 northbound to exit 45. Then MA Route 128 north to MA Route 114. MA Route 114 east to Salem. From Salem, MA Route 1A north to MA Route 127 east to Beverly, Gloucester and Rockport. Continue on MA Route 127 to MA Route 128 south. Travel 3 miles to MA Route 133 and Essex, then to MA Route 1A north to Ipswich, Rowley, Newbury and Newburyport. In Newburyport take MA Route 113 to I-95 (exit 57)
Details
Sidetrip miles: 60 miles
I-95 miles: 24 miles