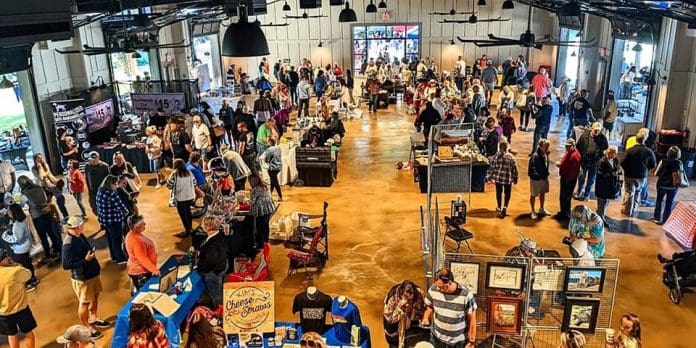 Located just 45 minutes northwest of Savannah and I-95, find Statesboro, Georgia, home to Georgia Southern University, as well as authentic dining, rich history, loads of Southern hospitality and an abundance of small-town charm. Whether stopping in Statesboro en route to a Florida vacation, or looking for a weekend getaway, plan to visit during one of these special annual events and then find time to explore local favorites that offer memorable fun for everyone, from families to singles and couples.
Save the Date: Statesboro for all seasons
There's always something fun happening year-round in Statesboro, from annual races and parades to seasonal events and live performances. Visitors and locals love F1rst Fridays, which take place one Friday a month in downtown Statesboro. Main Street is bustling with live music, shopping, contests and fun activities for the whole family during these festive monthly events. Spring brings ArtsFest, an event to celebrate the arts with an artist market, live performances and more throughout the day. Don't miss the Kiwanis Rodeo happening in April. This annual fundraising event features bull riding, bronc riding, barrel racing and more with food and fun for the whole family. Celebrate fall with festival favorites like Kiwanis Ogeechee Fair. This agricultural fair brings carnival rides, midway games, local food vendors, live entertainment and agricultural history to the fairgrounds. Money raised from the event goes right back to the local communities served by the fair. Scare on the Square is another not to miss family favorite when visiting in the fall. Held in downtown Statesboro, kids especially love this themed event featuring Trunk or Treating, a scavenger hunt, a costume contest, community dances, musical performances, hayrides, a haunted house, vendors and more. Kick off the holidays with Shopping by Lantern Light at the Farmers Market and the 5K Turkey Trot in November and the Downtown Christmas Holiday Celebration taking place in December.
Family-style
Pack up the kids and hit the market. Families love perusing one of Statesboro's most beloved treasures, the Statesboro Main Street Farmers Market. Open 9 a.m.-12:30 p.m., every Saturday, April through November, shoppers will find some of the freshest foods available in the area at this ever-popular market. The farmers market features fresh from the farm produce, as well as meat and eggs straight from area family farms. In addition to delicious food, shoppers can also browse one-of-a-kind handcrafted items and sip fresh coffee or homemade lemonade all while enjoying live music. There's plenty of fun for everyone. Statesboro Main Street Farmers Market, 222 South Main Street, Statesboro, Georgia 30458; 912-259-9555
Get ready to explore the wild side of Statesboro. Little ones (and grown-ups, too) will love getting up close and personal with eagles, raptors, reptiles and more at Georgia Southern University's Center for Wildlife Education and The Lamar Q Ball, Jr. Raptor Center. Providing quality environmental education for visitors of all ages, the Wildlife Center is an excellent place to learn more about the animals indigenous to South Georgia. With various programs offered throughout the year, visitors are sure to see something new with each visit. Open 9 a.m.-4:45 p.m., Monday through Friday, and 1 p.m.-4:45 p.m., Saturday. Closed Sundays. Wildlife Education and The Lamar Q Ball, Jr. Raptor Center, 1461 Forest Drive, Statesboro, Georgia 30458; 912-478-0831
Go Eagles! Take in a Georgia Southern University football game with the family. There's nothing quite like the energy found at Paulson Stadium when the Eagles play. Arrive early and experience the Eagle Walk and Freedom's Flight—where team mascot Freedom, an American Bald Eagle, takes flight before each home game. For more information including tickets, click here.
On your own
On your own exploring Statesboro? Enjoy the adventures above independently and add these experiences! Start your Statesboro adventures at the Museum on Main. Located inside the Statesboro Regional Visitor Center, the Museum on Main is a partnership with Visit Statesboro and the Georgia Southern University Museum and Department of History. Showcasing the history of Statesboro, Bulloch County and the surrounding area, visitors will enjoy perusing collections, exhibits and more while getting a glimpse of the area's rich cultural history. Exhibits change annually so there's always a reason to visit. Museum on Main, 222 South Main Street, Statesboro, Georgia 30458; 912-259-9555
Treasure hunt while browsing some of the best antique shops around. Shop antique and vintage furniture, household items, novelties and more at The Hot Vintage Market. Head downtown and browse some of the most unique finds and knickknacks around at Charlie's Funky Junk Shop, a local favorite, hands down. With treasures from floor to ceiling, collectors will hit the jackpot. Just down the road, don't miss Marketplace on 67 located just a few miles outside Statesboro. Family-owned and -operated since 1999, shoppers will find a plethora of vintage, antique and locally made items. The Hot Vintage Market, 6 East Grady Street, Statesboro, Georgia 30458; 912-259-1585; Charlie's Funky Junk Shop, 33 West Main Street, Statesboro, Georgia 30458; 912-536-7814; Marketplace on 67, 7041 GA Highway 67, Brooklet, Georgia 30415; 912-839-2167
Check out a show at the Averitt Center for the Arts, home to the Emma Kelly Theater and the new Whitaker Black Box Theater. Offering a broad range of artistic experiences, the Averitt Center for the Arts features shows throughout the year including musical theater, vocal performances, artists exhibitions and more. Check upcoming events here. Averitt Center for the Arts, 33 East Main Street, Statesboro, Georgia 30459; 912-212-2787
Couple up
Statesboro makes a great getaway for couples! Catch a football game, go on an antique treasure hunt and explore the highlights already mentioned; then, treat your significant other to a culinary adventure with an experience at some of Statesboro's best restaurants. Cozy up and grab lunch at Statesboro's own Sugar Magnolia Bistro & Bar. Serving coffee house favorites, lunch staples and enticing dinner entrees, there's a good chance you'll stop in this local spot more than once while visiting Statesboro. Insider tip: don't skip dessert! From traditional classics like cheesecake and crème Brule to specialty cookies and cakes, the biggest dilemma will be choosing just one.
Start the evening off right at Tandoor & Tap's Happy Hour from 4-7 p.m. daily and all day on Sundays. Offering authentic Indian cuisine and flavorful drinks, Tandoor & Tap takes patrons on a unique culinary journey complete with distinct flavors from their tandoor oven. Tandoor & Tap, 40 E. Main Street, Statesboro, Georgia 30458; 912-259-1212
Nothing says date night in Statesboro quite like dinner at Bull and Barrel Steakhouse. Showcasing an elevated dinner experience, this local favorite serves up a seasonal menu inspired by the classics. Diners will find refined yet familiar dishes on the menu that are not only comforting but also elegant. Open for dinner only. Reservations required. Bull and Barrel Steakhouse, 30 West Main Street, Statesboro, Georgia 30458; 912-259-9990; Sugar Magnolia Bistro & Bar, 106c Savannah Avenue, Statesboro, Georgia 30458; 912-259-9900
Enjoy a concert or experience a play with your sweetie at Georgia Southern University's Performing Arts Center. The university's Mainstage Series features performances throughout the year showcasing bands, comedy and stage performances. For details on shows and ticket information, click here. Georgia Southern University Performing Arts Center, 847 Plant Drive, Statesboro, Georgia 30458; 912.478.7999
Where to stay
Statesboro offers traditional lodging options as well as inns, bed and breakfasts and vacation rentals. Experience Statesboro like a local and stay in a unique Airbnb such as this cozy, well-appointed loft located in the heart of downtown, right above Bull and Barrel Steakhouse and just a mile and a half from Georgia Southern University. Guests enjoy coffee shops, restaurants and shopping, all of which is in walking distance. Looking for something with enough space to sleep your whole crew? This spacious cabin located on Cypress Lake is the perfect spot to spread out and enjoy the great outdoors with fishing, kayaking and more in the backyard. It's just minutes from Georgia Southern University's Paulson Stadium and the cabin was once home to country star Luke Bryan. For more Statesboro lodging options, click here.
---
The I-95 Exit Guide is the Internet's largest and most complete website dedicated to Interstate 95 travelers. Find detailed exit service listings… lodging, camping, food, gas and more for every exit from Maine to Florida!
On the road? Why not take us with you. The I-95 Exit Guide is mobile-friendly and totally FREE. No App Required.
Traveling another route? Visit our growing family of exit guides: I-4 Exit Guide, I-5 Exit Guide, I-10 Exit Guide, I-75 Exit Guide, I-80 Exit Guide and I-95 Exit Guide. Detailed exit service listings… discount lodging, camping, food, gas and more for every exit along the way!