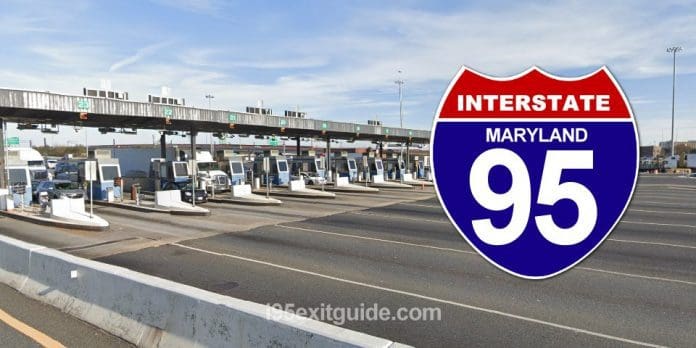 The Maryland Transportation Authority (MDTA) will begin construction work in January at the Fort McHenry Tunnel (I-95) needed to allow highway-speed AET at the tunnel's toll plaza. The project, funded entirely through toll revenues, will result in toll collection via overhead electronic gantry. With AET, drivers do not stop to pay tolls. Instead, tolls are collected through E-ZPass, Video Tolling and Pay-By-Plate.
The project is part of the MDTA's system-wide efforts to make its all-electronic tolling operations accessible to drivers at highway speeds. At the Fort McHenry Tunnel, work starting in January will convert the middle lanes of the existing toll plaza into four highway-speed lanes in each direction by removing toll booths and canopy. It will eliminate the need for traffic to slow at the toll plaza and navigate between the narrow toll islands, resulting in safer and more efficient traffic operations.
A safety measure was implemented at the tunnel toll plaza in December 2020 to facilitate safe and orderly flow of traffic, resulting in the closure of several toll lanes. These lanes will remain closed as crews work to remove the toll booths. Southbound motorists using Exit 55 (Key Highway) should continue to keep to the right side of the toll plaza to use the southbound right tube (Bore 1). Northbound motorists using Exit 56 (Keith Avenue) should continue to use the northbound right tube (Bore 4) to keep to the right side of the toll plaza.
In spring 2022, crews will install two overhead tolling gantries, one for southbound traffic and one for northbound traffic, just south of the existing toll plaza. Off-peak lane and tube closures will be necessary to complete the work to construct the overhead gantry.
Toll collection will continue throughout the construction process and all customers will remain responsible for tolls incurred at the Fort McHenry Tunnel. Drivers should obey posted speed limits in all active work zones.
During summer 2022, traffic will shift to the new travel lanes in the middle of the former toll plaza area, and motorists will drive beneath the tolling gantries at posted highway speeds. With traffic in the new highway-speed lanes, the MDTA will remove the remaining toll booths and canopy by late 2022.
The MDTA converted toll plazas at the Hatem (US 40), Key (I-695), and Bay (US 50/301) bridges to highway-speed AET in 2019 and 2020.
The John F. Kennedy Memorial Highway (I-95) toll plaza was converted to highway-speed AET on an interim basis in November until permanent roadway configuration can be studied, designed and constructed. The planning study is expected to begin in fiscal year 2023.
Highway-speed AET is part of the Nice/Middleton Bridge (US 301) replacement project, scheduled to be operational in spring 2022.
The MDTA, in coordination with the Federal Highway Administration, conducted a National Environmental Policy Act (NEPA) Study to evaluate proposed toll plaza and interchange improvements near the Baltimore Harbor Tunnel (I-895). With this study now complete, preliminary engineering is underway to bring highway-speed AET to the Baltimore Harbor Tunnel. Highway-speed AET is scheduled to be operational at the Harbor Tunnel in 2026.
E-ZPass remains the most cost-effective way to travel toll roads in Maryland. Video Tolling occurs for any trips not paid with a valid E-ZPass or Pay-By-Plate at the time of travel. With Video Tolling, a Notice of Toll Due is generated and sent to the registered owner of the vehicle for standard Video Toll rates. With Pay-By-Plate, tolls are automatically billed to the driver's registered credit card as they use Maryland toll facilities, with no need for a transponder or pre-paid toll deposit.
Enroll in E-ZPass, sign up for Pay-By-Plate or pay Video Tolls at DriveEzMD.com.
---
For more I-95 travel information, visit www.i95exitguide.com, the Internet's largest and most complete website devoted to I-95, America's Interstate Main Street. Detailed exit service listings… discount lodging, camping, food, gas and more for every exit from Maine to Florida! Plus I-95 construction, real-time traffic and road news.
Traveling another route? Visit our growing family of exit guides: I-4 Exit Guide, I-5 Exit Guide, I-10 Exit Guide , and I-75 Exit Guide.