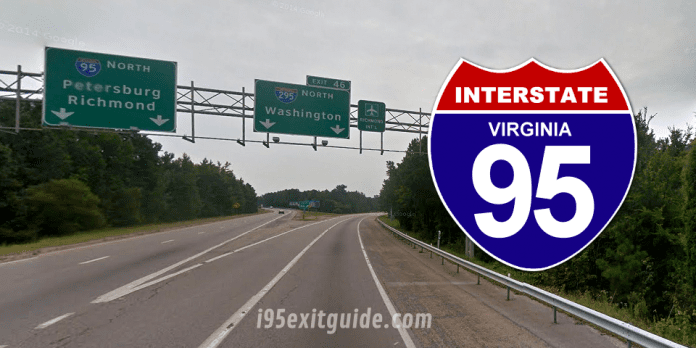 Road work on Interstate 95 in the Fredericksburg area is heating up along with outdoor temperatures. Drivers should anticipate overnight I-95 delays with double lane closures scheduled this week for paving and several Improve95 projects.
Overhead message boards will provide advance notice of the lane closures and possible delays.
Weather permitting, the following lane closures are scheduled:
I-95 Southbound
Exit 133 (Route 17/Falmouth) Double Lane Closures
Monday – Friday, 9 p.m. – 10 a.m. Expect a single lane to be closed on I-95 southbound near the Exit 133 interchange starting at 9 p.m. followed by a double lane closure at 10 p.m. Double lane closures will end at 4 a.m. A single lane will remain closed near the interchange until 10 a.m. except on Friday, June 7 when all lanes will reopen by 6 a.m. The double lane closures are needed to allow crews to lift beams for the new I-95 overpasses of Route 17 as part of the I-95 Southbound Rappahannock River Crossing project.
I-95 Northbound
Exit 126 (Route 1/Massaponax) Double Lane Closures
Through Friday, 9:00 p.m. – 4:30 a.m. A single lane on I-95 northbound will be closed at 9:00 p.m. followed by a double lane closure at 10:00 p.m. for milling and paving near the Exit 126 interchange. Drivers may encounter a temporary rough driving surface. All lanes will reopen by 4:30 a.m.
I-95 Northbound Exit Ramp to Exit 133B/Warrenton
Through Friday, 11:00 p.m. – 4:00 a.m. Expect intermittent exit ramp closures up to 30 minutes. Travelers should use Exit 130/Route 3 or Exit 136/Centreport Parkway as an alternate exit during closures.
I-95 Northbound and Southbound
Exit 148 (Quantico) to Exit 130 (Route 3/Fredericksburg)
Expect alternating single lane closures and shoulder closures on I-95 northbound and southbound between Exit 148 (Quantico) in Prince William County to Exit 130 (Route 3) in Fredericksburg for multiple work zones for various construction activities for the Improve 95 projects, or for geotechnical boring work and utility marking for the future I-95 Express Lanes Fredericksburg. A work zone may be two miles to six miles long. Delays are possible. Use caution with crews and construction equipment in the median and along the shoulders. Be alert to trucks slowing down to enter or exit the median at various construction entrances throughout the work zone.
Interstate 95 Northbound
Tuesday – Wednesday, 9:00 a.m. – 3:30 p.m.
Monday – Friday, 9:00 p.m. – 4:30 a.m.
Friday – Saturday, 10:00 p.m. – 5:00 a.m.
Interstate 95 Southbound
Monday– Thursday, 9:00 p.m. – 10:00 a.m.
Thursday – Friday, 9:00 p.m. – 6:00 a.m.
Friday – Saturday, 10:00 p.m. – 5:00 a.m.
I-95 travelers are advised to use Route 1 to avoid delays.
Virginia State Police will assist with traffic control in the work zones with double lane closures.
---
For more I-95 travel info, visit www.i95exitguide.com, the Internet's largest and most complete website devoted to America's Interstate Main Street. Detailed exit service listings… discount lodging, camping, food, gas and more for every exit from Maine to Florida!
Traveling another route? Visit our growing family of exit guides: I-4 Exit Guide, I-5 Exit Guide, I-10 Exit Guide and I-75 Exit Guide.