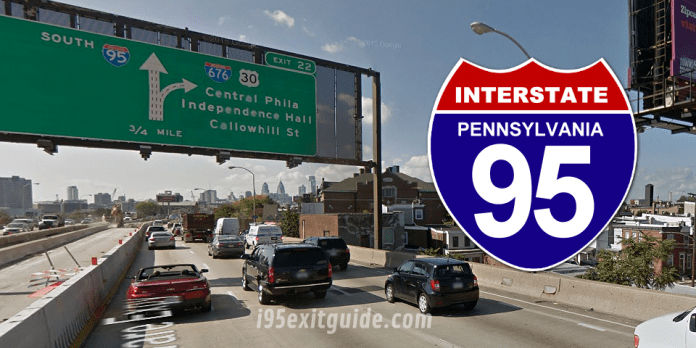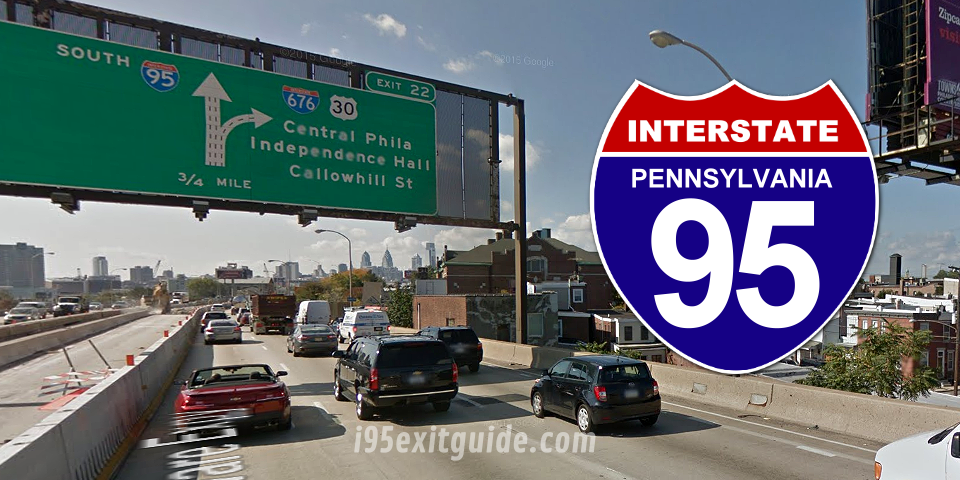 The Pennsylvania Department of Transportation (PennDOT) held a media briefing today to announce the upcoming permanent closure of the existing northbound Interstate 95 ramp to Bridge Street/Harbison Avenue (Exit 27) under the $267.9 million Section BS2 project to reconstruct the viaduct over Bridge and Tacony streets along with the adjacent sections of I-95, improve the interchange, and enhance traffic movement and safety on surface streets at the interchange in Northeast Philadelphia.
Crews are scheduled to permanently close the ramp on or after Tuesday, April 18, and begin construction of a retaining wall along the northbound side of I-95 at the interchange. The retaining wall will allow PennDOT's contractor to temporarily widen the northbound side of I-95 approaching the viaduct as part of a new traffic pattern. The six-lane traffic pattern — three northbound, three southbound lanes — will be in place through a work zone that extends through the interchange during three-plus years of construction to replace the viaduct and rebuild the interchange.
Work is currently underway in the I-95 median south of Bridge Street to build a crossover for the new pattern. Construction to replace the southbound side of the viaduct is scheduled to begin in early 2024. Replacement of the northbound side of the viaduct will follow.
When the northbound off-ramp permanently closes (Exit 27), northbound I-95 and westbound Betsy Ross Bridge traffic heading for Bridge Street, Tacony Street and Harbison Avenue will begin using the off-ramp to Aramingo Avenue (Exit 26 on I-95 North) at the adjacent Betsy Ross Bridge/Aramingo Avenue Interchange.
Westbound bridge traffic, as well as traffic from Aramingo Avenue at the Betsy Ross Bridge Interchange, will continue to have direct access to the northbound lanes on I-95.
Improvements already in place at the Betsy Ross Bridge interchange were designed to replace the closed Bridge Street ramp and improve safety and mobility at the currently congested merge point between the ramp and surface streets at the existing Bridge Street Interchange.
During construction from 2017 to 2020, Aramingo Avenue was widened between Wheatsheaf Lane and Church Street (Section BS4), and the Adams Avenue Connector was constructed (Section H04).
Reconstruction of I-95 immediately north of Bridge Street (Section BS1) is in its final stages and is expected to finish by early summer. Traffic patterns and other activities on Sections BS1 and BS2 will be coordinated by PennDOT's construction managers.
During all upcoming work on Section BS2, three travel lanes in each direction will remain open during peak travel times, though periodic off-peak lane closures may be in place on I-95 during certain stages of construction operations.
---
The I-95 Exit Guide is the Internet's largest and most complete website dedicated to Interstate 95 travelers. Find detailed exit service listings… lodging, camping, food, gas and more for every exit from Maine to Florida!
On the road? Why not take us with you. The I-95 Exit Guide is mobile-friendly and totally FREE. No App Required.
Traveling another route? Visit our growing family of exit guides: I-4 Exit Guide, I-5 Exit Guide, I-10 Exit Guide, I-75 Exit Guide, I-80 Exit Guide and I-95 Exit Guide. Detailed exit service listings… discount lodging, camping, food, gas and more for every exit along the way!