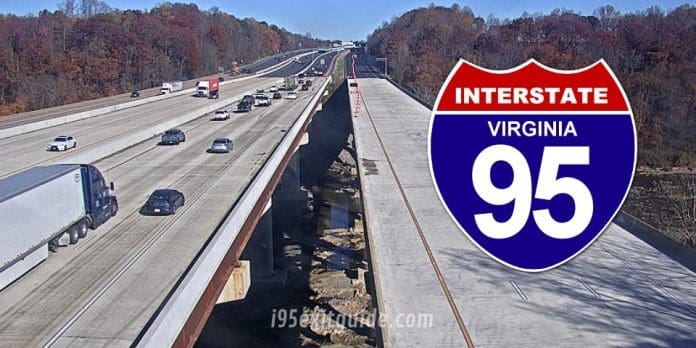 The Virginia Department of Transportation (VDOT) will shift I-95 northbound traffic at the Rappahannock River into its final alignment this week, doubling northbound capacity in the Fredericksburg area. 
After five years of construction in the Fredericksburg area to improve I-95, with a combined investment of $264 million to build the I-95 Northbound and Southbound Rappahannock River Crossings, there will be 12 interstate lanes spanning the river ahead of the Thanksgiving holiday.
Early Wednesday, November 15, travelers began to use both I-95 northbound bridges over the river with traffic divided between local and through lanes, with all traffic in its final pattern by 6:00 a.m. Thursday, November 16. The pattern is similar to I-95 southbound between the exit 133 (Route 17) interchange in Stafford County and exit 130 (Route 3) in the City of Fredericksburg.
Staring early Wednesday, drivers will decide before the divide to travel in northbound local or through travel lanes, with a new decision point after the Fall Hill Avenue overpass at mile marker 132.
Nearly 150,000 vehicles a day travel I-95 in the Fredericksburg region. The Rappahannock River Crossing projects reduce congestion by separating local traffic from regional traffic along the corridor. Almost half of the drivers entering I-95 from the Route 17 and Route 3 interchanges exit on the opposite side of the Rappahannock River, traveling just one exit.
Although construction on the I-95 Northbound Rappahannock River Crossing project is substantially complete, with all new lanes to be opened this week on the interstate, the contractor will continue to accomplish final work activities through May 2024. Remaining activities will be concentrated along Route 17 in Stafford, as crews finish building turn lanes, installing sidewalk and drainage systems. Final paving on all travel lanes of Route 17 northbound and southbound between Short Street and South Gateway Drive/Sanford Drive will occur in spring 2024.
---
What's happening on Interstate 95 RIGHT NOW! I-95 Real-time traffic information for selected cities along I-95. Maps show updates on road construction, traffic accidents, travel delays and the latest traffic speeds. Traffic cameras show congestion at a glance. Visit I-95 Traffic.
---
The I-95 Exit Guide is the Internet's largest and most complete website dedicated to Interstate 95 travelers. Find detailed exit service listings… lodging, camping, food, gas and more for every exit from Maine to Florida!
On the road? Why not take us with you. The I-95 Exit Guide is mobile-friendly and totally FREE. No App Required.
Traveling another route? Visit our growing family of exit guides: I-4 Exit Guide, I-5 Exit Guide, I-10 Exit Guide, I-75 Exit Guide, I-80 Exit Guide and I-95 Exit Guide. Detailed exit service listings… discount lodging, camping, food, gas and more for every exit along the way!