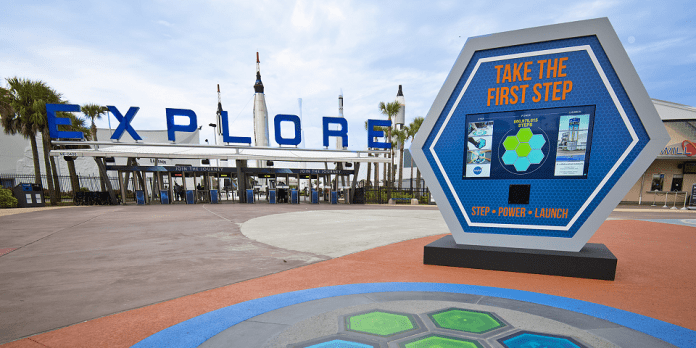 With the 50th anniversary of Apollo 11's historic mission to the Moon in July as well as the return of human spaceflight on the Space Coast, Kennedy Space Center Visitor Complex is expecting record visitation in 2019. In anticipation of the increased interest in space and to ensure the highest levels of service and amenities for guests, the visitor complex has a universe of new changes, enhancements, additions and improvements planned and currently underway.
"Two-thousand and nineteen is going to be another exciting year for us," said Therrin Protze, COO of Kennedy Space Center Visitor Complex. "We've been working hard to create new ways to enhance our guest experience as well as add amenities and upgrades that will make a visit to Kennedy Space Center Visitor Complex even more memorable. Going forward, our focus continues to be STEM education: the opening of the new Astronaut Training Experience this year has been met with high praise and nearly sold-out bookings. Our public outreach continues to expand through new Title I school initiatives and other exciting programs."
Dramatic Sense of Arrival
The adventure will begin the minute guests arrive to the visitor complex, with a brand new entranceway that immediately establishes a "sense of space." Located via a new access road which is set off of Space Commerce Way, the entrance design replicates the giant crawler-transporters that deliver rockets from the Vehicle Assembly Building to their launch pad. The stunning replica will ignite visitors' excitement and curiosity and set the tone for a memorable visit. The new parking plaza will have six total lanes with two automatic pay stations and four attended lanes.
A Galaxy of New Exhibits to Explore at the Apollo/Saturn V Center
The 50th anniversary of Apollo 11, which takes place in July of 2019, will be the pinnacle of an exciting year at Kennedy Space Center Visitor Complex, and will come to life through the reimagining of the Apollo/Saturn V Center. A galaxy of wonder and exploration awaits guests at the Apollo/Saturn V Center, which is a stop on the KSC Bus Tour. The interactive exhibit and attraction focuses on the Apollo Program from the days leading up to the first launch to the Moon landings that followed. A renovated "sense of arrival" will include revamped landscaping, thematic signage and more, setting a new tone for the experience. New exhibits, such as Moon Scape, will feature a Lunar Lander and augmented reality stations enabling guests to recreate the first steps to the Moon. And the focal point of the Apollo/Saturn V Center, a dramatically suspended Saturn V moon rocket, will be enhanced with projection mapping on its side, showing the iconic footage of the Moon landing. Other new experiences and interactive opportunities will allow guests to delve deeper into what many consider one of the most significant achievements of the 20th century.
Step. Power. Launch.
Guests can soon become part of powering their own future, one step at a time, via the interactive piezoelectric experience at Kennedy Space Center Visitor Complex, Step. Power. Launch. Three separate tile pads designed to replicate planets give guests the chance to participate in a new technology prototype. The energy generated by visitor complex guests as they step on the tiles will power daily, virtual launches on digital towers throughout the park. The information gathered at the visitor complex will be used to develop technology that will one day be on roadways and sidewalks to generate energy for surrounding cities.
KSC Bus Tour Updates
TV personality, public speaker and author Emily Calandrelli, a.k.a. The Space Gal, will be the host of a new video shown on the KSC Bus Tour, available exclusively at Kennedy Space Center Visitor Complex. Calandrelli is an MIT-engineer turned Emmy-nominated TV host, as a correspondent on Bill Nye Saves the World and an executive producer and host of Fox's Xploration Outer Space. Guests will go "behind the scenes" more than ever before by "following" space guide Emily as she interviews NASA subject matter experts and explores fascinating details about past and future launches. This is the only way that the public is allowed access to restricted areas of Kennedy Space Center, the working spaceflight facility where America launched to the Moon and where NASA plans to send astronauts into deep space.
Dine With An Astronaut
Interacting with astronauts is one of the most exciting experiences many have at Kennedy Space Center Visitor Complex, but perhaps most compelling is the opportunity to learn about their experiences first-hand. The popular program is being updated and refreshed for a new, more personal guest experience and it will focus on the human elements and emotions of spaceflight. A new, themed location will add to the more intimate ambiance and create an environment more suited to the event. Following the program, each guest will have the opportunity to take an individual photo with the astronaut.
New Concession Concepts
New, space themed food outlets are available at the visitor complex. The existing Milky Way ice cream shop will feature an out-of-this world new façade, complete with a panorama of the galaxy and premium, hand-dipped ice cream. The new Red Rock Grill, featuring self-service ordering, will offer a smorgasbord of specialty hot dogs and french fries.
For more information or to book a visit to Kennedy Space Center Visitor Complex, visit kennedyspacecenter.com
---
For more I-95 travel information, visit www.i95exitguide.com, the Internet's largest and most complete website devoted to I-95, America's Interstate Main Street. Detailed exit service listings… discount lodging, camping, food, gas and more for every exit from Maine to Florida! Plus I-95 construction, real-time traffic and road news.
Traveling another route? Visit our growing family of exit guides: I-4 Exit Guide, I-5 Exit Guide, I-10 Exit Guide , and I-75 Exit Guide.