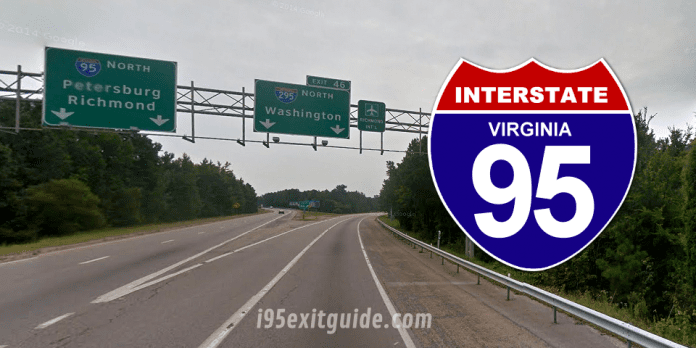 Beginning early Monday, December 19, Interstate 95 northbound travelers seeking exit 133 (Route 17) to Falmouth and Warrenton in Stafford County will begin using a temporary off-ramp north of the Rappahannock River.
Once the new off-ramp opens, the original northbound Rappahannock River bridge will close for maintenance work.
Earlier this month, crews with the I-95 Northbound Rappahannock River Crossing project met a major milestone by opening the new I-95 bridge.
Currently, four lanes of I-95 northbound are crossing the Rappahannock River between the City of Fredericksburg and Stafford County. Three lanes of traffic are crossing the new I-95 northbound bridge. A fourth lane crosses the original northbound Rappahannock River bridge, and allows motorists to access exit 133 (Falmouth/Warrenton).
Crews are expected to open the temporary off-ramp to the exit 133 (Route 17) interchange by 4:30 a.m. on Monday, December 19.
Travelers seeking Route 17 northbound toward Warrenton or Route 17 southbound toward Falmouth will use the temporary off-ramp, which is slightly north of the river. At the end of the off-ramp, a temporary traffic signal directs traffic at the intersection with Route 17.
Northbound I-95 traffic will remain in this long-term traffic pattern until spring 2024 when the $132 million project is expected to be complete.
Construction will continue over the next 18 months to finish the local travel lanes and to perform maintenance on the existing northbound Rappahannock River bridge while it is closed.
The project is adding three additional travel lanes on the busiest segment of I-95 in the Fredericksburg area, which carries around 150,000 vehicles a day.
---
The I-95 Exit Guide is the Internet's largest and most complete website dedicated to Interstate 95 travelers. Find detailed exit service listings… lodging, camping, food, gas and more for every exit from Maine to Florida!
On the road? Why not take us with you. The I-95 Exit Guide is mobile-friendly and totally FREE. No App Required.
Traveling another route? Visit our growing family of exit guides: I-4 Exit Guide, I-5 Exit Guide, I-10 Exit Guide, I-75 Exit Guide, I-80 Exit Guide and I-95 Exit Guide. Detailed exit service listings… discount lodging, camping, food, gas and more for every exit along the way!