Ah, the enchanting transition from the sun-soaked world of summer to the cozy embrace of fall – an exquisite metamorphosis that New Hampshire orchestrates with poetic finesse. As the thermometer takes a dip and Mother Nature's artistry takes center stage, the Granite State embarks on its annual extravaganza of foliage brilliance. Prepare to navigate a kaleidoscopic journey through the enigma of fall, where perplexity and burstiness become the virtuoso duo guiding your explorations.
1. Take a Scenic Foliage Drive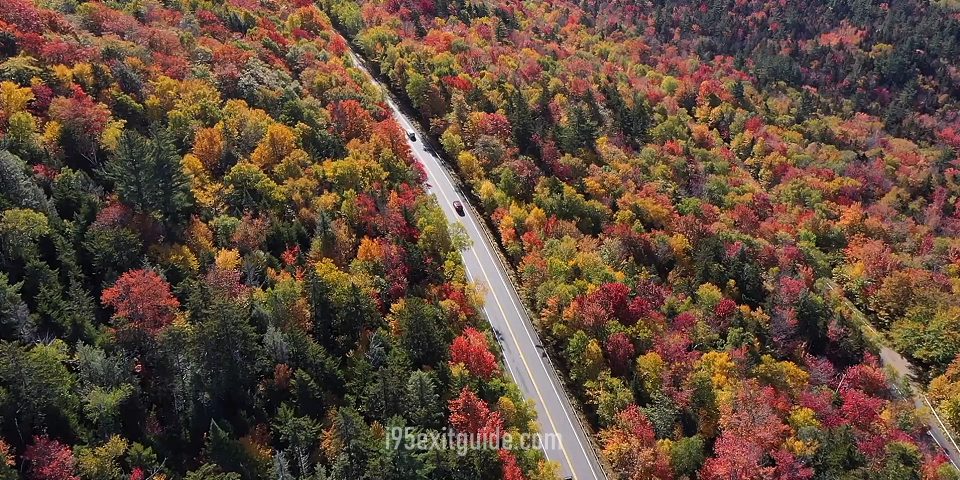 Imagine embarking on a captivating serpentine voyage along the world famous Kancamagus Highway, affectionately known as "The Kanc." This enchanting highway sweeps you away through the very heart of the White Mountain National Forest. With every graceful curve and bend, a breathtaking panorama of colors unfolds before your eyes – celestial reds, mesmerizing oranges, and liquid golds paint a vivid masterpiece.
During your journey, take leisurely pauses at the vantage points that dot the highway, like the Albany Covered Bridge. Here, indulge in moments frozen in time, and capture photos that etch the fleeting wonders of autumn deep into the tapestry of your memory. Allow yourself to be transported into a world where time slows down, and the symphony of nature's transformation plays on, inviting you to become a part of its exquisite melody.
For more information, visit: Kancamagus Highway
2. Go Apple Picking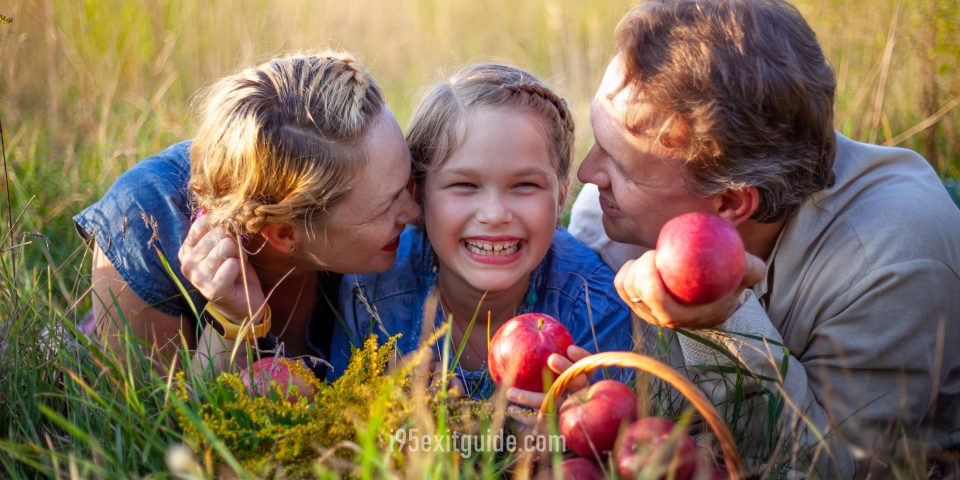 Nestled in the embrace of Concord, New Hampshire's rustic terrain, you'll find Carter Hill Orchard. This haven invites those with an adventurous spirit to partake in a quintessential autumn tradition – apple picking. Wander through the orchards, where trees bow under the weight of their ripening fruit, offering a connection between nature and sustenance. The air carries the scent of freshly baked apple cider donuts, promising culinary delight.
While you're there, consider a leisurely hayride, a nod to a simpler time. Savor the wagon ride as you criss-cross the orchard, connecting with nature's rhythm and the joys it offers. Carter Hill Orchard offers an immersive experience, where the senses come alive, and the spirit finds solace in nature's bounty and echoes of days gone by.
For more information, visit: Carter Hill Orchard
3. Cruise on Squam Lake
Squam Lake, a natural masterpiece forever linked to the cinematic charm of "On Golden Pond," invites you to witness its serene magnificence. Embark on a relaxing boat cruise, where the placid waters mirror an enchanting cathedral of trees dressed in their most resplendent fall attire. Nature's sonnet unfolds before you – a graceful dance of migratory birds across the open skies, the haunting calls of loons that resonate in the crisp air, and the majestic silhouette of bald eagles soaring against the vibrant backdrop of autumn's palette. Every moment becomes a living symphony, a harmonious blend of colors, sounds, and natural wonders that paints an unforgettable picture of this tranquil oasis. As you glide along the water, you become part of the narrative, an integral character in the timeless tale of Squam Lake's captivating beauty.
This is an invitation to immerse yourself in the embrace of nature's poetry, to bask in the reflection of cinematic history, and to create your own cherished memories within the enchanting realm of Squam Lake.
For more information, visit: Squam Lakes Natural Science Center
4. Take a Fall Foliage Hike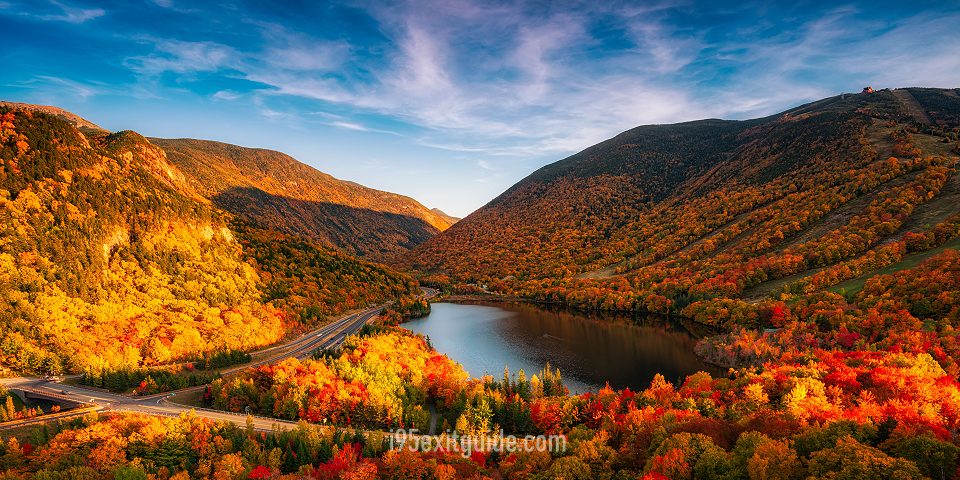 Tucked away within the embrace of Franconia Notch State Park lies a theater of breathtaking grandeur, an open invitation to all who seek the adventure of its trails. Step into the world of the Lonesome Lake Trail, a gateway to nature's living kaleidoscope, where every step unveils a mesmerizing journey through landscapes adorned in hues of vermilion, amber, and topaz.
As you wander through this enchanted woodland, the melody of cascading waterfalls fills the air, their crystal-clear streams seemingly shedding amber tears that glisten in the sunlight. And then, like a grand crescendo, the trail unveils its masterpiece – Lonesome Lake, a shimmering expanse of water that becomes a living canvas, effortlessly mirroring the vibrant foliage in a mesmerizing pas de deux of colors and reflections.
The trail itself is more than a mere path; it's a narrative waiting to be explored, a story of nature's artistry and the harmonious dance between the elements. With each step, you become part of this tale, a willing participant in the theater of beauty and wonder that unfolds around you. So, heed the call of the Lonesome Lake Trail, where the mundane gives way to the extraordinary, and the vibrant tapestry of the natural world becomes an indelible part of your own story.
For more information, visit: NH State Parks – Franconia Notch State Park
5. Take in the Keene Pumpkin Festival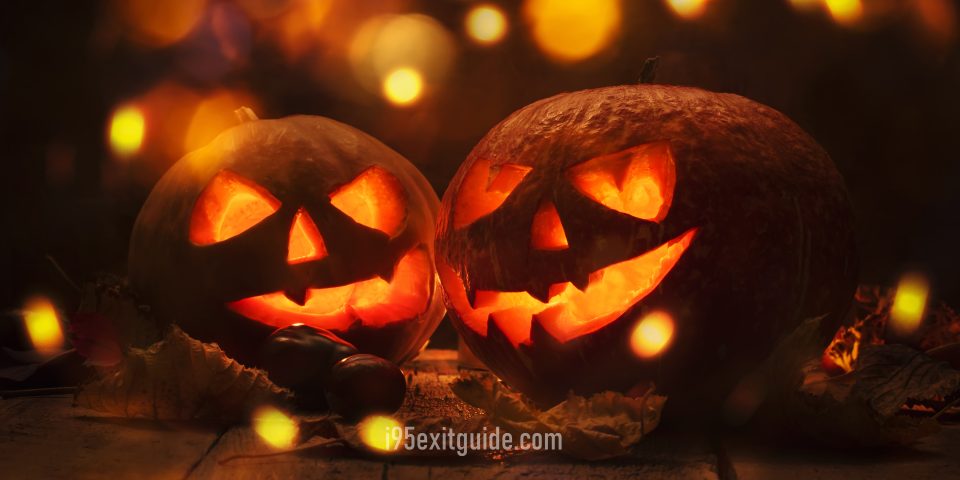 Keene, New Hampshire's Pumpkin Festival is a captivating transformation, turning the ordinary into the extraordinary. As twilight descends, a radiant spectacle takes center stage – a captivating display of myriad jack-o'-lanterns, each one a masterpiece of intricacy and charm, magically changing the city into a vibrant evening carnival. The air is alive with music, which adds to the immersive experience. Meanwhile, the culinary scene comes alive, as local flavors blend and mingle, creating a sensory symphony that's nothing short of spellbinding.
In the heart of this festival, you'll find a microcosm of fall in New Hampshire, captured in all its fleeting brilliance. The Pumpkin Festival becomes more than an event; it's a doorway to a world where imagination knows no bounds and where the ordinary is elevated to the extraordinary. Immerse yourself in this celebration and become part of the story, a chapter in the ongoing narrative of creativity, connection, and the captivating essence of fall. The Pumpkin Festival is an ode to the extraordinary within the everyday, a true testament to the enchantment that can be found when a community comes together to weave its own kind of magic.
For more information, visit: Let It Shine, Inc.
6. Go Canopy Ziplining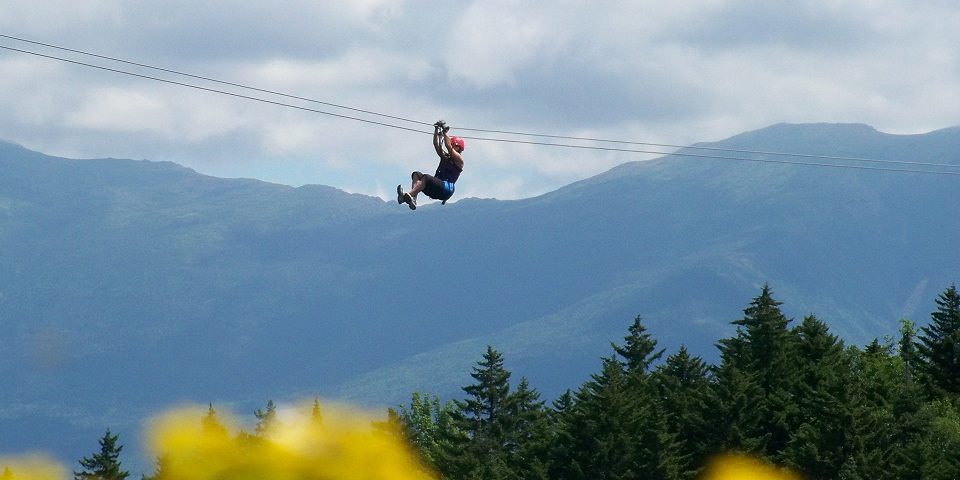 Elevate your autumn adventure by taking a thrilling zipline ride through the treetops at Bretton Woods. Experience the beauty of the fall season as you glide among mature trees with vibrant foliage. The zipline transports you between platforms, revealing stunning views of hills in russet tones and valleys ablaze with fiery colors. This exciting experience blends gravity and nature in a choreographed dance that unfolds against the backdrop of fall's resplendent beauty.
On this exhilarating journey, you'll merge with the elements, soaring from platform to platform, and witnessing the world below transform into a canvas of autumn enchantment. It's a sensory experience that combines speed and nature's artistry, offering a unique perspective on the changing season. Bretton Woods provides more than just a ziplining activity; it's a chance to personally connect with the splendor of fall, observing its poetry from a breathtaking vantage point. So, embrace the magic of the treetop canopy, where gravity and foliage create a captivating performance that will leave you amazed and inspired.
For more information, visit: Bretton Woods Canopy Tour
7. Experience the Mount Washington Cog Railway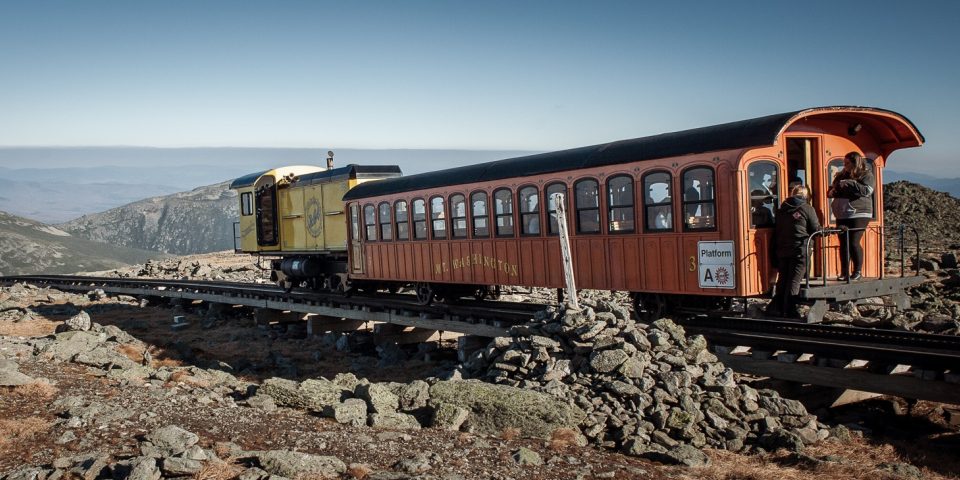 Experience a remarkable journey on the world famous Mount Washington Cog Railway, a unique path to vertical exploration. Climb the impressive slopes of Mount Washington, the highest point in the Northeast, aboard this extraordinary cog-driven train. As you ascend, witness a harmonious interaction between human innovation and natural forces, treating yourself to an expansive view that sparks your imagination.
Nature's beauty unfurls before you as the foliage creates a rich tapestry of textures and hues. From elevated viewpoints, marvel at the splendor of the surroundings, offering a tribute to your appreciation. Beyond being a mere trip, this is an immersive encounter that ties you into a woven narrative of history and adventure. The Mount Washington Cog Railway enables you to scale heights, moving beyond the ordinary to embrace the extraordinary.
With every step of your ascent towards the summit, you become enveloped in a compelling story, where the past merges with the present, and the human spirit interweaves with the grandeur of nature. The Mount Washington Cog Railway effortlessly blends history and excitement, a chance to craft lasting memories that become an integral part of your personal journey's story.
For more information, visit: Mount Washington Cog Railway
8. Visit a Craft Beer Brewery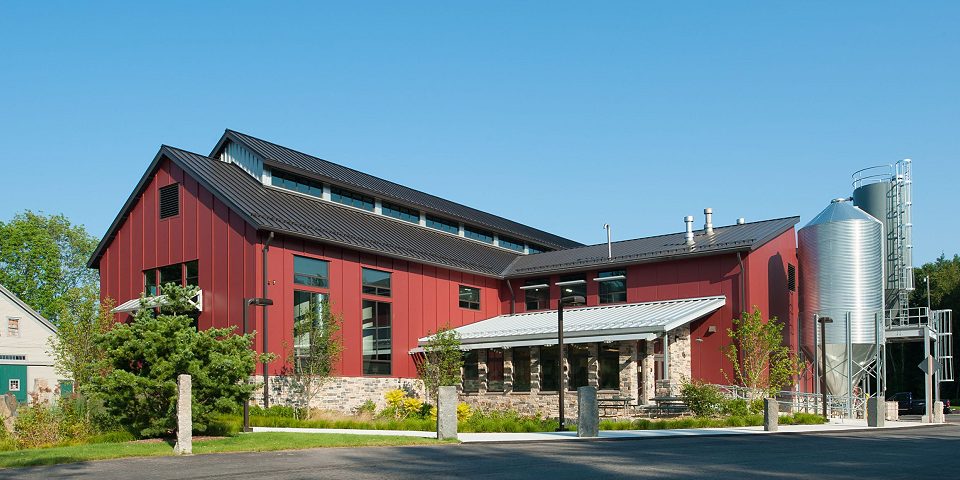 Discover the charm of New Hampshire's craft beer scene by exploring seasonal libations. Visit Smuttynose Brewing Company in Hampton for a tasting adventure, where each sip captures the essence of autumn. Experience a variety of flavors, from rich stouts to lively ales and nuanced lagers, reflecting nature's creativity. These drinks embody the spirit of fall, inviting you to enjoy diverse tastes and a sense of community.
Let the appeal of seasonal brews lead you on a journey beyond the ordinary. Immerse yourself in the world of craft beer and appreciate the craftsmanship behind each brew, echoing the colors and textures of the season. At Smuttynose Brewing Company, tasting becomes a celebration for your senses, a chance to connect with fall's essence. Share the experience with fellow enthusiasts, toasting to the magical moments when nature and brewing intersect. Join in the array of flavors and experiences that autumn offers, a reminder that every sip holds a touch of enchantment and every glass tells a tale.
For more information, visit: Smuttynose Brewing Company
9. Visit Haunted Overload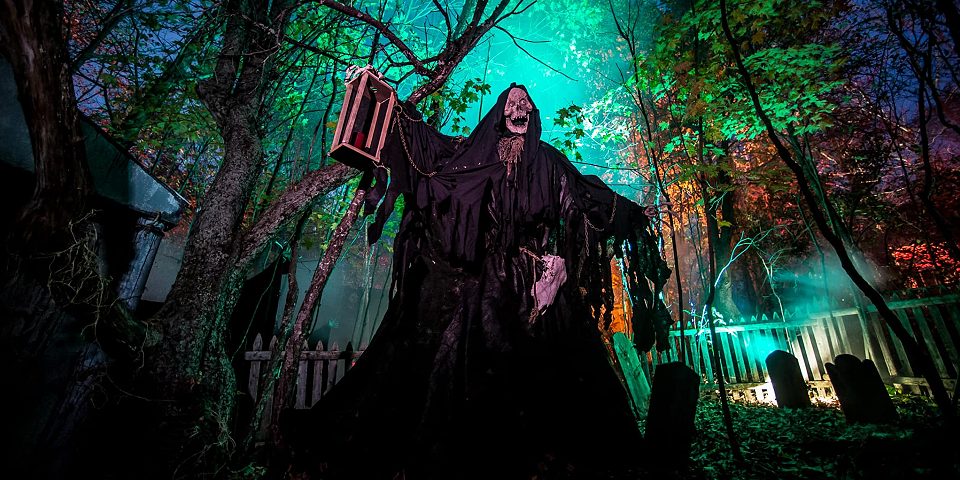 Experience the captivating world of Haunted Overload in Lee, New Hampshire, where fear and artistry come together in perfect harmony. DeMeritt Hill Farm transforms into a stunning dreamscape of light and shadow that will captivate your senses. Elaborate haunted houses stand tall, creating an atmosphere of anticipation and wonder. Towering sculptures radiate an intriguing allure inspired by the supernatural.
It's a setting for the uncanny and mysterious, where shadows dance and heartbeats sync with the rhythm of fear.
For more information, visit: Haunted Overload
10. Check Out a New Hampshire Harvest Festival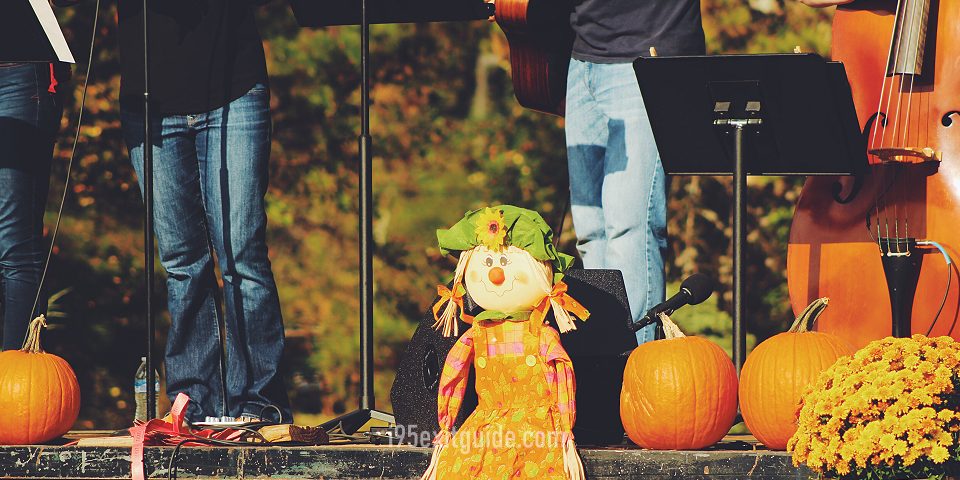 Experience the vibrant fall celebrations of New Hampshire with its lively harvest festivals. The Warner Fall Foliage Festival seamlessly combines arts, crafts, and entertainment, offering a diverse showcase of the season's essence. As the leaves transform, this festival becomes a true gem, embodying the heart and soul of autumn.
Switching gears, the Milford Pumpkin Festival brings family-friendly joy with imaginative pumpkins and a festive atmosphere. The charming interplay of carved pumpkins and cheerful vibes fills the crisp autumn air, creating a spellbinding experience that embraces laughter, creativity, and togetherness.
Don't miss out on New Hampshire's abundance of autumnal delights. Each festival is a testament to the captivating magic of this cherished time of year.
For more information, visit:
One final note…
Exploring autumn of New Hampshire reveals a captivating interplay of contrasts. The vibrant colors blend seamlessly with the misty landscapes, creating a harmonious union of fleeting beauty and enduring charm. This transformative journey captures the essence of fall's splendor, skillfully narrating the experience with eloquent words that mirror nature's artistry.
As you begin this captivating adventure, each step becomes a deliberate stroke, every taste a vivid sensation, and each panoramic view a masterpiece on nature's canvas. The mystique of autumn in New Hampshire unfolds like a compelling mystery, inviting you to discover its layers, savor its secrets, and etch its marvels into your soul's tapestry. This is a chapter of wonder that you'll forever hold dear within the story of your own life.
---
The I-95 Exit Guide is the Internet's largest and most complete website dedicated to Interstate 95 travelers. Find detailed exit service listings… lodging, camping, food, gas and more for every exit from Maine to Florida!
On the road? Why not take us with you. The I-95 Exit Guide is mobile-friendly and totally FREE. No App Required.
Traveling another route? Visit our growing family of exit guides: I-4 Exit Guide, I-5 Exit Guide, I-10 Exit Guide, I-75 Exit Guide, I-80 Exit Guide and I-95 Exit Guide. Detailed exit service listings… discount lodging, camping, food, gas and more for every exit along the way!