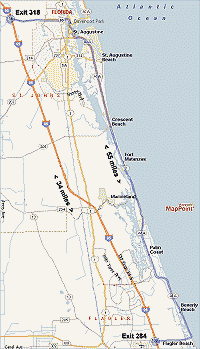 Talk about a breath of fresh air… just getting off I-95 for an hour or so can really rejuvenate you! This Florida Coastline diversion is just the medicine for road warriors in need of a reality check.
Begin your southbound diversion by leaving Florida's I-95 at exit 318 (FL 16, St. Augustine, Green Cove Springs) and traveling about five miles east on FL Route 16 to historic St. Augustine, the oldest, continuously occupied European settlement in the United States. St. Augustine is home to the Castillo De San Marcos National Monument, Old St. Augustine Village, Plaza De La Constitucion, Spanish Quarter Village, and dozens of museums, attractions and historic sites. Walking tours and sightseeing trains are also available.
Travel south through St. Augustine on FL Route 5A about two miles to FL Route A1A. Take A1A south, over the Bridge of Lions and begin your trip along Florida's Atlantic Coastline. Continue south on A1A about two miles and you'll pass Anastasia State Recreation Area, a 1,035 acre park at St. Augustine Beach.
Now… just sit back, open all the windows and savor the next twenty-five miles or so as you travel along a fairly desolate highway along the Atlantic seashore. Eight miles down the road you'll come to Crescent Beach. Seven more miles south and you're at Marineland, a family oriented marine park established in 1938 and on the National register of Historic Places.
Six more miles south on FL Route A1A and you're in Palm Coast where the Atlantic Ocean and the Matanzas River provide the natural boundaries for the 410 acres of coastal scenery that comprise Washington Oaks Gardens State Park. Ocean waves have washed away the sand, exposing coquina rock and creating a picturesque boulder-strewn beach. At low tide, many shore birds feed and rest around the peaceful tidal pools. Visitors can enjoy picnicking, fishing and walking through the ornamental gardens and along the river.
Six more miles south on FL A1A and you'll pass thru Beverly Beach, then three more to Flagler Beach, and Gamble Rogers Memorial State Recreation Area. Bordered by the Atlantic Ocean and the Inter-coastal Waterway, this 144-acre park offers coastal camping, picnicking, swimming, fishing, and nature study. The daily low tide is an ideal time to observe the shore birds feeding in tidal ponds, and summer months bring sea turtles to lay their eggs in the sand.
At Flagler Beach take FL Route 100 about four miles west and you're right back to I-95 at exit 284.
This Florida St. Augustine Coastline diversion trip is approximately 55 miles. The I-95 distance between I-95 exit 318 and exit 284 is approximately 34 miles.
Directions
In Florida, take I-95 southbound to exit 318. Then FL Route 16 approximately five miles east to St. Augustine and FL Route 5A. Take FL Route 5A south approximately two miles to FL Route A1A. Travel south on FL Route A1A about ten miles to Crescent Beach, then seven miles to Marineland, and twelve miles more to Beverly Beach. Continue south on FL A1A about two miles to Flagler Beach and FL Route 100. Travel west to on FL Route 100 approximately four miles to I-95 (exit 284)
Details
Sidetrip miles: 55 miles
I-95 miles: 34 miles