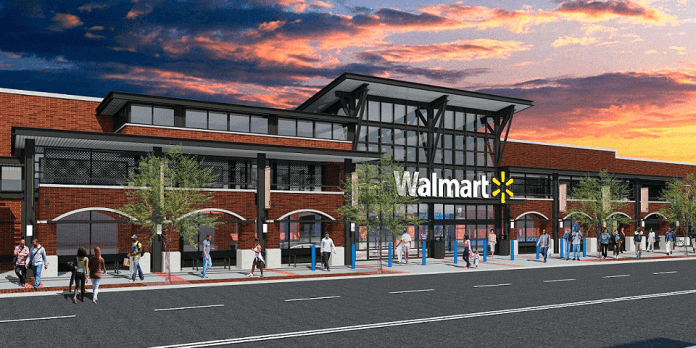 Walmart and Sam's Club have welcomed RVers for many years, with some allowing overnight RV parking in their parking lots.
While there is no official corporate policy regarding overnight parking , Walmart leaves it up to the individual stores managers to determine if travelers are allowed to spend the night in their parking lot.
If there is a local ordinance forbidding overnight parking, there will be signs posted. Otherwise, you're welcome to spend the night in your RV in a Walmart parking lot… but ask the store manager first!
As a service to our RV friends, all WalMart and Sam's Club locations directly off an I-95 exit are listed below. This listing runs the entire length of I-95 from Maine to Florida.
State
Exit
WalMart
Sam's Club
Maine
– Houlton
Exit 302
Yes
– Bangor
Exit 187
Yes
Yes
– Palmyra
Exit 157
Yes
– Waterville
Exit 130
Yes
– Augusta
Exit 112A
Yes
Yes
– Scarborough
Exit 44
Yes
Yes
– Biddeford
Exit 32
Yes
New Hampshire
– Seabrook
 Exit 1
Yes
Yes
Massachusetts
– Danvers
Exit 47
Yes
– Walpole
Exit 9
Yes
Rhode Island
– Providence
Exit 23
Yes
– Warwick
Exit 15
Yes
– Warwick
Exit 10
Yes
Yes
– Warwick
Exit 7
Yes
Connecticut
– Groton
Exit 86
Yes
– Waterford
Exit 81
Yes
– Old Saybrook
Exit 67
Yes
– Guilford
Exit 58
Yes
– West Haven
Exit 42
Yes
Yes
– Milford
Exit 40
Yes
– Stratford
Exit 33
Yes
– Norwalk
Exit 13
Yes
New York
 –
 –
 –
 –
New Jersey
– Secaucus
Exit 16
Yes
Yes
– Woodbridge
Exit 11
Yes
– East Brunswick
Exit 9
Yes
Pennsylvania
– Langhorne
Exit 44
Yes
– Bristol
Exit 40
Yes
– Philadelphia
Exit 35
Yes
Yes
– Philadelphia
Exit 20
Yes
Delaware
Maryland
– North East
Exit 100
Yes
– Abingdon
Exit 77
Yes
– Baltimore
Exit 53
Yes
Virginia
– Alexandria
Exit 177
Yes
– Woodbridge
Exit 158
Yes
 Yes
– Dumfries
Exit 152
Yes
– Aquia
Exit 143
Yes
– Fredericksburg
Exit 130
Yes
– Fredericksburg
Exit 126
Yes
– Ashland
Exit 92
Yes
– Ashland
Exit 86
Yes
– Richmond
Exit 83
Yes
– Richmond
Exit 81
Yes
– Colonial Heights
Exit 53
Yes
 Yes
– Petersburg
Exit 47
Yes
– Emporia
Exit 11
Yes
North Carolina
– Roanoke Rapids
Exit 173
Yes
– Smithfield
Exit 97
Yes
 South Carolina
– Dillon
Exit 193
Yes
– Florence
Exit 160
Yes
 Yes
– Manning
Exit 119
Yes
– Walterboro
Exit 57
Yes
Georgia
– Pooler
Exit 104
Yes
 Yes
– Savannah
Exit 94
Yes
– Brunswick
Exit 38
Yes
– Kingsland
Exit 3
Yes
Florida
– Jacksonville
Exit 363
Yes
– Jacksonville
Exit 360
 Yes
– Jacksonville
Exit 347
Yes
– Jacksonville
Exit 339
Yes
– St. Augustine
Exit 305
Yes
– Palm Coast
Exit 289
Yes
– Ormand Beach
Exit 268
Yes
– Port Orange
Exit 256
Yes
– New Smyrna Beach
Exit 249
Yes
– Titusville
Exit 215
Yes
– Cocoa
Exit 201
Yes
– Melbourne
Exit 191
Yes
– Melbourne
Exit 180
Yes
– West Melbourne
Exit 176
Yes
– Malabar
Exit 173
Yes
– Fort Pierce
Exit 129
Yes
– Port St. Lucie
Exit 121
Yes
– Port St. Lucie
Exit 118
Yes
 Yes
– Jupiter
Exit 87
Yes
– West Palm Beach
Exit 74
Yes
– Palm Springs
Exit 64
Yes
– Deerfield Beach
Exit 41
Yes
– Pompano Beach
Exit 36
Yes
– Miami Gardens
Exit 12
Yes