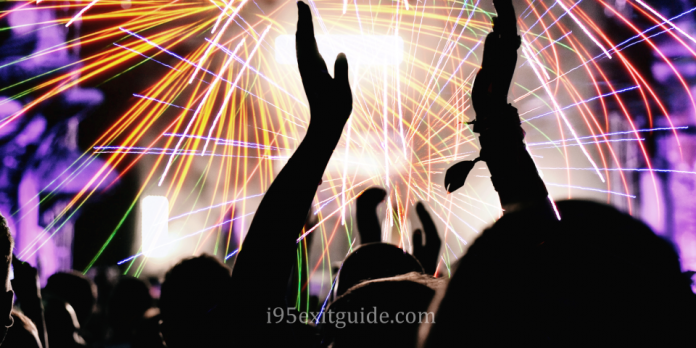 With a suite of events to commemorate America's birthday, the Daytona Beach metro area stands out as one of the best places to spend the Fourth of July. Situated along 23 miles of sandy beaches in Central Florida, the area offers plenty of spots along the shoreline where visitors can catch a breathtaking fireworks show. But inland options also abound, with festivals and concerts galore to help spectators celebrate in style. Keep reading to discover a comprehensive guide to some of the most popular Fourth of July events in the Daytona Beach metro area, including what to bring, where to park, and how to have the best time possible.
Daytona Beach Bandshell Star Spangled Summer Concerts
Held at the Daytona Beach Boardwalk and Pier, the Star Spangled Summer Concert Series hosts live music performances starting around Memorial Day weekend and continuing through the early fall. The lineup typically features a mix of tribute bands that specialize in classic rock and country music. A half-moon "coquina" amphitheater on the beach provides the perfect setting for the concerts. General admission is always free!
On July 4, the concert series will feature a performance by the Alter Eagles, a tribute band dedicated to performing the songs of the Eagles, such as "Hotel California" and "Life in the Fast Lane." The show starts at 7:15 p.m., with fireworks lighting up the sky at 9:45 p.m.
The boardwalk and pier are near Atlantic Avenue and Ora Street in Daytona Beach. Visitors can park at the Ocean Center garage near the Ocean Walk Shoppes, where additional restaurants and retail options are available. Concert-goers can either bring chairs or purchase a VIP seat.
Location: Daytona Beach Boardwalk and Pier, 70 Boardwalk, Daytona Beach, FL 32118
Date: July 4, 2022
Time: 7:15 p.m.; fireworks start at 9:45 p.m.
Admission: Free; $10 for VIP
July 4th Veterans Parade on Main Street
One of the most patriotic events in the Daytona Beach metro area is July 4th Veterans Parade held on Main Street. Organized by the Marine Corps League Daytona, the celebration begins at 9 a.m. with a flag-raising ceremony in front of the Clock Tower near the Hilton Oceanfront Resort. The resort is at 100 North Atlantic Avenue in the heart of the Daytona Beach community.
At the ceremony's conclusion, the parade steps off at 10 a.m. sharp and proceeds west on Main Street until it reaches the Main Street Bridge. Among the parade participants are active-duty military personnel, veterans groups, and local businesses. The procession will include decorated vehicles, horses, and marching bands in red, white, and blue. Spectators can observe from the sidewalks along Main Street; the event is free and open to the public.
Location: Main Street & Atlantic Avenue, then west on Main Street to the Main Street Bridge
Date: July 4, 2022
Time: Flag-raising ceremony at 9 a.m.; parade begins at 10 a.m.
Admission: Free
Tanger Outlets Independence Day Block Party
On July 1st, the Tanger Outlets Independence Day Block Party will offer a fun-filled evening of activities for everyone from 5 to 7:30 p.m. The mall will be adorned with star-spangled decorations, and guests can expect to find an Uncle Sam impersonator on stilts. Live music, face-painting stations, and a kids' fun zone will also be available. Finally, shoppers can take advantage of special sales and discounts at participating stores.
Visitors can take I-95 to exit 265 (Outlet Blvd/Technology Blvd) in Daytona Beach to reach the outlets. Parking is available in the surrounding lot and is free for guests. The block party will be in the mall's central courtyard near Under Armour.
Location: Tanger Outlets, 1100 Cornerstone Blvd, Daytona Beach, FL 32117
Date: July 1, 2022
Time: 5 to 7:30 p.m.
Admission: Free
Catch a Daytona Tortugas Game
The Daytona Tortugas are the minor league baseball team of the Cincinnati Reds and play their home games at Jackie Robinson Ballpark in Daytona Beach. The ballpark is near the city's historic downtown district, where visitors can find a variety of shops and restaurants for some pre-game fun.
On July 4th, the Daytona Tortugas will don their patriotic jerseys and caps as they take on a division rival. The uniforms will then be auctioned off at the end of the game, and fans can stick around for a postgame fireworks show.
The Daytona Tortugas game starts at 7:05 p.m., with gates opening one hour before. There are two parking lots near the ballpark: one off Orange Avenue and the other off Magnolia Avenue. Visitors should remember that only diaper and medical bags are allowed inside the ballpark. Additionally, no outside food or drinks are permitted, including water bottles, but concessions are available inside the facility.
Location: Jackie Robinson Ballpark, 105 Orange Ave, Daytona Beach, FL 32114
Date: July 4, 2022
Time: Gates open at 6 p.m.; the game starts at 7:05 p.m.
Admission: $8-$10 for General Admission; $11-$13 for Reserved Tickets; $20 for VIP
Daytona Soccer Fest
Fans of July 4th celebrations in Daytona Beach won't want to miss the first-ever Soccer Fest at the world-famous Daytona International Speedway. The inaugural, two-day event will feature thrill rides on high-speed cars, live music from the industry's top recording artists, a Fourth of July fireworks spectacular, and plenty of soccer matches. Other activities include a fishing tournament on Lake Lloyd, Teq-ball, food trucks, and more.
Daytona Soccer Fest kicks off at noon on Saturday, July 2nd, and runs through 11 p.m. The same schedule applies to Sunday, July 3rd. Visitors can buy tickets for one or both days. Parking spaces are also available for purchase and start at $29. For those coming from out of town, there will be an RV park for overnight stays or camping.
Location: Daytona International Speedway, 1801 W International Speedway Blvd, Daytona Beach, FL 32114
Dates: July 2-3, 2022
Time: Noon to 11 p.m. each day
Admission: $99 for a one-day General Admission ticket; $149 for a two-day General Admission ticket; $109-$179 for Reserved Seating; VIP packages start at $599
Tent and/or RV Camping: $181-$481
Fourth of July Celebration at the Brannon Center
The Brannon Center is a multipurpose venue that hosts various events throughout the year, particularly weddings, job fairs, and other local gatherings. The venue is just south of Daytona Beach and steps away from New Smyrna Beach's Canal Street Historic District. The vibrant, pedestrian-friendly district offers an array of shopping and dining options for those who want to explore beyond the Brannon Center, plus free parking to accommodate over 350 vehicles.
On the Fourth of July, New Smyrna Beach Leisure Services will have a special Independence Day celebration at the Brannon Center. The event will be held outdoors at the Riverside Park gazebo in the New Smyrna Beach community and include food vendors, live music, and a fireworks display set against the scenic backdrop of the Indian River.
Location: Brannon Center/Riverside Park Gazebo, 299 S Riverside Dr., New Smyrna Beach, FL 32168
Date: July 4, 2022
Time: 4 to 9 p.m.
Admission: Free
Independence Day at the Ponce Inlet Lighthouse
Completed in 1887, the historic Ponce Inlet Lighthouse is the tallest of its kind in Florida and one of the tallest maritime beacons in the United States. Located just south of Daytona Beach in the beach town of Ponce Inlet, this vibrant orange structure stands 175 feet tall and features a unique spiral staircase. Visitors can climb to the top of the lighthouse for breathtaking views of the Atlantic Ocean, Daytona Beach, and the surrounding area. On a clear day, you can even see as far as Cape Canaveral, home to the Kennedy Space Center.
The Fourth of July celebration at the Ponce Inlet Lighthouse will include crafts and games for kids. The festivities will start at 10:30 a.m. and last until 2:30 p.m., which is great for those who want to attend Fourth of July events in the Daytona Beach metro area and catch one of the many evening fireworks shows elsewhere. Those who want to stick around at the lighthouse can do so until 9 p.m. Admission to this star-spangled event is available either free of charge or at the museum's low rates.
Location: Ponce Inlet Lighthouse, 4931 South Peninsula Drive, Ponce Inlet, FL 32127
Date: July 4, 2022
Time: 10:30 a.m. to 2:30 p.m.; the museum's summer operation hours are from 10 a.m. to 9 p.m.
Admission: $1.95-$6.95 for General Admission; $5.56 for Active-Duty Military Personnel and Veterans; Free for Lighthouse Members, FLA members, and Ponce Inlet Residents
Firecracker Festival
On Friday, July 1st, visitors can celebrate America's birthday with a bang at the Firecracker Festival in the city of DeLand, Florida. Deland is about 30 minutes west of Daytona Beach when traveling by car, making it an excellent option for those who want to mix things up on Independence Day weekend and explore a different part of Central Florida.
Starting at 6 p.m., Earl Brown Park on South Alabama Avenue will transform into a festival grounds with food, games, and live entertainment. A spectacular fireworks display will round out the event at dusk. Party-goers are encouraged to bring lawn chairs for seating and picnic blankets for lounging on the grass. Admission to the Firecracker Festival is free and open to the public.
Location: Earl Brown Park, 750 South Alabama Avenue, DeLand, FL 32724
Date: July 1, 2022
Time: 6 p.m. until dusk
Admission: Free
Deltona Fireworks Celebration
The City of Deltona will be putting on a Fourth of July celebration at the Dewey O. Boster Sports Complex, a popular park located off Saxon Boulevard in the city of Deltona. Past events have featured carnival attractions, such as bumper cars and a Merry-Go-Round, and carnival foods like funnel cakes, fried Oreos, and cotton candy. Live entertainment will also be on hand starting at 6 p.m., along with a fireworks extravaganza scheduled to begin around 9:15 p.m.
To get to the Dewey O. Boster Sports Complex from Daytona Beach, visitors can take I-4 West and exit onto Saxon Boulevard. The total drive time is approximately 35 minutes by car. Ample on-site parking, restrooms, and shaded areas are available in the park. Admission is free, but there may be a fee for some carnival rides and attractions.
Location: Dewey O. Boster Sports Complex, City Hall, 2345 Providence Blvd, Deltona, FL 32725
Date: July 4, 2022
Time: 6 to 9:30 p.m.
Admission: Free (may be a fee for some of the carnival rides and attractions)
Edgefest 2022
Rounding out the list of Fourth of July events in the Daytona Beach metro area is Edgefest, a music-filled evening held at Kennedy Park in the city of Edgewater, Florida. The event will take place on Monday, July 4, from 6 to 10 p.m. It will feature a variety of live bands and musicians, as well as food and beverages, with additional local vendors.
Getting to Kennedy Park from Daytona Beach is a quick and easy drive down U.S. Highway 1. The park is located on the Indian River and has a boardwalk, a gazebo, picnic areas, restrooms, and free parking.
Location: Kennedy Park, 103 North Riverside Drive, Edgewater, FL 32132
Date: July 4, 2022
Time: 6 to 10 p.m.
Admission: Free
Celebrate the 4th of July with Style in the Daytona Beach Metro
Independence Day events in Daytona Beach and the surrounding areas offer something for everyone. Most of the events are free or available at a low cost, making them excellent options for everyone.
However, those who want to spend a little more can plan a busy weekend with exciting activities starting as early as July 1st with the Firecracker Festival in DeLand. A well-rounded weekend itinerary may include other highlights, like Soccer Fest on July 2nd and 3rd and the Deltona Fireworks Celebration on July 4th.
In short, the beauty of Fourth of July events in Daytona Beach is that visitors have so many great options to choose from. Whether it's a low-key evening watching live music or a weekend full of non-stop fun, there's sure to be something to appeal to every taste.
---
For more I-95 travel info, visit www.i95exitguide.com, the Internet's largest and most complete website devoted to America's Interstate Main Street. Detailed exit service listings… discount lodging, camping, food, gas and more for every exit from Maine to Florida!
Traveling another route? Visit our growing family of exit guides: I-4 Exit Guide, I-5 Exit Guide, I-10 Exit Guide and I-75 Exit Guide.