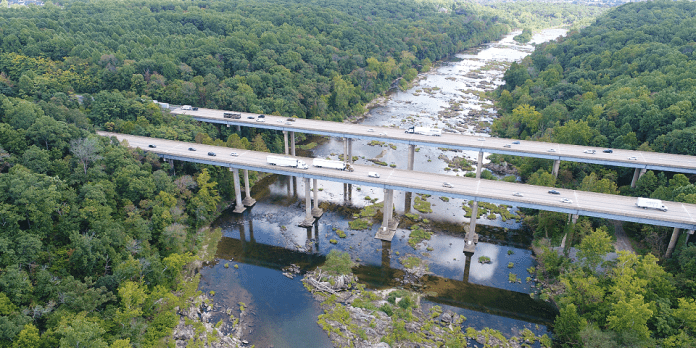 The Virginia Department of Transportation (VDOT) is warning travelers to expect major delays on Interstate 95 northbound in the Fredericksburg area with a work zone to reopen the original northbound Rappahannock River Bridge starting tomorrow, November 14 through early Thursday, November 16. 
Starting at 8:00 p.m. tomorrow, the two-night operation will begin with lane and ramp closures to shift all I-95 northbound traffic into its final alignment between exit 130 (Route 3) in Fredericksburg and exit 133 (Route 17) in Stafford County. 
With lane closures occurring within peak travel periods, drivers with destinations outside of the Fredericksburg region are encouraged to seek alternate routes on these dates.
Local motorists should access I-95 at exit 126 (Spotsylvania) or exit 136 (Centreport Parkway) interchanges to avoid delays with the work zone.
Overhead message boards on I-95, I-295 and I-64 will encourage northbound travelers to use I-95 exit 104 (Carmel Church) in Caroline County to Route 207 northbound to Route 301 as an alternate route.
By early Thursday, November 16, all six northbound lanes spanning the Rappahannock River will open for traffic, doubling the capacity before the Thanksgiving holiday.
Weather permitting, the following lane and ramp closures are scheduled:
Tuesday Night
8:00 p.m. – One lane closed
9:00 p.m. – Two lanes closed
10:00 p.m.- Off-ramp to Route 17 at exit 133 closed, detour to exit 136 (Centreport Parkway)
Wednesday
4:30 a.m. – One local lane of I-95 northbound will open from the Rappahanock River to exit 133 from the newly located off-ramp near the Fall Hill Avenue overpass will also reopen.
8:00 p.m. – One through lane will close
9:00 p.m. – I-95 northbound will be reduced to one lane over the river to exit 133
10:00 p.m. – Brief, intermittent stops will occur at the on-ramp from Route 3 to I-95 northbound, this ramp will not close. 
Thursday
4:30 a.m. – Access to 95 Express Lanes modified. Local traffic from Route 3 or Route 17 will not be able to access the northbound 95 Express Lanes until a new flyover ramp opens in December.
6:00 a.m. – All six northbound lanes across the river will open to traffic 
By 6:00 a.m. Wednesday, travelers will be able to use both I-95 northbound bridges over the Rappahannock River and must decide before the divide near the Fall Hill Avenue overpass in Fredericksburg with northbound traffic split between local and through lanes over the river. 
Drivers entering I-95 northbound from Route 3 in Fredericksburg will flow directly into the local lanes. These travelers will have the option to exit the local lanes after crossing the Rappahannock River at exit 133 to Route 17 or Route 17 Business or can continue north on I-95, where the local and through lanes merge together again. 
North of the river, local traffic will be reduced to two lanes approaching the exit 133 interchange. One lane will be a shared lane for drivers to choose between exiting to Route 17 or proceeding north on I-95 to merge with the through lanes.
Northbound local traffic will remain in this temporary two-lane pattern at the bridge over Route 17 until a new flyover ramp to 95 Express Lanes opens in early December.
The flyover ramp is under construction by Transurban, the operator of 95 Express Lanes, and its design-builder, Branch Flatiron Joint-Venture. 
Construction Continues through Spring 2024
Construction on the I-95 Northbound Rappahannock River Crossing project will continue through May 2024, with a focus on the Route 17 area in Stafford. Crews will finish building turn lanes, installing sidewalk and drainage systems.
To provide the highest quality of pavement achievable, crews are waiting for warmer temperatures next year to finish paving the Route 17 corridor.
When construction is finished, the final traffic pattern in this area will include:
Third right turn lane from I-95 southbound off-ramp to Route 17 northbound
Dual left turn lanes from northbound Route 17 to Sanford Drive
Right turn only lane from northbound Route 17 to South Gateway Drive
Restored third Route 17 northbound through travel lane 
---
What's happening on Interstate 95 RIGHT NOW! I-95 Real-time traffic information for selected cities along I-95. Maps show updates on road construction, traffic accidents, travel delays and the latest traffic speeds. Traffic cameras show congestion at a glance. Visit I-95 Traffic.
---
The I-95 Exit Guide is the Internet's largest and most complete website dedicated to Interstate 95 travelers. Find detailed exit service listings… lodging, camping, food, gas and more for every exit from Maine to Florida!
On the road? Why not take us with you. The I-95 Exit Guide is mobile-friendly and totally FREE. No App Required.
Traveling another route? Visit our growing family of exit guides: I-4 Exit Guide, I-5 Exit Guide, I-10 Exit Guide, I-75 Exit Guide, I-80 Exit Guide and I-95 Exit Guide. Detailed exit service listings… discount lodging, camping, food, gas and more for every exit along the way!