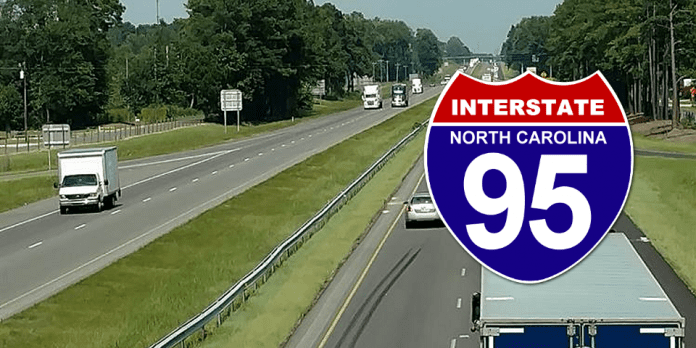 An eight-mile section of Interstate 95 north of Lumberton will be widened, after the North Carolina Department of Transportation awarded a $247 million contract this week.
Flatiron Constructors Inc. of Morrisville will widen the interstate from its present four lanes into eight lanes from just south Exit 22 to mile marker 29.
The project will include reconstructing Exit 25 with a longer, wider and taller bridge and new ramps with roundabouts. In addition, two overpasses – Powersville Road and McDuffie Crossing Road – will be replaced.
Exit 22, which was recently rebuilt as a diverging-diamond interchange, does not need to be replaced.
The overall project is needed to reduce congestion, plan for anticipated growth in traffic volumes and improve safety.
The contractor can begin by November 1, and will have toward the end of 2026 to complete all of the improvements. As with the department's other I-95 widening contracts, the work will require the installation of concrete barriers for safety; reduced shoulder access; and occasional lane closures overnight with reduced speed limits.
This is one of several NCDOT contracts for widening I-95. Below is a summary organized by mile markers:
From Mile Marker 13 to 21: Fall 2022 to Summer 2026
From Mile Marker 21 to 29: Fall 2022 to Fall 2026
From Mile Marker 29 to 37: Summer 2022 to Fall 2026
From Mile Marker 37 to 41: Fall 2022 to Winter 2024
From Mile Marker 56 to 71: Fall 2020 to Fall 2025
From Mile Marker 71 to 81: Summer 2021 to Summer 2026
---
The I-95 Exit Guide is the Internet's largest and most complete website dedicated to Interstate 95 travelers. Find detailed exit service listings… lodging, camping, food, gas and more for every exit from Maine to Florida!
On the road? Why not take us with you. The I-95 Exit Guide is mobile-friendly and totally FREE. No App Required.
Traveling another route? Visit our growing family of exit guides: I-4 Exit Guide, I-5 Exit Guide, I-10 Exit Guide, I-75 Exit Guide, I-80 Exit Guide and I-95 Exit Guide. Detailed exit service listings… discount lodging, camping, food, gas and more for every exit along the way!