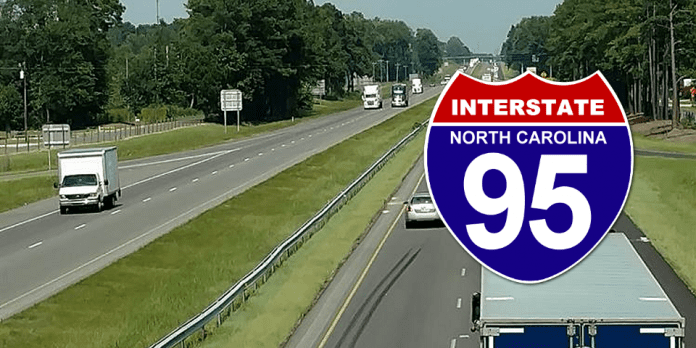 The North Carolina Department of Transportation (NCDOT) reports that the Carthage Road (Exit 19) bridge over Interstate 95 in Lumberton is scheduled to close next week for demolition and reconstruction.
The bridge is the first of several that must be replaced since a project to widen I-95 between Exit 13 and just north of mile marker 21 began last September.
The bridge is scheduled to close around 1 p.m. February 23. Afterward, drivers will continue to be able to get on and off at the exit, but not cross over the interstate until a modern bridge is built and opened by the fall of 2024.
The detour will rely on the service roads on either side of I-95, directing traffic to use Exit 20 in order to cross over the highway.
About two months before the road is scheduled to reopen, the contractor will need to temporarily close the on/off ramps to construct roundabouts.
Modernizing I-95
The new Carthage Road bridge will be taller, longer and wider. The N.C. Department is adding two travel lanes in each direction along this eight-mile section of I-95, after awarding a $432 million design-and-build contract in 2021. The department received a federal $22.5 million grant to help make this section of the interstate more resilient against future flooding.
The interchanges at Exit 17 and 20 also will be replaced under this contract, as well as four other bridges. The overall project is scheduled to be completed by 2026.
This is one of several projects under construction to widen I-95 in southeastern North Carolina.
---
The I-95 Exit Guide is the Internet's largest and most complete website dedicated to Interstate 95 travelers. Find detailed exit service listings… lodging, camping, food, gas and more for every exit from Maine to Florida!
On the road? Why not take us with you. The I-95 Exit Guide is mobile-friendly and totally FREE. No App Required.
Traveling another route? Visit our growing family of exit guides: I-4 Exit Guide, I-5 Exit Guide, I-10 Exit Guide, I-75 Exit Guide, I-80 Exit Guide and I-95 Exit Guide. Detailed exit service listings… discount lodging, camping, food, gas and more for every exit along the way!