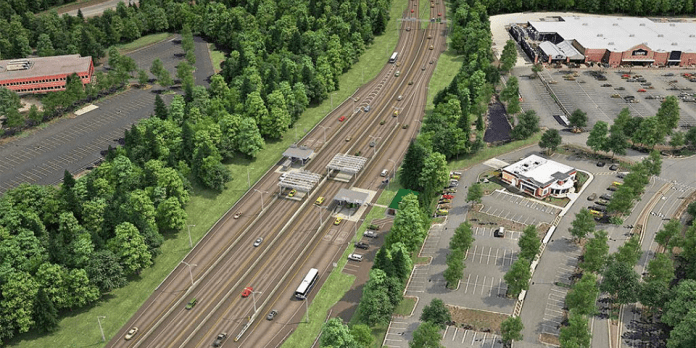 The long-awaited reconstruction of the York Toll Plaza on the Maine Turnpike (I-95) is scheduled to start in November of 2018.
The project includes relocating the plaza to Mile 8.8, just a mile and half north of the existing plaza, and modernization of the York Toll by implementing Open Road Tolling (ORT) technology, which the MTA already uses at three of its barrier plazas: New Gloucester, West Gardiner and Falmouth Spur. An additional such plaza is currently under construction at Exit 44 I-295. York is one of two remaining plazas to undergo conversion. Once complete, the new plaza will have three high-speed E-ZPass center lanes in each direction and separated lanes to the right where travelers can safely pull over to pay cash at staffed booths.
The current toll plaza, located at Mile 7.3 in York, is old and desperately needs replacing and modernization. It was originally designed in the 1960's as a temporary barrier plaza for all vehicles to stop to take tickets and pay tolls. Approaches to the plaza are sinking into clay soils. It is surrounded by wetlands, and has outdated toll equipment held together with used parts. It is located on a curve, at the bottom of a hill, near an interchange and an overpass. These all raise safety concerns.
The York Toll Plaza is one of the most important pieces of transportation infrastructure in the State. It generates about $60 million in toll revenue per year, and is a central reason why two-thirds of all MTA revenue is paid by out-of-staters.
Traffic Phasing
During the first phase of construction, traffic will be maintained in the existing northbound and southbound lanes with reduced outside shoulder widths. The work includes construction of northbound and southbound widening at the site of the future toll plaza and along the mainline. Work will include clearing of trees, blasting of rock, excavation, paving, utility construction including water and electric and tunnel construction. Also in phase 1 is the construction and completion of the new toll building, access road and parking area for employees. During phase 1, there will be periodic traffic stoppages for up to 6 minutes during lower volume times for blasting operations.
In Phase 2, traffic will be shifted from the existing lanes to outside temporary travel lanes where cash tolls will later be installed. This phase will include constructing utilities and ITS systems in the tunnel, road barrier structures, the ORT space frame, concrete toll slabs, and the footings for canopies inside the cash lanes. While there will be occasions during phase 2 when travel will be reduced to two lanes in each direction, these will occur at times when two lane traffic can be accommodated during the late fall of 2019 and early spring of 2020. Also during phase 2, the MTA will commission the central ORT lanes in both directions.
Once ORT commissioning is complete, the project will move into phase 3. Each set of three travel lanes will be shifted from the outside lanes to the three central ORT lanes in each direction. ORT lanes will not be operational at first but will be activated later when testing and tuning are complete. Phase 3 work will include completion of the northbound and southbound cash plazas, tunnel construction and ITS systems, completion of the median barrier, removal of temporary pavement, placing final surface pavement, striping, and commissioning of the northbound and southbound cash plazas.
During all phases of the construction the speed limit through the work zone will be reduced to 60 miles per hour. The new toll plaza is expected to be completed and fully operational by June 21, 2021.
---
For more I-95 construction and travel information, visit  www.i95exitguide.com, the Internet's largest and most complete website devoted to I-95, America's Interstate Main Street. Detailed exit service listings… discount lodging, camping, food, gas and more for every exit from Maine to Florida! Plus I-95 construction, real-time traffic and road news.
Traveling another route? Visit our growing family of exit guides: I-4 Exit Guide, I-5 Exit Guide,  I-10 Exit Guide , and I-75 Exit Guide.