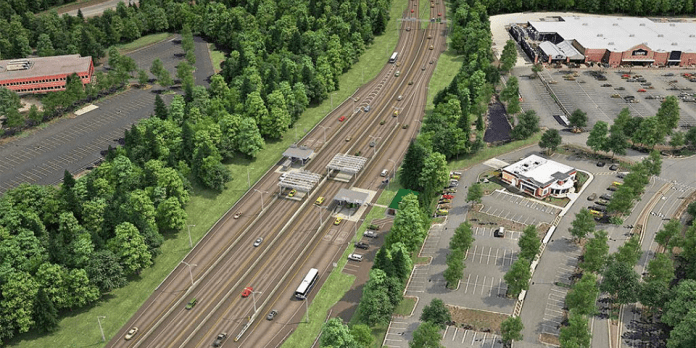 Contractor Set to Break Ground Next Week on the Turnpike's Fourth "ORT" Toll Plaza at the I-295 Interchange in Scarborough (Exit 44)
Officials from the Maine Turnpike Authority (MTA) announced that construction crews are scheduled to start the first phase of building Maine's newest, E-ZPass Open Road Tolling (ORT) facility off Maine Turnpike (I-95) Exit 44 in Scarborough next week. The contractor for the project is Reed and Reed of Woolwich, Maine, which won the competition to build the plaza with its low bid of $17.4 million.
The new toll plaza will be located just north of the existing I-95 toll plaza and southerly of I-295 Exit 1. It will include four ORT lanes (two in each direction), which provide E-ZPass customers the convenience of cruising through at highway speeds while sensors collect the toll electronically. ORT also allows those who want or need to pay cash to do so safely by pulling to the right to staffed toll booths.
Motorists can continue to use the existing Exit 44 Toll Plaza throughout the construction project.
The project will be done in four phases over the next three construction seasons, with completion scheduled for summer 2019.
Phase 1: Roadway widening
Widening of I-295's northbound and southbound lanes for the construction of paved, temporary lanes and the beginning of construction for the administrative building, parking area, access road, and snowplow turnaround.
Phase 2: ORT and Tunnel Construction
Redirecting the two southbound and two northbound lanes around an interior work zone to allow the contractor to build the ORT lanes, partial construction of the concrete median barrier separating the ORT lanes and the cash lanes, ORT space frame and foundations, and partial construction of the utilities tunnel beneath the toll plaza.
Phase 3: Cash Lanes Construction
Completing the northbound and southbound cash lanes, access road, administrative building, and parking area. Testing of the ORT lanes will likely require short-term closures of the existing cash lanes and proposed ORT lanes.
Phase 4: Demolition of Existing Facility
Removal of the old toll plaza, the existing MTA utility building, and parking area.
While this plan should minimize impacts on travelers using I-295, Turnpike officials noted that drivers going to or coming from the points north of Portland can also use the Falmouth Spur between Turnpike Exit 52 and I-295 Exit 11. This route is essentially the same distance as using I-295, but is usually faster and easier.
---
For more I-95 road trip info, visit www.i95exitguide.com, the Internet's largest and most complete website devoted to America's Interstate Main Street. Detailed exit service listings… discount lodging, camping, food, gas and more for every exit from Maine to Florida!
Traveling another route? Visit our growing family of exit guides: I-4 Exit Guide, I-5 Exit Guide, I-10 Exit Guide and I-75 Exit Guide.