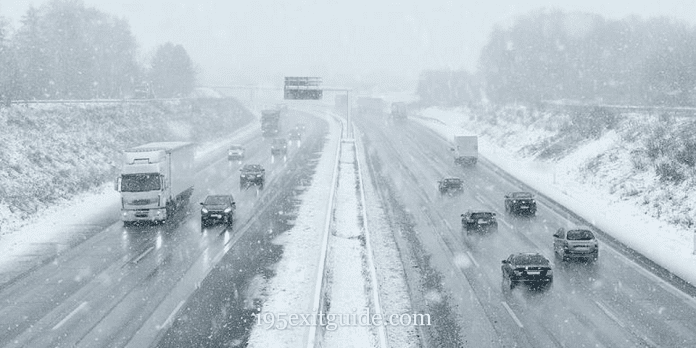 Ahead of winter weather and cold temperatures across much of the state on today and tomorrow, the Pennsylvania Department of Transportation (PennDOT) and the PA Turnpike Commission (PTC) are reminding motorists to exercise caution while traveling Additionally, the agencies is planning to implement various speed and vehicle restrictions throughout the storm.
PennDOT and PTC crews are actively pre-treating roadways where necessary ahead of the storm to help prevent ice from forming a bond with the pavement during the early stages of a storm. However, salt is not a silver bullet, and drivers may encounter icy spots on the roadway. With freezing temperatures, roads that look wet may actually be icy, and extra caution is needed when approaching bridges and highway ramps where ice can form without warning.
During the storm, PennDOT's primary goal is to keep roads passable, not completely free of ice and snow. PennDOT will continue to treat roadways throughout the storm until precipitation stops and roads are clear.
Drivers should prepare or restock their emergency kits with items such as non-perishable food, water, first-aid supplies, warm clothes, a blanket, cell phone charger and a small snow shovel. Motorists should tailor their kits to any specific needs that they or their families have such as baby supplies, extra medication, and pet supplies.
When winter weather occurs, drivers should extra cautious around operating snow-removal equipment. When encountering a plow truck, drivers should:
Stay at least six car lengths behind an operating plow truck and remember that the main plow is wider than the truck.
Be alert since plow trucks generally travel much more slowly than other traffic.
When a plow truck is traveling toward you, move as far away from the center of the road as is safely possible, and remember that snow can obscure the actual snow plow width.
Never try to pass or get between several trucks plowing side by side in a "plow train." The weight of the snow thrown from the plow can quickly cause smaller vehicles to lose control, creating a hazard for nearby vehicles.
Never travel next to a plow truck since there are blind spots where the operator can't see, and they can occasionally be moved sideways when hitting drifts or heavy snowpack.
Keep your lights on to help the operator better see your vehicle. Also remember that under Pennsylvania state law, vehicle lights must be on every time a vehicle's wipers are on due to inclement weather.
Motorists are reminded the law requires drivers to remove accumulated ice or snow from their vehicle, including the hood, trunk, and roof within 24 hours after the storm has ended. This applies to all vehicles, including commercial vehicles. Drivers in violation of the law are subject to a fine of $50. Additionally, motorists can be cited up to $1,500 if snow or ice is dislodged and strikes another vehicle or pedestrian causing death or serious injury.
The I-95 Exit Guide is the Internet's largest and most complete website dedicated to Interstate 95 travelers. Find detailed exit service listings… lodging, camping, food, gas and more for every exit from Maine to Florida!
On the road? Why not take us with you. The I-95 Exit Guide is mobile-friendly and totally FREE. No App Required.
Traveling another route? Visit our growing family of exit guides: I-4 Exit Guide, I-5 Exit Guide, I-10 Exit Guide, I-75 Exit Guide, I-80 Exit Guide and I-95 Exit Guide. Detailed exit service listings… discount lodging, camping, food, gas and more for every exit along the way!