The journey from Miami to Key West along the Overseas Highway offers a captivating and picturesque experience, showcasing the natural beauty of the Florida Keys. As you embark on this approximately 160-mile road trip, be prepared for stunning ocean views, charming towns, and a range of exciting stops along the way. While the total driving time without stops is around 3.5 to 4 hours, it's highly recommended to allow ample time to explore the various attractions and make the most of this incredible coastal drive.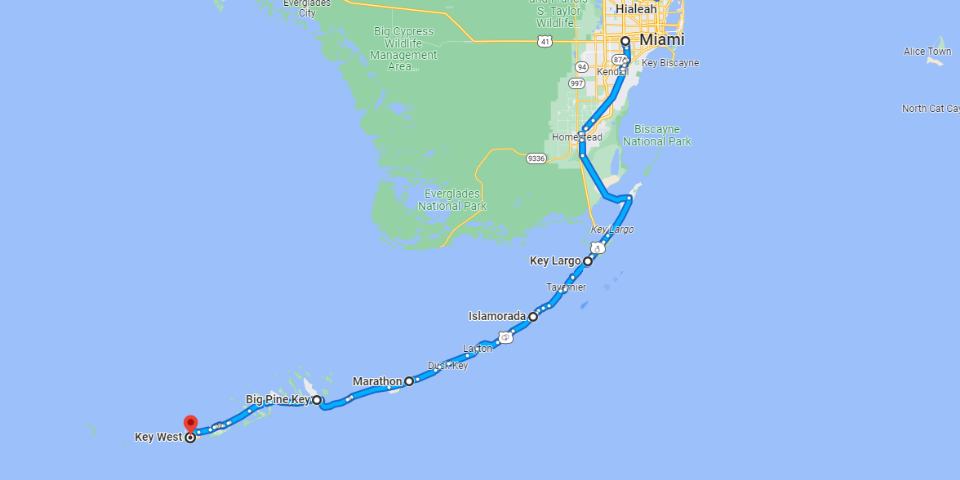 Starting in Miami, a vibrant city known for its diverse culture and beautiful beaches, you'll head south on US-1, also known as the Overseas Highway. This iconic road winds its way through a series of small islands and bridges, connecting the mainland to the Florida Keys.
Key Largo – Coral Reef Diving Oasis
60 miles south of Miami is Key Largo, "Diving Capital of the World".
Key Largo is a picturesque tourist destination that offers a perfect blend of natural beauty and recreational activities. Known as the "Diving Capital of the World," Key Largo boasts vibrant coral reefs teeming with marine life, making it a haven for divers and snorkelers. The John Pennekamp Coral Reef State Park, the first underwater park in the United States, is a must-visit, offering breathtaking dive sites and opportunities for eco-tours.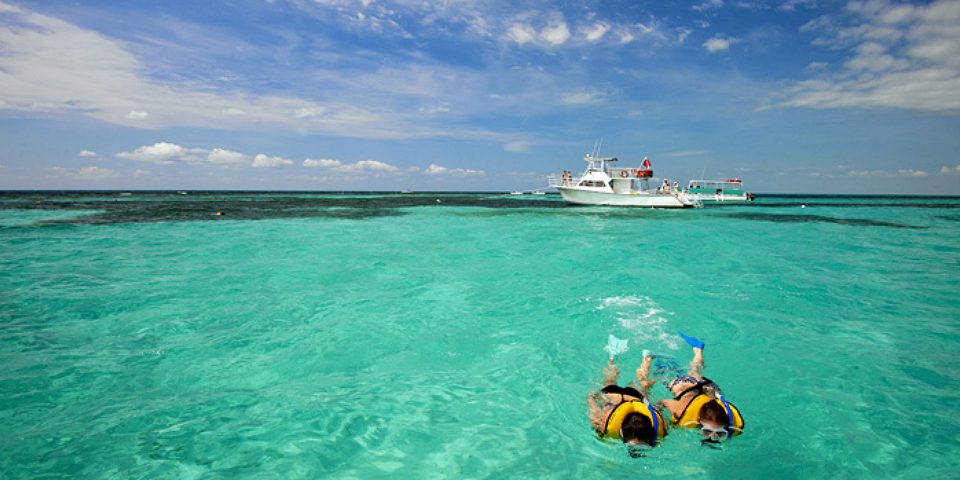 Aside from its underwater wonders, Key Largo visitors can explore the mangrove swamps, embark on fishing charters, or enjoy boating and kayaking in the clear turquoise waters. Back on land, visitors can relax on pristine beaches, take nature walks, or visit the Florida Keys Wild Bird Rehabilitation Center.

A visit to the John Pennekamp Coral Reef State Park is a must. This underwater paradise offers excellent snorkeling and diving opportunities, allowing you to explore the colorful coral reefs and swim alongside tropical fish. Alternatively, you can take a glass-bottom boat tour to observe the marine wonders from above the water.

Key Largo is also home to The African Queen, a historic steamboat made famous by the 1951 movie of the same name starring Humphrey Bogart and Katharine Hepburn. Located at the Marina Del Mar Resort in Key Largo, you can take a short cruise on the African Queen and relive the nostalgia of the film.
Key Largo also offers a vibrant culinary scene, with a variety of waterfront restaurants serving fresh seafood delicacies. Here are our Key Largo Restaurant Recommendations:

The Fish House: A waterfront restaurant offering fresh seafood dishes with a focus on local flavors. It provides a casual and relaxed atmosphere where you can enjoy your meal while taking in beautiful views of the water.

Mrs. Mac's Kitchen: A local favorite known for its homestyle cooking. It serves up comfort food classics, including their famous Key lime pie, in a cozy and welcoming setting.
Our Key Largo Lodging Recommendations:

Rock Reef Resort: The Rock Reef Resort is in Key Largo on the waterfront, just 4.5 miles from John Pennekamp State Park. This resort features a private beach, a sunset pier, heated/chilled swimming pool, kayaks, and peddle boat.

Holiday Inn Key Largo: Holiday Inn Key Largo features 2 swimming pools with a waterfall, a hot tub, and water sports facilities. Nearby, guests can go snorkeling, diving, golfing, and deep-sea fishing. John Pennekamp State Park is 3.2 mi away.

Waterside Suites and Marina – Offering two-floor houses with balconies and views of Key Largo Marina, Waterside Suites and Marina is located on the scenic Ocean Drive on Key Largo.
With its tropical climate, stunning landscapes, and abundant recreational opportunities, Key Largo remains a popular destination for tourists seeking a memorable vacation in the heart of the Florida Keys.
Islamorada – Tropical Fishing Paradise
77 miles south of Miami is Islamorada, the "Sport Fishing Capital of the World."
Islamorada is a charming and idyllic island village known for its stunning natural beauty, crystal-clear waters, and laid-back atmosphere. With a name that translates to "Purple Isle," Islamorada lives up to its enchanting reputation.
Famous for its world-class fishing, Islamorada attracts anglers from around the globe. The surrounding waters are home to an abundance of game fish, including sailfish, tarpon, and mahi-mahi. The area offers numerous fishing charters and guides to cater to both seasoned anglers and beginners.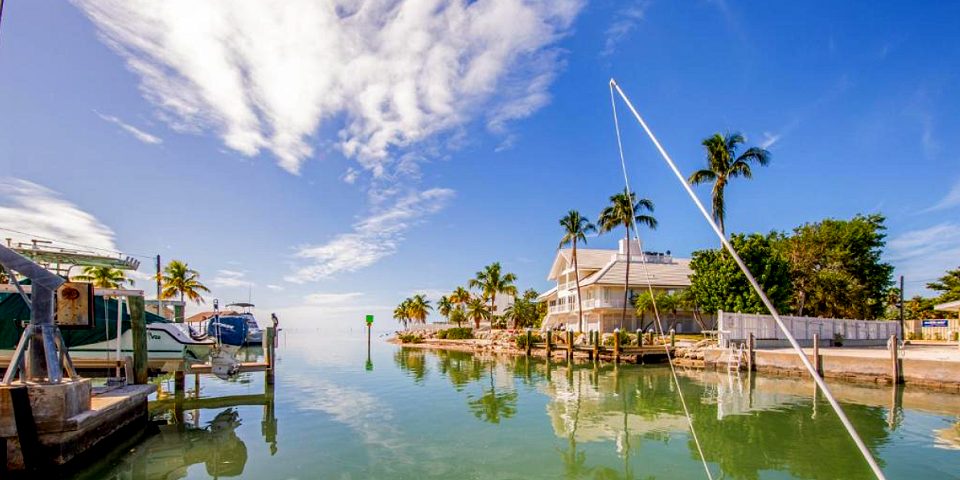 In addition to fishing, Islamorada offers a range of outdoor activities. Visitors can explore the picturesque coral reefs by snorkeling or diving, encountering vibrant marine life and colorful corals. The Florida Keys History & Discovery Center provides insights into the area's rich cultural and natural heritage, while Theater of the Sea offers the chance to swim with dolphins and interact with other marine animals.

Robbie's Marina, situated at Mile Marker 77.5, is a popular stop where you can hand-feed tarpon fish. Purchase a bucket of fish and stand on the dock as the tarpons swim up to feed. It's an exciting and unusual experience to see these massive fish up close.

For an interactive marine experience, make a stop at Theater of the Sea, a marine mammal park that hosts dolphin, sea lion, and parrot shows. You can even swim with dolphins and learn about marine conservation efforts.

Check out The Rain Barrel Artisan Village in Islamorada, located at Mile Marker 86.7. The Rain Barrel Artisan Village is an eclectic collection of shops, galleries, and artist studios. One of the main attractions is the giant lobster sculpture at the entrance. You can browse through various artworks, including sculptures, paintings, jewelry, and pottery.
Food enthusiasts will delight in Islamorada's diverse culinary scene, which features a variety of seafood restaurants, waterfront dining options, and beachside cafes. From fresh catches of the day to delectable Key lime pies, the local cuisine is sure to satisfy any palate. Here are our Islamorada Restaurant Recommendations:

Morada Bay Beach Café: Situated right on the beach, this café offers a scenic dining experience. It serves Caribbean-inspired cuisine with a focus on fresh seafood and tropical flavors. Live music and a laid-back vibe add to the overall ambiance.

Lazy Days Restaurant: Known for its delicious seafood offerings, Lazy Days Restaurant provides oceanfront dining with breathtaking views. The menu features a variety of seafood dishes, prepared with local ingredients and served in a relaxed setting.

Our Islamorada Lodging Recommendations…

Sands of Islamorada: This Islamorada, Florida inn features an outdoor pool with a hot tub and a boat dock with a ramp. Guests are 4 miles from Theater of the Sea and 2 miles from Indian Key Historic State Park.

Ocean View Inn – The Ocean View Inn has an outdoor swimming pool, terrace, a restaurant and bar in Islamorada. The property is around a 11-minute walk from Windley Key, 2.9 miles from Upper Matecumbe Key and 10 miles from Pigeon Key.

La Siesta Resort & Villas – Just off the Overseas Highway and in front of the ocean, this Islamorada hotel offers an on-site marina. The beachfront hotel features an outdoor pool.
With its tranquil ambiance, breathtaking scenery, and abundant recreational opportunities, Islamorada is a tropical paradise that beckons visitors to relax, unwind, and immerse themselves in the beauty of the Florida Keys.
Marathon – Tranquil Coastal Retreat
Continuing south on the Overseas Highway, you'll reach the picturesque island town of Marathon
Marathon, nestled in the heart of the Florida Keys, is a captivating tourist destination that offers a perfect blend of natural wonders and recreational activities. This vibrant city spans across several islands, including Key Vaca, Fat Deer Key, and Grassy Key, providing visitors with a diverse range of experiences.
Known as the "Heart of the Keys," Marathon offers pristine white-sand beaches, azure waters, and breathtaking sunsets. Sombrero Beach and Coco Plum Beach are popular spots for swimming, sunbathing, and picnicking. Adventurous travelers can explore the underwater world through snorkeling or diving at the nearby Sombrero Reef, home to a vibrant coral ecosystem and diverse marine life.
Marathon is renowned for its fishing opportunities, attracting anglers from all over. Whether you're interested in deep-sea fishing or casting a line from the shore, Marathon offers a variety of charters and guides to accommodate all skill levels.
Here, you can visit the Dolphin Research Center, a renowned facility dedicated to the study and rehabilitation of dolphins and sea lions. Explore their educational exhibits, watch captivating dolphin shows, and even sign up for a Dolphin Encounter program for a more intimate experience.

A short drive from Marathon will bring you to the Turtle Hospital, located in Marathon as well. This unique conservation center is devoted to rehabilitating injured sea turtles. Take a guided tour to learn about the hospital's efforts, witness the turtle rehabilitation process, and understand the challenges faced by these gentle creatures. It's a fascinating and educational experience for all ages.

Leaving Marathon, you'll cross the iconic Seven Mile Bridge, an engineering marvel that spans the turquoise waters of the Atlantic Ocean. As you make your way across this breathtaking bridge, take in the panoramic views and appreciate the sheer beauty of the Florida Keys.

Next, you'll arrive at Bahia Honda State Park, a stunning coastal haven known for its pristine beaches and abundant marine life. Spend some time swimming, snorkeling, or simply sunbathing on the soft sand. The park offers fantastic opportunities to explore the vibrant underwater world with its vibrant coral reefs. You can also rent kayaks or paddleboards to explore the tranquil waters surrounding the park.
Marathon boasts a range of dining options, from casual seafood shacks to fine waterfront restaurants, serving up delicious catches of the day and local specialties like conch fritters and Key lime pie. Here are our Marathon Restaurant Recommendations…

The Island Fish Co.: Located on the waterfront, The Island Fish Co. offers a casual dining experience with a diverse menu of seafood and tropical dishes. The restaurant's open-air setting allows guests to enjoy the views while savoring their meals.

Porky's Bayside BBQ: A popular spot for barbecue lovers, Porky's Bayside BBQ specializes in mouthwatering smoked meats, ribs, and classic barbecue sides. With a waterfront location, guests can indulge in their favorite BBQ dishes while enjoying the coastal scenery.
Our Marathon Lodging Recommendations…

Coconut Cay Resort – Located on Florida's scenic gulf-side in Marathon, this Bahamian-style hotel is 8 minutes' drive from Sombrero Beach. Guests can enjoy the pool and sun terrace.

Banana Bay Resort & Marina – This waterfront resort and marina features an outdoor swimming pool and boat docking facilities. Guests are within 1 mile of both Fishermen's Hospital and the Florida Keys Country Club.

Hampton Inn Marathon – Located 0.9 mi from Florida Keys Aquarium Encounters, Hampton Inn Marathon – Florida Keys is around 2.4 mi from Conch-Air Florida Keys Scenic Flights and 0.6 mi from A Deep Blue Dove Center.
With its captivating natural beauty, abundant outdoor activities, and welcoming community, Marathon invites tourists to immerse themselves in the laid-back charm of the Florida Keys.
Big Pine Key – Serenity Amidst Natural Beauty
Next up is Big Pine Key, about 30 miles north of Key West.
Big Pine Key offers a tranquil and unspoiled escape for nature enthusiasts and those seeking a quieter slice of paradise. Known for its unique natural attractions and abundant wildlife, Big Pine Key captivates visitors with its untouched beauty.
For outdoor enthusiasts, Big Pine Key provides opportunities for kayaking, paddleboarding, and boating along its mangrove-lined waterways. The nearby Looe Key National Marine Sanctuary is a renowned spot for snorkeling and diving, with vibrant coral reefs and an array of marine life.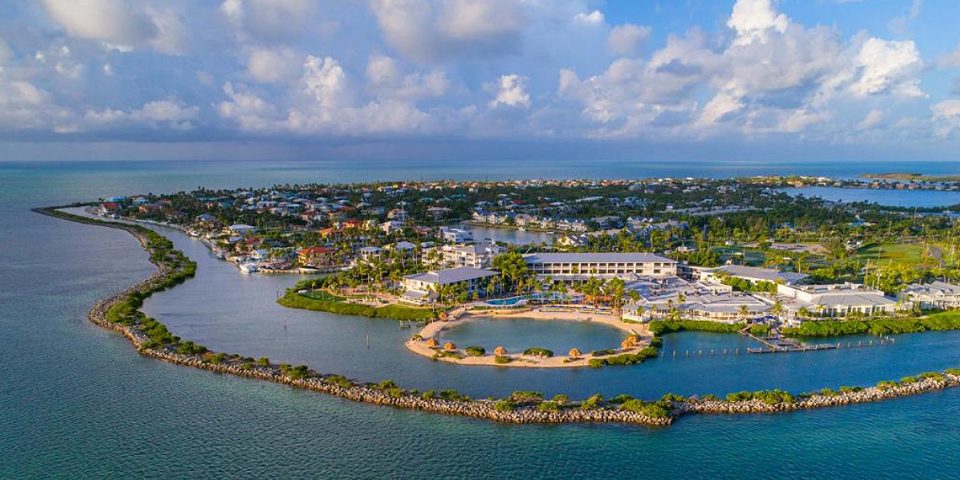 Big Pine Key is also a gateway to the secluded and picturesque Lower Keys, offering a quieter alternative to the more bustling areas of the Florida Keys. Visitors can explore nearby islands such as Bahia Honda State Park, known for its stunning beaches and panoramic views.

Visitors can explore the stunning underwater world by snorkeling or diving in the nearby Looe Key National Marine Sanctuary. Outdoor enthusiasts can also enjoy fishing, kayaking, and hiking in the area. Big Pine Key is an ideal destination for those seeking a laid-back atmosphere, breathtaking landscapes, and close encounters with unique wildlife.

Be sure to check out the National Key Deer Refuge Nature Center, located within the larger National Key Deer Refuge. The nature center serves as an educational hub, providing visitors with information about the unique ecosystem and wildlife found in the area. It offers exhibits, interactive displays, and educational programs that focus on the conservation efforts and the protection of the endangered Key deer. The refuge itself spans over 8,500 acres, providing habitat for not only the Key deer but also various bird species and other wildlife. The Nature Center serves as a gateway for visitors to learn, appreciate, and actively participate in preserving this remarkable ecosystem.
Although Big Pine Key has a more laid-back atmosphere, it still offers a selection of local restaurants, seafood shacks, and charming shops where visitors can indulge in fresh seafood and find unique souvenirs. Here are our Big Pine Key Restaurant Recommendations…

No Name Pub: A historic pub with a rustic atmosphere, No Name Pub is known for its pizza and casual dining experience. The walls are covered in memorabilia, and the pub offers a cozy environment where visitors can relax and enjoy their meal.

The Square Grouper Bar and Grill: This waterfront restaurant provides a laid-back setting and features a diverse menu with fresh seafood, steaks, and Caribbean-inspired dishes. The Square Grouper is known for its beautiful sunset views.

Coco's Kitchen – Don't let the location fool you. A Petite cantina offering eclectic breakfast, lunch & dinner menus focused on Cuban & Caribbean eats. Located next to Winn Dixie at Big Pine Key Shopping Center
Our Big Pine Key Lodging Recommendations…

Barnacle Bed and Breakfast – Barnacle Bed and Breakfast has accommodations with a garden with a terrace and sea views. Guests at the bed and breakfast can enjoy a continental breakfast. A private beach area is available on site.

Deer Run on the Atlantic – This adults-only bed and breakfast is eco-friendly, sustainable, and beachfront. A full organic, vegan breakfast is served daily. A mineral spring salt water pool with a spa is on site. Free bikes, kayak, and snorkel gear are provided.

Hawks Cay Resort – Featuring a full-service spa and the chance to swim with dolphins, this resort hotel has 5 pools and a tennis court. Fishing, diving, and jet skiing are offered in the clear waters of Hawks Cay.
With its untouched nature, abundant wildlife, and serene ambiance, Big Pine Key is a hidden gem for tourists seeking a peaceful retreat amidst the natural splendor of the Florida Keys.
Key West – Colorful, Historic, Island Paradise
Your ultimate destination: Key West, the southernmost point of the continental United States.
Key West is a vibrant and eclectic island city that captivates visitors with its rich history, lively atmosphere, and stunning coastal beauty.
Renowned for its artistic and bohemian spirit, Key West offers a unique blend of cultural experiences. The city's historic district, known as Old Town, features charming pastel-colored houses, quaint streets lined with art galleries, and lively nightlife on Duval Street. Key West is also famous for its literary connections, with notable figures like Ernest Hemingway and Tennessee Williams having resided here.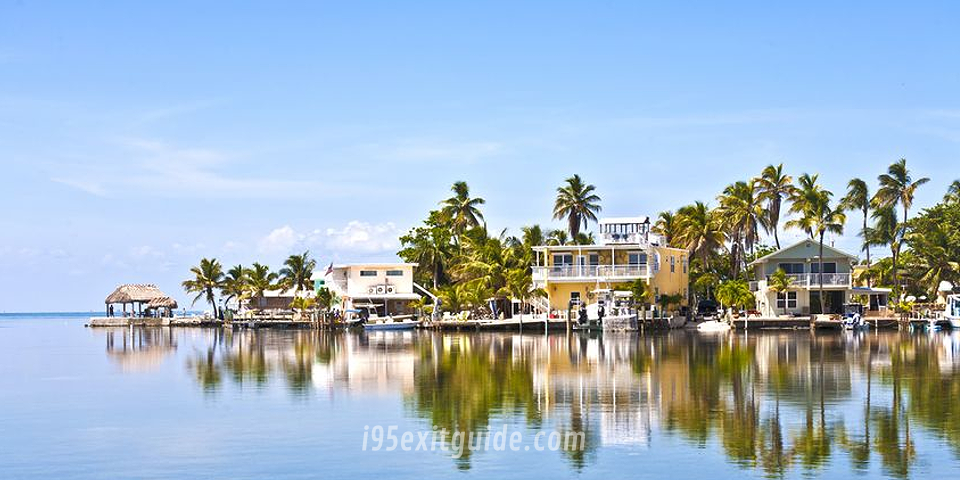 Visitors can explore the island's historical landmarks or take a leisurely stroll along the picturesque Mallory Square, known for its stunning sunsets and street performances.
Key West is a water lover's paradise, offering a range of activities such as snorkeling, diving, and fishing. The nearby Dry Tortugas National Park, accessible by boat or seaplane, is a haven for snorkelers and history enthusiasts, with its vibrant coral reefs and the impressive Fort Jefferson.

For literary enthusiasts, a visit to the Ernest Hemingway Home and Museum is a must. Explore the beautiful Spanish Colonial house where the legendary author lived for many years, and learn about his life and work. The property is also home to around 40 polydactyl (six-toed) cats, descendants of Hemingway's beloved pets.

Don't miss the vibrant sunset celebration at Mallory Square. Every evening, artists, street performers, and food vendors gather here, creating a lively atmosphere. Grab a spot along the waterfront and witness the mesmerizing sunset over the Gulf of Mexico while enjoying live music and street entertainment.

The Key West Butterfly and Nature Conservatory is worth a visit if you're in the area. Stroll through a tropical paradise filled with colorful butterflies, exotic birds, and beautiful plants. It's a serene and enchanting experience that offers a unique perspective on nature.

Key West offers plenty of additional attractions and activities, including watersports, boat tours, and historical landmarks such as the Key West Lighthouse and Fort Zachary Taylor Historic State Park. You can also indulge in fresh seafood at one of the many renowned restaurants or explore the lively nightlife scene.
Food enthusiasts will delight in Key West's diverse culinary scene, with fresh seafood, Cuban influences, and Key lime pie being local favorites. From beachside cafes to upscale restaurants, Key West offers an array of dining options to suit every palate. Here are our Key West Restaurant Recommendations…

Blue Heaven: A Key West institution, Blue Heaven is famous for its laid-back ambiance and eclectic menu. It offers a diverse range of dishes, including Caribbean-inspired cuisine and delicious brunch options. Live music and a charming outdoor courtyard create a vibrant and welcoming atmosphere.

Santiago's Bodega: A popular tapas-style restaurant, Santiago's Bodega offers a unique dining experience with a variety of small plates from different culinary traditions. The vibrant and energetic atmosphere, combined with the delicious food, makes it a favorite among locals and visitors alike.

Louie's Backyard: Located right on the oceanfront, Louie's Backyard offers a fine dining experience with a focus on fresh seafood and global flavors. The restaurant features a romantic atmosphere, stunning views, and a creative menu that showcases the best of Key West's culinary delights.

BO's Fish Wagon: For a casual and local dining experience, head to BO's Fish Wagon. This quirky outdoor eatery serves up delicious seafood, sandwiches, and their famous fish tacos. With its funky atmosphere, live music, and laid-back vibe, BO's Fish Wagon is a favorite spot among locals and visitors looking for a taste of authentic Key West.

Two Friends Patio Restaurant: A popular dining option located on historic Front Street, offering a relaxed and welcoming atmosphere with indoor and outdoor seating options. They feature classic American and seafood dishes, including fresh seafood, burgers, salads, and Key lime pie. With its charming patio setting, live music, and friendly service.
Our Key West Lodging Recommendations…

Parrot Key Hotel & Villas – Nestled along the Florida Bay, a short drive from historic Old Town Key West, Florida, this property offers an outdoor pool, casual cafe and a variety of activities. Parrot Key Hotel & Villas is surrounded by lush landscaping and gardens.

Hilton Garden Inn Key West – This Key West Hilton Garden Inn from the The Keys Collection is 2 minutes' drive from the Key West International Airport and 10 minutes' drive from Duval Street. Features include a restaurant, tiki bar, and rooms with free WiFi.

Margaritaville Beach House Key West – Margaritaville Beach House Key West features a restaurant, outdoor swimming pool, a fitness center and bar in Key West. 0.9 mi from Higgs Beach and 1.6 mi from Duval Street, the property features a garden and a terrace.

Fairfield Inn & Suites by Marriott Key West – Fairfield Inn & Suites by Marriott Key West at The Keys Collection features an outdoor pool, Tiki bar, and fitness center. Free WiFi access and a daily free breakfast buffet are also offered. A shuttle service is provided to Old Town.

Southernmost Point Guest House – This Key West, Florida Southernmost Point Guest House is located on Duval Street 361 feet from the Southernmost Point and 240 feet from the beach. Features include a free hot American breakfast and a hot tub.
With its laid-back charm, vibrant culture, and breathtaking coastal vistas, Key West is a must-visit destination that promises a unique and unforgettable experience in the tropical paradise of the Florida Keys.
Final Notes
As you conclude your Florida Keys road trip, cherish the memories of the beautiful coastal landscapes, the rich marine life, and the unique charm of each island you visited. Remember to plan your accommodations in advance, particularly during peak travel seasons, as the Florida Keys are a popular destination year-round.
Whether you choose to relax on pristine beaches, delve into marine adventures, or immerse yourself in the vibrant culture of Key West, this road trip promises an unforgettable journey through one of Florida's most captivating regions. Enjoy the scenic drive and the enchanting wonders of the Florida Keys!
---
---
The I-95 Exit Guide is the Internet's largest and most complete website dedicated to Interstate 95 travelers. Find detailed exit service listings… lodging, camping, food, gas and more for every exit from Maine to Florida!
On the road? Why not take us with you. The I-95 Exit Guide is mobile-friendly and totally FREE. No App Required.
Traveling another route? Visit our growing family of exit guides: I-4 Exit Guide, I-5 Exit Guide, I-10 Exit Guide, I-75 Exit Guide, I-80 Exit Guide and I-95 Exit Guide. Detailed exit service listings… discount lodging, camping, food, gas and more for every exit along the way!