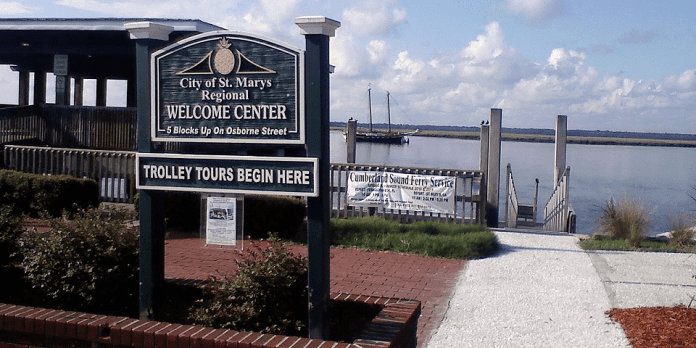 The culture of a coastal town is often entwined with its maritime history. That is certainly the case in iconic St. Marys, Georgia, located on Georgia's southernmost coast, less than an hour's drive north of Jacksonville, Florida, just off I-95. From the streets of its walkable historic district to the walls of its museums, the waterfront setting, diverse environment and nautical history have combined to create this vibrant community. While preserving and celebrating its past, St. Marys and Cumberland Island welcome visitors to enjoy the variety this present-day destination has to offer.
St. Marys History Walk (corner of Bartlett Street and West St. Marys Street) offers the perfect introduction. The self-guided tour draws visitors onto a 600-foot walking trail. Along the walk, 24 interpretive panels outline the city's history and culture. St. Marys Waterfront Park, also called Howard Gilman Memorial Park, is the perfect place to watch boats come and go, take in river views and enjoy a striking sunset.
For a more detailed tour, Molly's Old South Walking Tour (7 West St. Marys Street, St Marys, Georgia 31558; 904-735-8243) presents action-packed stories from St. Marys' 250-year-old history. It includes special access to the town's iconic landmarks, such as the First Presbyterian Church, one of the oldest church buildings in Georgia, and the historic Riverview Hotel, where such names as Rockefeller and Carnegie stayed. Tours are offered daily.
At Oak Grove Cemetery (Corner of Bartlett Street and West St. Marys Street) visitors can walk among St. Marys' oldest tombstones, the earliest marked grave from 1801. One section holds the graves of Acadians and Acadian descendants, who were oppressed, driven from Acadia by the English from St. Domingo and Haiti by insurrection, and ultimately sought refuge in St. Marys in the late 1700s.
At the St. Marys Submarine Museum (102 West St. Marys Street, St. Marys, Georgia 31558; 912-882-2782), the extensive activities of the "Silent Service" are chronicled. This is the largest museum of its kind in the South, the fifth largest in the country, and it is filled with a wide variety of exhibits, pictures, models, artifacts and rare historical documents. Along with local activity accounts, volumes of WW II submarine combat war patrol reports are housed here as are files on nearly every United States submarine ever in service. Visitors can view the St. Marys waterfront through a real submarine Type 2 periscope.
For those who want to take the ferry ride from the riverfront for a day on Cumberland Island, the Cumberland Island National Seashore also has its share of history to share. On the mainland, the park's Visitor Center (113 St. Marys Street, St. Marys, Georgia 31558; 912-882-4336) and museum (129 Osborne Street, St. Marys, Georgia 31558; 912-882-4336) welcome guests and tell the stories of the island's thousands of years of history. Artifacts and accounts from the eras of the American Indian, British explorers and enslaved people are on display. Once on the island, the undeveloped landscape and natural beauty tell stories of their own. In addition, the opulent 1900s Plum Orchard Mansion depicts island life in an earlier era and the Dungeness Historic Area includes the remains of a large industrialist era estate. Guided tours share these highlights and more. Take a two-hour Cumberland Island Walking Tour that begins at the Dungeness Dock or join the Lands and Legacies Tour, an all-day interpretive tour via passenger van to historic locations around the island.
As on the island, St. Marys' coastal environment has much to do with its history, development and current culture. From the historic McIntosh Sugarmill Ruins (3013 Charlie Smith Sr. Parkway, St. Marys, Georgia 31558) visitors can explore the region's native flora and fauna along the 11-mile St. Marys Tabby Trail. And from the city's local restaurants, they can enjoy the bounty of the coastal waters, as locals have done for generations. Whether exploring the coastal trails, spending time on local waters or feasting on local seafood, there is a unique experience to be here.
Where to stay
The independent lodging options here also offer a glimpse into St. Marys history and each has a personality of its own and a story to tell. There are bed and breakfast homes like the Spencer House Inn (200 Osborne Street, St. Marys, Georgia 31558; 912-882-1872), built in 1872. The 14-room inn, in the heart of downtown, proudly carries on its original mission of being one of the finest hotels in Southeast Georgia, as it was initially touted. The historic Riverview Hotel (105 Osborne Street, St. Marys, Georgia 31558; 912-882-3242) verandas overlook the downtown waterfront park, ferry dock and St. Marys River. There are also a mix of vacation rental homes, including a the house where Aaron Burr stayed after his ill-fated duel with Alexander Hamilton, and also campgrounds for those who'd prefer to get back to nature.
---
The I-95 Exit Guide is the Internet's largest and most complete website dedicated to Interstate 95 travelers. Find detailed exit service listings… lodging, camping, food, gas and more for every exit from Maine to Florida!
On the road? Why not take us with you. The I-95 Exit Guide is mobile-friendly and totally FREE. No App Required.
Traveling another route? Visit our growing family of exit guides: I-4 Exit Guide, I-5 Exit Guide, I-10 Exit Guide, I-75 Exit Guide, I-80 Exit Guide and I-95 Exit Guide. Detailed exit service listings… discount lodging, camping, food, gas and more for every exit along the way!