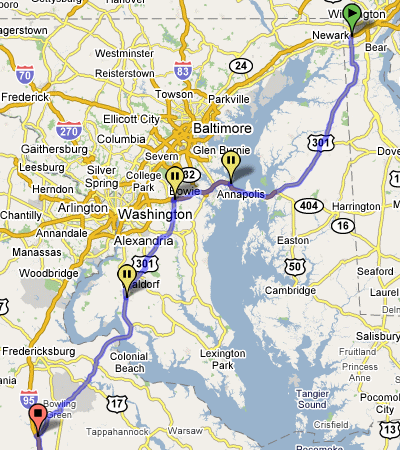 About This Route:
US Route 301 (Delaware – Maryland – Virginia) : US Route 301 bypasses the Baltimore-Washington, DC metropolitan area. The route is primarily a multi-lane highway, with some limited-access, Interstate design sections. The highway passes through rural and urban areas including several cities and towns. Portions of this route may be congested during peak periods, so expect occasional delays.
Southbound Details:
1) From Delaware I-95 Exit 1 (DE896, Newark, Middleton) take DE896 south to Middleton. (15 miles)
2) From Middleton, take US 301 south into Maryland, over the Chesapeake Bay Bridge (toll) to Annapolis. (68 miles)
3) From Annapolis, continue south on US 301 thru Waldorf to LaPlata. (47 miles)
4) From LaPlata, continue south on US 301, over the Governor Nice Memorial Bridge (toll) into Virginia and on to Bowling Green. (45 miles)
5) From Bowling Green, continue south on VA 207 to I-95 exit 104. (11 miles)
Trip Totals:
Total miles for this alternate route is 186 miles. Total miles if using I-95 is 188 miles.
Along The Way:
Middletown, Delaware – Middletown is known as one of the fastest growing places in Delaware. U.S. Route 301 is lined with restaurants including the Waffle House, Bob Evans, Sunrise Bagel, Applebees, Ruby Tuesdays, McDonald's, Burger King, Subway, Nino's Pizza, Quizno's and Arby's. Also Italian restaurants; Caruso's Bistro and La Piazza. Middletown also has restaurants such as Middletown Pizza and Middletown Diner. Grocery stores such as Acme and Super G have joined the ever-growing Middletown retail lineup. The newest additions to Middletown include Hampton Inn, Starbucks, and Lowe's. Growth along U.S. Route 301 in Middletown is fast-paced and could be defined as sprawl development, separate from the traditional core of Middletown and automobile oriented.
Annapolis, Maryland – Annapolis is the capital of the State of Maryland and the county seat of Anne Arundel County. It is a city with a population of 36,217 according to the 2004 census estimate. The city is part of the Baltimore-Washington Metropolitan Area, It is situated at the mouth of the Severn River which flows into the Chesapeake Bay, 26 miles south of Baltimore and about 22 miles east of Washington D.C. It is also home to the United States Naval Academy and St. John's College.
LaPlata, Maryland – La Plata is largely a residential community, with much of the population working for the Charles County government. Others commute to Waldorf or the Washington, D.C. area, including to Andrews Air Force Base. The town is experiencing a transformation into a thriving business and commercial center, thanks to development of office buildings and the town's recent reconstruction. Wal-Mart and Target are located here, with other major retail developments planned. Restaurants run the spectrum from fast food to upscale fare, including one of the Washington, D.C., region's top-rated restaurants. A road connecting LaPlata's Washington Avenue with St. Charles Parkway in the adjacent large city Waldorf and paralleling U.S. Route 301 is being constructed in stages and when finished it should relieve local traffic on busy Route 301.