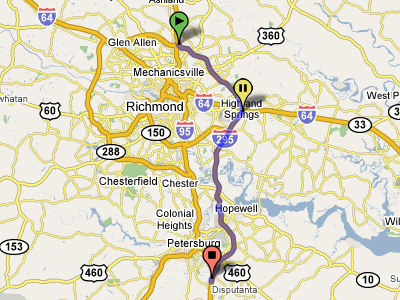 About This Route:
Virginia I-295 (Richmond – Petersburg) – Virginia's I-295 bypasses the Richmond and Petersburg, Virginia metropolitan areas. The route is a multi-lane divided Interstate highway that passes through primarily rural areas. The route crosses the James River via the 4680′ long, visually spectacular Virina-Elon Bridge, connecting Eastern Henrico County and Chesterfield County (near Hopewell).
Southbound Details:
From Virginia I-95 Exit 84 (I-295 to I-64, Norfolk) take I-295 south to Mechanicsville. (6 Miles)
Fom Mechanicsville, continue on I-295 south into the junction of I-64. (9 miles)
From the junction of I-64, continue south on I-295 to Hopewell. (13 miles)
From Hopewell, continue on I-295 south to Petersburg and I-95 exit 46. (15 miles)
Trip Totals:
Total distance for this alternate route is 43 miles. Total distance if using I-95 is 38 miles.
Along The Way:
Mechanicsville, Virginia – Mechanicsville is an unincorporated area in Hanover County, Virginia, with a population was 30,464 (2000 census). I-295, exit 37 (US Route 360) is the primary commercial connector to Mechanicsville. The area is home to Wal-Mart, several fast food restaurants including Arby's, Cracker Barrel, Shoney's, Taco Bell and Wendy's. Several gas stations are located here as well. Mechanicsville is also associated with several major battles and numerous minor skirmishes during the American Civil War.
Hopewell, Virginia – Hopewell is an independent city in the Commonwealth of Virginia. The population was 22,354 (2000 census). It is in Tri-Cities area of the Richmond-Petersburg region. I-295, exits 15 and 9 are the primary commercial connectors to Hopewell. Both exits are home to dozens of restaurants including Burger King, Checker's, Denny's, Friendly's, McDonald's, Pizza Hut, and Waffle House. Lodging includes Comfort Inn, Days Inn, Hampton Inn, Holiday Inn Express, and Howard Johnson.