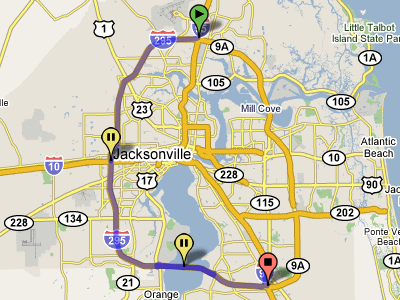 About This Route:
Florida I-295 (Jacksonville) – Florida's I-295 bypasses the Jacksonville, FL metropolitan area. The route is a multi-land divided Interstate highway that passes through primarily suburban areas surrounding greater Jacksonville. The route traverses the 3.2 mile long Buckman Bridge, which crosses the St. Johns River.
Southbound Details:
From Florida I-95 Exit 362 (I-295, FL 9A) take I-295 south to the junction of I-10. (14 miles)
1) Fom the junction of I-10, continue on I-295 south to Orange Park. (11 miles)
2) From Orange Park, continue south on I-295 over the Buckman Bridge. (5 miles)
3) Continue on I-295 south to I-95 exit 337. (5 miles)
Trip Totals:
Total distance for this alternate route is 35 miles. Total distance if using I-95 is 25 miles.
Along The Way:
Orange Park, Florida – Orange Park is a town in Clay County, Florida with a population was 9,243 (2004 census). The name reflects the hope of its founders for a fruit-growing industry, but their crops were destroyed in the Great Freeze of 1894-95. Despite recovery elsewhere, the crops never came back to Orange Park.
Buckman Bridge – The Buckman Bridge is a 3.2 mile bridge that carries I-295 traffic over the St. Johns River in Jacksonville, Florida. It was named for Henry Holland Buckman, a prominent legislator and attorney who was instrumental in establishing a state road system. Downtown Jacksonville and Naval Air Station Jacksonville are visible from the bridge to the north. On a clear day, the Georgia-Pacific paper mill in Palatka can be seen to the south of the bridge.