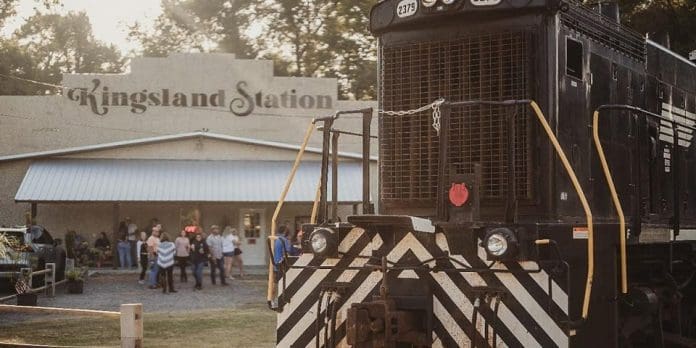 Nestled on the southeast coast of Georgia, just off I-95 three miles from the Georgia/Florida border and 25 miles north of Jacksonville, Florida, Kingsland, Georgia, is a charming small coastal town oozing with natural beauty, a historic downtown, Southern hospitality and unique adventures suitable for the whole family. In addition to exploring the serene beauty of Cumberland Island National Seashore and nearby Okefenokee National Wildlife Refuge, visitors to the area are also finding themselves enchanted with the Georgia Coastal Railway. Here are a few reasons why one of America's oldest privately owned railroads should be on your bucket list for fall and the upcoming holiday season.
Georgia Coastal Railway
All aboard the Georgia Coastal Railway, one of Kingsland's most unique and memorable experiences. Train experiences start at Kingsland Station, the hub of the Georgia Coastal Railway, located just one mile from I-95. Featuring a fleet of engines, open air cars and historic coaches, this privately owned shortline railroad gives passengers the opportunity to experience everything from scenic rides to themed excursions through neighborhoods, Georgia marshlands, commercial districts and a working rail yard. Offering themed rides such as The Great Gatsby Express, The Wine Tasting Special, The Pizza Express, The Wild West Train, a live music train ride featuring rising stars, a Karaoke train, a Comedy Train and more, there's sure to be an adventure to pique your interest! Seasonal themed rides are also offered throughout the year including an Easter train, Christmas in July, the Freedom Flyer, Halloween rides, Santa rides and more.
Gather the kids and celebrate fall with "Meet the Monsters'" a family friendly Halloween themed ride. This 70-minute interactive train ride on open air cars features friendly monsters that will have everyone doing the Monster Mash, singing and sharing candy. Be sure to don your favorite costume. Looking for a spookier option? Check out the Survivor Train, a thrilling 75-minute adventure featuring live action audience participation. This zombie themed ride will have passengers on the edge of their seat and is not recommended for children—or anyone faint of heart.
With the holidays right around the corner, don't miss the ever-popular Santa Special train ride. Embark on a magical 70-minute journey by rail with Santa and his friends gives passengers an opportunity to visit Santa and Mrs. Claus, Santa's elves, Frosty the Snowman and many more right in their passenger coach. Passenger coaches on the Santa Special are climate controlled for maximum comfort. Passengers of all ages (especially the youngest of passengers!) delight in the spirit of the season with these special guests, making it a truly memorable experience.
In addition to themed train rides, Kingsland Station also offers live theater performances throughout the year, featuring their very own Kingsland Station Players. Click here for information on current and upcoming shows.
For a full list of themed rides, click here. All excursions depart from the Kingsland Station located on South Lee Street, just two miles west of I-95. Advance reservations strongly encouraged. Georgia Coastal Railway, 440 South Lee Street, Kingsland, Georgia 31548; 904-370-3744
Historic downtown Kingsland
After experiencing the Georgia Coastal Railway, take some time to explore Kingsland's historic downtown. This must-see area is no doubt the heartbeat of the city. Boasting one-of-a-kind shops and restaurants, downtown Kingsland is also home to many beloved annual events. Stop in Blue Bridge Coffeehouse, a cozy and inviting spot offering aromatic coffees, a variety of teas and a wide selection of hot and cold beverages to suit every taste. Chances are, you'll be asking for a second cup! Blue Bridge Coffeehouse, 102 South Lee Street, Kingsland, Georgia, 31548; 912-552-3680
Next, browse some of the finest and meticulously handcrafted leather goods at Hooks Crafted Leather Company. Rooted in Kingsland, this lifestyle leather goods brand prides itself on its team of seasoned leather craftsmen with over a decade of experience in working with fine leather. Whether it's a custom creation that is desired or a ready-made item from the shop, shoppers delight in the impressive selection of items offered by Hooks Leather Company. From stylish accessories and bags to leather earrings and exquisite leather coasters, these leather goods and gifts are sure to leave an impression. Hooks Crafted Leather Company, 100 South Lee Street, Kingsland, Georgia 31548; 912-510-8765
Shopping for special vintage and antique finds? Look no further than Southern Shenanigans. Housed in a unique building with interesting history of its own, this popular boutique offers vintage finds from throw back home décor, furniture and art to clothing and jewelry. With new items added frequently, a visit to Kingsland isn't complete without a stop at this local favorite. Southern Shenanigans, 101 South Lee Street, Kingsland, Georgia 31548; 912-506-5718
Where to dine
From fresh and authentic coastal options to traditional Southern cuisine, diners are in for a real treat in Kingsland. Don't miss at Steffen's, an old-school diner offering breakfast, lunch and dinner. Serving up Southern comfort food since 1948, Steffen's is a long time favorite among locals and visitors alike. Whether you saddle up to the bar to try a traditional root beer float or grab a table and sample Ms. Helen's biscuits and gravy, there's no way you can go wrong. And you certainly won't leave hungry. Steffen's Restaurant, 550 South Lee Street, Kingsland, Georgia, 31548; 912-729-5355
Satisfy your sweet tooth at Wandaful Things. Offering beautifully decorated cakes and cupcakes as well as mouthwatering pastries and a variety of other desserts, the team of talented bakers at Wandaful Things believes life's sweetest moments are made sweeter with a touch of homemade goodness. Grab a slice of decadent chocolate cake, a fluffy fruit tart or a box of assorted pastries to share. Each dessert is truly a work of art. Wandaful Things, 151 East William Avenue, Kingsland, Georgia 31548; 912-439-1241
Prepare to enjoy authentic Latin cuisine at Kings Latin Cuisine. Mouthwatering dishes include savory tacos, empanadas, paella and traditional ceviche among many others that will have visitors returning again and again to satisfy a craving. Kings Latin Cuisine, 105 North Lee Street, Kingsland Georgia, 31548, 912-510-8518.
---
---
The I-95 Exit Guide is the Internet's largest and most complete website dedicated to Interstate 95 travelers. Find detailed exit service listings… lodging, camping, food, gas and more for every exit from Maine to Florida!
On the road? Why not take us with you. The I-95 Exit Guide is mobile-friendly and totally FREE. No App Required.
Traveling another route? Visit our growing family of exit guides: I-4 Exit Guide, I-5 Exit Guide, I-10 Exit Guide, I-75 Exit Guide, I-80 Exit Guide and I-95 Exit Guide. Detailed exit service listings… discount lodging, camping, food, gas and more for every exit along the way!