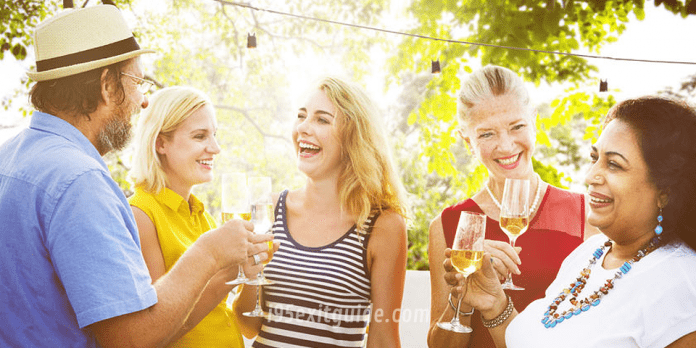 "CoolCrafters," in partnership with envoys from the North Pole, will be offering signature drinks within their establishments throughout the month of December.
Fresh off the adrenaline of the CoolCraft Summer Beverage Competition, West Volusia's "CoolCrafters" have been invited again to create a specialty drink – alcoholic or non-alcoholic – however, this time featuring Holiday-inspired flavors with fresh ingredients, all with a West Volusia flair. CoolCraft Christmas officially kicks off on December 1, 2022, and runs through December 22, 2022.
"The CoolCraft Beverage Trail has become a favorite among residents and visitors of the West Volusia area, and after the success of the CoolCraft Summer, we knew we had to bring it back for the holidays," said Georgia Turner, Executive Director of the West Volusia Tourism Advertising Authority. "These signature cocktails are sure to put you in the Christmas spirit as you enjoy holiday shopping and nightlife throughout West Volusia!"
Utilizing Visit West Volusia's existing partnership with travel space developer Bandwango, visitors will be able to use their CoolCraft Beverage Trail mobile app (found at go.visitwestvolusia.com) to track their progress along the Trail. Once visitors check in at five or more participating locations, they will be eligible to receive a free "CoolCraft Christmas" Ornament" which will be mailed to them.
Some CoolCrafters such as The Lounge at the Artisan Hotel Downtown are already jumping in with special offers. When you bring in an ornament to put on their Christmas tree, The Lounge is offering 50% off your next cocktail.
Select Holiday concoctions include CoolCraft Summer winner NEST's "Mistletoe," a Prosecco Sangria Spritzer featuring apple, orange, cranberry, cinnamon and rosemary; Blue Springs Brewing & Riverwalk Pizzeria's "Gingerbread Cookie Cream Ale;" and Trilogy Coffee Roasting Co.'s "Ch' Wassail," a chai-based apple cider beverage featuring Star Anise and other spices. Other participating "CoolCrafters" include Hyderhead Brewery, Beeatroot, Central 28 Brewing, Persimmon Hollow, Abbey Bar, The Table, MG Coffee Brews & Bites, The Lounge at the Artisan Hotel Downtown, Centro Tea Co. & Plant-Based Kitchen, Sidecar Home Market & Bar, Wander Bar Cocktail Lounge, Buddha Bowls, Pat and Toni's Sweet Things, and The Table Cafe and Gift Shop. More information on participants and their beverages can be found at coolcrafttrail.com/christmas.
The CoolCraft Beverage Trail kicked off in November 2020 with much success and has given visitors a chance to taste the best "crafts" around. With more than a dozen destinations offering cocktails, meads, smoothies, teas, coffees, and, of course, some of the best brews, you can tour and taste all the "trail" has to offer. For more information, coolcrafttrail.com.
---
The I-95 Exit Guide is the Internet's largest and most complete website dedicated to Interstate 95 travelers. Find detailed exit service listings… lodging, camping, food, gas and more for every exit from Maine to Florida!
On the road? Why not take us with you. The I-95 Exit Guide is mobile-friendly and totally FREE. No App Required.
Traveling another route? Visit our growing family of exit guides: I-4 Exit Guide, I-5 Exit Guide, I-10 Exit Guide, I-75 Exit Guide, I-80 Exit Guide and I-95 Exit Guide. Detailed exit service listings… discount lodging, camping, food, gas and more for every exit along the way!