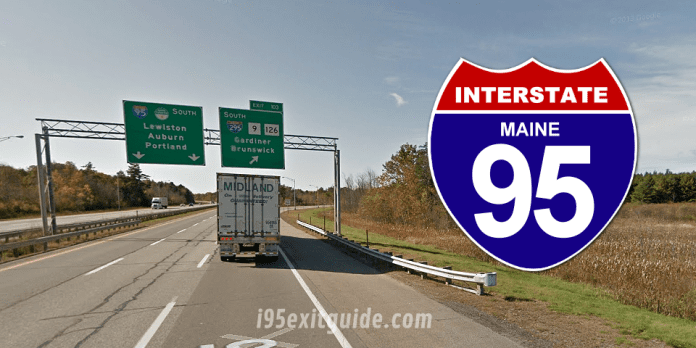 The Maine Department of Transportation reports that construction has begun on a new set of temporary interstate ramps which will allow access between Whitten Road and I-95 Exit 109A.
MaineDOT expects the access to be available to the public in advance of the November 22nd deadline. While these ramps are being constructed, traffic headed southbound on the interstate as well as heading to the Capitol District or downtown should use Exit 113, Exit 112 or Exit 109B. All other movements remain unchanged from the current configuration.
Once completed, these new temporary access points to Whitten Road will be used by all traffic wishing to take I-95 to points south of Augusta and for those on I-95 southbound headed toward downtown Augusta or the Capital Area. Exit 109B will remain available for all I-95 southbound traffic headed west toward Manchester/Winthrop.
On October 3rd, a MaineDOT maintenance worker discovered the south exterior beam of the Ramp F Bridge over I-95 had been struck by a vehicle causing significant damage. There is currently a partial crack in the southern beam.
Another recent hit has damaged the north exterior beam of the same bridge but to a lesser extent. MaineDOT personnel will continue to monitor the damage on both sides of the bridge to ensure it remains safe under legal loads.
This bridge carries two-way traffic as part of the I-95 Exit 109 interchange as well as I-95 southbound traffic accessing Western Avenue headed east to the downtown and the Capitol complex. It also supports Western Avenue traffic bound for I-95 south.
Drivers are advised to find alternate routes. For more information and to sign up for email alerts, please visit mainedot.gov
MaineDOT has been investigating what may have caused this damage with little success to date. Anyone with any information is asked to call MaineDOT's Legal Division at (207) 624-3020.
Driving to a Permanent Solution – When considering the significant effort, cost and traffic impacts associated with repairing the existing bridge, coupled with a strong likelihood of continued damage due to "over height" strikes, MaineDOT is accelerating a bridge construction contract to have a new bridge in place this winter.
As part of replacing the superstructure, we will increase the "under clearance" by over a foot to reduce the potential of future impacts and to be consistent with the clearances achieved with recent bridge projects over Interstate 95.
MaineDOT will also be installing an over-height load warning system to protect other bridges, such as the overpass carrying Western Avenue over I-95.
---
For more I-95 construction info, visit www.i95exitguide.com, the Internet's largest and most complete website devoted to America's Interstate Main Street. Detailed exit service listings… discount lodging, camping, food, gas and more for every exit from Maine to Florida!
Traveling another route? Visit our growing family of exit guides: I-4 Exit Guide, I-5 Exit Guide,  I-10 Exit Guide , and I-75 Exit Guide.