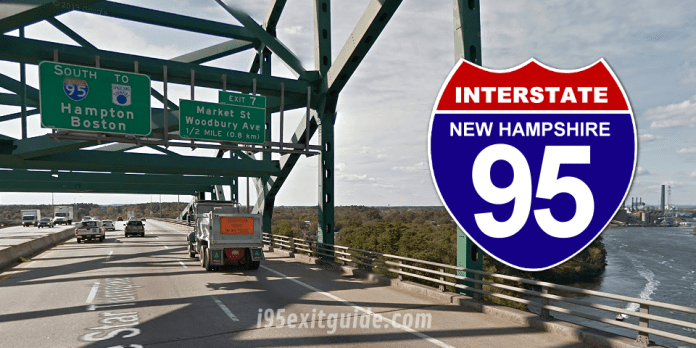 Postponed from last month and beginning this week, the New Hampshire Department of Transportation (NHDOT), in partnership with the Maine Department of Transportation (MaineDOT) and the Maine Turnpike Authority (MTA), will begin testing the messaging components for the new dynamic part-time shoulder use (PTSU) system that was recently installed on I-95 between Portsmouth, New Hampshire and Kittery, Maine. This system was developed to help relieve congestion during peak traffic times on the I-95 Piscataqua River Bridge between the two states. Testing is scheduled to begin mid-morning on Wednesday, November 1st.
Daytime shoulder closures, both northbound and southbound, will occur intermittently over the next several weeks for final system testing. Motorists will see the system's messaging components (beacons and lane use signals) turn on and off at various times during the testing. Message boards will be utilized to alert travelers that tests are being performed. The shoulder lanes will remain closed to through traffic and should only be used for emergencies. A final press release will announce the date the system will become operational for motorists.
About the New System
Anyone who regularly travels along I-95 on summer weekends is familiar with the congestion that occurs at the Piscataqua River Bridge. To ease congestion on I-95 during peak travel periods, New Hampshire and Maine have agreed to allow the right shoulder of the road to be used as an open travel lane over the Piscataqua River Bridge and for several miles along each approach. This concept, known as dynamic part-time shoulder use (PTSU), can be turned on and off as traffic conditions require, using lane use signals to electronically indicate when the shoulder is open for travel.
Over the past several months, New Hampshire and Maine have been installing several traffic control devices along the section of I-95 from New Hampshire's Exit 5 to Maine's Exit 3. There will also be warning signs with flashing beacons at the on-ramps approaching the system to alert merging traffic when the shoulder lane is open for travel and to use extra caution when merging into the highway. The system will be controlled by operators at the Transportation Management Centers (TMCs) in New Hampshire and Maine.
Designed primarily to reduce congestion and improve safety, the PTSU system will be used during peak congestion periods from May through October, during unplanned incidents, and as traffic conditions warrant.
Green Mountain Communications is the general contractor for this $9.4-million contract. This new system is expected to be operational this fall.
---
What's happening on Interstate 95 RIGHT NOW! I-95 Real-time traffic information for cities along I-95. Maps show updates on road construction, traffic accidents, travel delays and the latest traffic speeds. Traffic cameras show congestion at a glance. Visit I-95 Traffic.
---
The I-95 Exit Guide is the Internet's largest and most complete website dedicated to Interstate 95 travelers. Find detailed exit service listings… lodging, camping, food, gas and more for every exit from Maine to Florida!
On the road? Why not take us with you. The I-95 Exit Guide is mobile-friendly and totally FREE. No App Required.
Traveling another route? Visit our growing family of exit guides: I-4 Exit Guide, I-5 Exit Guide, I-10 Exit Guide, I-75 Exit Guide, I-80 Exit Guide and I-95 Exit Guide. Detailed exit service listings… discount lodging, camping, food, gas and more for every exit along the way!