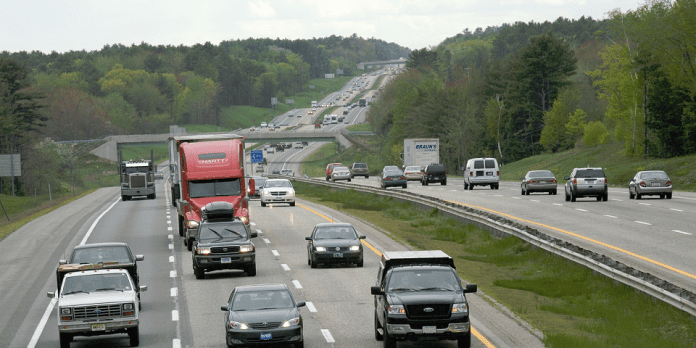 The Maine Turnpike Authority will celebrate the 70th anniversary of the opening of the Maine Turnpike's first phase, the 47-mile, Kittery-to-Portland superhighway on December 13. Before the Maine Turnpike opened on December 13, 1947, it could take half a day to drive from Portland to Kittery. After the Turnpike opened, only 47 minutes.
What began as a vision shared by Maine legislators in 1940 and was then delayed by America's entry into World War II, became a reality in 1947 as the Maine Turnpike debuted as the nation's second superhighway and immediately set a number of historic firsts.
Maine's first mile-a-minute highway
The Turnpike was Maine's first roadway with a posted 60 mph speed limit. Few New Englanders in 1947 had ever driven that fast.
New England's first and only the nation's second superhighway
The first section of the Pennsylvania Turnpike, defined as a superhighway for its double two-lane limited access roadways separated by a wide median strip, opened in 1940. The Maine Turnpike was America's second modern superhighway.
America's first toll highway to pay its own way
The Maine Turnpike was financed completely with the issue of revenue bonds purchased by investors and repaid from toll collections. In seven decades, tolls have paid for all of the Turnpike's maintenance and improvements without ever having to rely on state or federal funding.
America's first asphalt superhighway
Some experts say that the Maine Turnpike was the first highway in the world to be built entirely with asphalt. Concrete was considered the only way to go before Maine's superhighway set the new standard.
The original smooth, straight stretch of roadway proved to be such a popular success, that in 1953 the Turnpike Authority sought to extend the pike northward. On December 13, 1956, the 66-mile, Portland-to-Gardiner extension, including the four-mile Falmouth spur, was added to the state's transportation infrastructure.
Seventy years later, the Maine Turnpike continues to be a proving ground for new highway engineering, construction, and technological advancement. In recent years, the Maine Turnpike Authority has added Open Road Tolling systems that process electronic EZPass transactions as drivers cruise through at highway speeds. On-ramp and off-ramp configurations have been upgraded with newer, safer designs. Last year, the Lewiston exit was rebuilt with the state's first Single Point Urban Interchange, a design developed to move large volumes of traffic more safely and efficiently within a limited space.
---
For more I-95 travel info, visit  www.i95exitguide.com, the Internet's largest and most complete website devoted to I-95, America's Interstate Main Street. Detailed exit service listings… discount lodging, camping, food, gas and more for every exit from Maine to Florida! Plus I-95 construction, real-time traffic and road news.
Traveling another route? Visit our growing family of exit guides: I-4 Exit Guide, I-5 Exit Guide,  I-10 Exit Guide , and I-75 Exit Guide.