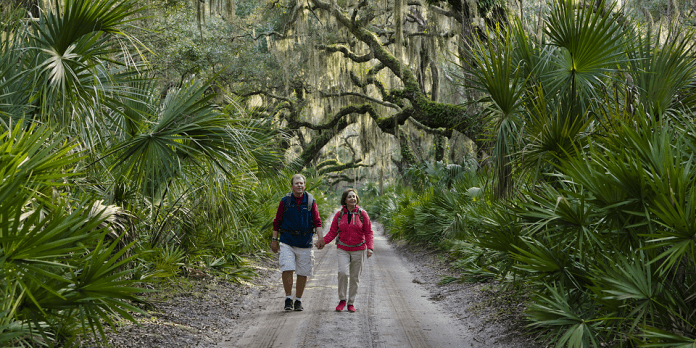 Nestled on the southeast coast of Georgia, just 25 miles north of Jacksonville, Florida, Kingsland, Georgia, is a charming small town oozing with natural beauty, Southern hospitality, fascinating history, delicious seafood and loads of outdoor adventure. A true nature lovers' delight, Kingsland is the starting point for many unique outdoor adventures including Cumberland Island National Seashore, Okefenokee National Wildlife Refuge, some of the best kayaking in southeast Georgia, incredible inshore and offshore fishing and more. Here are a few ways to enjoy the great outdoors in Kingsland.
Reconnect with nature on Cumberland Island
Kingsland is the gateway to one of coastal Georgia's most treasured places, Cumberland Island. Very few places like Cumberland Island exist anymore. Mostly made up of pristine maritime forests, undeveloped beaches and wide marshes, Georgia's largest and southernmost barrier island offers roads and trails perfect for reconnecting with nature. Only accessible by boat, Cumberland Island is a well-preserved jewel along the Georgia coast that allows all who visit the opportunity to go "off the grid" and engage with nature without distraction.
Make your way to Cumberland Island National Seashore by ferry, then wander along the interior of the island winding your way through a plethora of majestic live oaks and palmetto trees while trying to spot the island's wildlife—wild horses, turkeys, alligators, deer and an impressive variety of coastal birds all call Cumberland home. There's also no shortage of history on this rugged, unspoiled island. Visitors to the island will discover the history of Plum Orchard Mansion, the ruins of the once elaborate Carnegie Estate "Dungeness," Cumberland Wharf and the Settlement of the First African Baptist Church. Want to take in more of the island? Camping is also available on Cumberland as well as bike rentals and tours. Click here for more information on ferry reservations, bike rentals, tours and camping.
Take a walk on the wild side at Okefenokee Swamp
Get up close and personal with wildlife at Okefenokee National Wildlife Refuge. Designated as one of Georgia's seven natural wonders, this wilderness is made up of over 400,000 acres of canals, moss draped cypress trees and lily pads all of which provide a natural sanctuary for hundreds of species of birds and wildlife. As one of the world's largest intact freshwater ecosystems, these habitats provide a safe haven for threatened and endangered species.
Choose your own adventure! There are so many ways to experience the swamp. Visitors to the refuge can explore the area in a number of different ways—on foot, on bike or on the water, through a guided tour or solo. Embark on a guided tour and prepare for a real treat. Most guides have family roots in Okefenokee, were born and raised there and many have been leading swamp tours for 30 years or more! Looking to explore solo? Hop in a kayak, canoe or motorboat and wind your way through the reflective waters of the swamp while being completely surrounded by the natural beauty of this unspoiled habitat. No matter how you choose to explore, there's no doubt you'll leave with a better understanding and appreciation for this special place. If you go, don't miss the interactive welcome center, observation tour and restored swamp homestead. Boat rentals, bike rentals and overnight excursions are all offered inside the refuge. For more information on tours, rentals and excursions, click here.
Paddles up
With three freshwater rivers and easy access to the Intracoastal Waterway, there are endless boating opportunities in the Kingsland area. Take a guided tour with Adventures Up the Creek and explore via kayak, war canoe or paddleboard. Their "no hassle" adventures allow visitors to paddle where they want to go, providing the ultimate customized tour experience. Always dreamed of learning to paddleboard? Knuckleheads Kayak Adventure offers instruction in addition to guided kayak and paddleboard excursions and rentals. Adventures Up the Creek, 111 Osborne Street, St. Marys, Georgia 31558; 912-882-0911; Knuckleheads Kayak Adventure, 201 West Saint Marys Street, St. Marys, Georgia 31558; 912-882-3512
Ready to hit the water on your own? Crooked River State Park provides the perfect spot for enjoying the Intracoastal Waterway, maritime forests, scenic marsh views and abundant coastal wildlife. Other amenities include a paved ramp for launching kayaks and boats, a large floating dock, fish-cleaning table, running water and a paved parking lot. Some of the best freshwater fishing can be found on nearby Satilla River. Satilla River Waterfront Park offers a boat ramp access, picnic tables, running water and ample parking. Crooked River State Park, 6222 Charlie Smith Senior Highway, St. Marys, Georgia, 31558; 912-882-5256; Satilla River Waterfront Park, 103 East First Street, Woodbine, Georgia, 31569
Go below the surface with deep sea diving
The waters of coastal Georgia are home to many shipwrecks and reefs making the area an interesting spot for diving. Check diving off your bucket list with Diver's Den Georgia, a premier dive center serving Kingsland and the surrounding area. Diver's Den Georgia offers everything from beginning open water dives to advanced, specialty and leadership certifications. Jump in with both flippers and explore numerous shipwrecks in all shapes and sizes, natural and artificial reef structures, the freighter Anna and Amberjack Hole. Observe abundant fish and invertebrates indigenous to the area along the way. There's so much to see below the sea! In addition to certifications and dive charters, Diver's Den Georgia also offers rentals, sales and services. Diver's Den Georgia, 1050 Kings Bay Road, St Marys, Georgia 31558; 912-882-7078
Reel in memories
Fishing is a great way to enjoy the beautiful scenery in and around Kingsland. Whether you are interested in inshore or off shore fishing, experienced local charter fishing captains know all the spots for you to reel in the big one. In coastal Georgia and northern Florida, fishermen are most likely to catch sharks, tarpon, Spanish Mackerel, red and black drum and trout. Grab your crew and head off shore with Captain Warren Hupman of Fish Master Charters or hang inshore with Captain Andy Gowen of Tail Chaser Charters. Regardless of where you drop your line, you're sure to make some wonderful memories! Fish Master Charters, 912-729-5214; Tail Chaser Charters, 116 Rota Way, St. Marys, Georgia 31558; 904-383-0866
Where to stay
With easy access on and off I-95, Kingsland offers many lodging options from big brand hotels to inns and RV parks. For a complete list of Kingsland lodging options, visit www.VisitKingsland.com/placestostay.htm.
---
For more I-95 information, visit www.i95exitguide.com, the Internet's largest and most complete website devoted to America's Interstate Main Street. Detailed exit service listings… discount lodging, camping, food, gas and more for every exit from Maine to Florida!
Traveling another route? Visit our growing family of exit guides: I-4 Exit Guide, I-5 Exit Guide, I-10 Exit Guide, I-75 Exit Guide and I-80 Exit Guide.