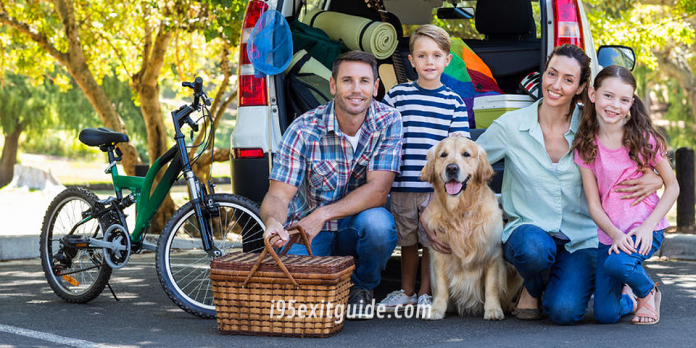 If you have the stamina or a few extra passengers that can share the driving, you can go nonstop… and this article is not for you. But if you're the kind of road warrior that doesn't want to spend the first day at their destination recovering from the trip, then read on.
Just to keep things simple, New England to Florida (let's say Boston to Orlando) is about a 22 hour drive or about 1300 miles. That's including stops for gas, meals and breaks. For most travelers, you can comfortably make the journey with two days of driving and one overnight stop.
That first day can get a little frustrating as you pass through "the northeast corridor" with mostly urban areas and heavy traffic. At the end of the day you'll be somewhere near the Virginia/North Carolina border. Your next day of travel is much more rural and by the end of that second day of driving you'll be in Orlando.
Here's our suggested itinerary:
Day One: New England (Boston) to Roanoke Rapids, NC (638 miles)
Timing is everything on your first day. Scheduling to avoid urban areas during heavy traffic is important and will save you time and frustration. As you can see from the table below, leaving Boston at 6:00 am will get you through New York, Baltimore and Washington between rush hours.
Leave
Arrive in
Boston
New York City
Baltimore
Washington, DC
12:00 am

4:00 am

7:00 am

8:00 am

3:00 am

7:00 am

10:00 am

11:00 am

6:00 am

10:00 am

1:00 pm

2:00 pm

9:00 am

1:00 pm

4:00 pm

5:00 pm
6:00 am : With a full tank of gas and breakfast behind you, you're on the road. Head down I-95 to New York City. An alternate route to NYC would be I-90 to I-84 to I-287, over the Tappen Zee Bridge to the Garden State Parkway south to I-95 (NJ Turnpike). Click here to view this route.
---
Travel Tip: Avoid getting gas in Connecticut if you can. They have some of the highest gas prices along I-95.
---
By 6:45 am you should be approaching Providence, Rhode Island
By 8:15 am  you should be approaching New Haven, Connecticut
By 10:30 am  you should be approaching New York City
By 11:30 am you should be south of New York City on the New Jersey Turnpike (I-95).
---
Travel Tip: There are some great service areas along the New Jersey Turnpike where you can stretch, gas up or grab a bite to eat.
---
By 12:00 pm you should be approaching the Delaware Memorial Bridge
12:30 – 1:30 pm: Stop at one of the Maryland Service Plazas, have lunch, take a break and gas up before you leave. You can allow up to an hour here, you'll still be in great shape to hit Baltimore and Washington before the rush.
By 2:30 pm you should be approaching Baltimore, Maryland. Traffic may be heavy but still better than in an hour or two.
By 3:00 pm you should be approaching Washington, DC. Rush hour is just getting started but you can beat the worst of it by not stopping along the route here.
By 4:00 pm you are leaving the traffic mess behind you, just a few more miles and it should be smooth sailing.
By the time you get to Richmond, Virginia it should be around 4:30 pm. Gas up for the final stretch.
---
Travel Tip: Try I-295 around Richmond and Petersburg if the traffic is heavy. I-295 is a newer, more rural alignment with less traffic.
---
5:30 pm: you should be crossing the Virginia/North Carolina state line.
6:00 pm: Arrive in Roanoke Rapids, North Carolina. Check into your hotel and head out for supper. I-95, exit 173 is a popular overnight stop for travelers and a halfway point between Boston and Orlando.
---
Click here to check out the hotels, restaurants, gas stations and shopping at I-95, exit 173 in Roanoke Rapids, North Carolina.
---